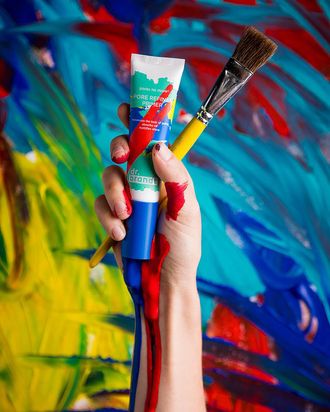 Photo: Ian Jacob Photography
Whether they're used alone or under makeup, primers can change the look of your face with their blurring, perfecting, setting, and oil-absorbing properties. Dr. Brandt Skincare, the line behind the late dermatologist who made Botox a household name, just released a limited-edition primer that gives back to one of his favorite causes.
The Pores No More Pore Refiner Primer is a standout among Dr. Brandt's best-selling products. The formula includes flaxseed oil, which allegedly absorbs sebum with the strength of a thousand oil blotting papers, while tea tree oil supposedly tightens pores. The powders in it reflect light to blur and smooth the skin's texture. It's especially great for oily skin that always seems to cause makeup to slip, no matter how much powder you press onto your T-zone.
It can be used alone, underneath, or patted on top of makeup to keep your face oil- and cake-free. This primer won't give you the lovely paralyzing look of Botox, but it will smooth your skin and perfect it. Take Gwyneth Paltrow's word for it — the wellness enthusiast says, "Dr. Brandt's Pores No More Pore Refiner Primer is my secret to having close-up-ready skin. It shrinks the size of pores and refines the skin. It's brilliant!"
The packaging, with a wash of vibrant paint stokes, represents Dr. Brandt's hometown of Miami, and his love of the arts. For each product sold, Dr. Brandt Skincare will donate $5 to The Dr. Brandt Foundation, which supports the Miami-based Beaux Arts Hands On! program that gives free museum tours and provides art projects for elementary school children. The limited-edition primer is available now from Dr. Brandt Skincare and there is a limited-edition bundle that includes the primer, a pore-minimizing gel, and an anti-aging exfoliator at Sephora.
Photo: Ian Jacob Photography
If you buy something through our links, New York may earn an affiliate commission.