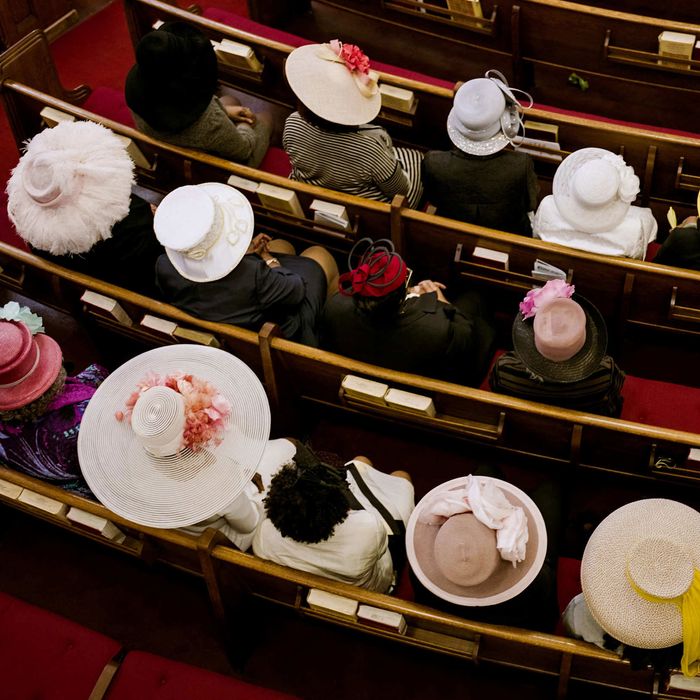 Monday night's Met Gala included angels, devils, and Rihanna dressed as the pope, but one thing that got lost in all the pageantry was the actual theme: not Catholicism exactly, but "Sunday Best." For me, the idea of Sunday best is more than a tradition. I grew up dressing for church, and it taught me everything I know about fashion.
For as long as I can remember, Sunday mornings during my childhood involved waking up to my dad blasting gospel music. He's always been an early riser, but on Sunday mornings, when I heard him singing along to Kirk Franklin songs, I knew that was my cue to get ready.
At the time, I was involved in practically every ministry in church. I was a praise dancer, sang in the choir, and tried my hand at waving the tambourine like the church mothers did so effortlessly. My life was very simple. I went to a boring private Christian school that had boring uniforms, I watched Destiny's Child videos over and over again, I spent the summers with my grandma, and I waited for Sundays. Sundays were the day I felt most like myself.
My grandma was the one who taught me that clothing meant something more than fabric to keep you warm. We spent our days together sewing, knitting, and taking long drives in her 1996 emerald-green Taurus, with me in the back seat listening to her stories about how our ancestors were kings and queens in Africa. By day she worked at a steel and boiler factory, but come Sunday she was regal. Putting on her Sunday best was a deeply meaningful act for her. Despite life's struggles and challenges, for her every Sunday was a triumph.
And as I got older, I started to share in the excitement of dressing to be part of something that was bigger than I was. Church people like to say "Come as you are," meaning that you'll be welcomed no matter what you're wearing. But for me, dressing up for church was part of what made it powerful. I didn't get a charge out of my plain school uniform, or my Limited Too T-shirt and jeans — but I loved sneaking into my mom's closet to open the big hatboxes at the top. I loved pulling on that pristine white lace dress in which I could not under any circumstances eat macaroni and cheese. I loved convincing my sister to let me wear her three-inch patent leather heels because they matched my particular bag better, and I even loved squinting next to the stove so my mom could press my edges, knowing that I wouldn't leave the house until we'd worked on my hair for at least an hour. The "best" in "Sunday best" is really important — you're putting in effort because you care, and the creativity this inspired would stick with me for life.
I was barely into my first semester of high school when I realized that my love of Sundays wasn't a universal experience. My parents said I needed "real world exposure," so they sent me to a suburban public school. Inevitably, I got a little more exposure than they bargained for. The first week, I picked up some vulgar slang from my new friends and used it at the dinner table. When I told my friends how much trouble I was in, they offered to make up for it by bringing me into their Sunday ritual of painting their nails and watching Mean Girls.
I was so confused: Why they would think I would have the time to paint my nails, let them dry, and watch a movie, when I had to get dressed for church? In the end, I had to opt out of Mean Girls. We stayed friends, but skipping church was never an option. Even in those moody teenage years, no matter how late I stayed out on Saturday night, I was eager for Sunday mornings and made sure my Sunday best was laid out the night before.
These days, I still dress up for church. But there are times when I wonder if I'll ever have that "hattitude" my grandmother so effortlessly embodied, or if I'll be able to pass down the tradition to the next generation. More than anything, I wonder if I'll ever possess the imagination that black women like my grandmother and mother showed when they turned the Biblical decree in 1 Corinthians 11:15 — the one that declared women must cover their heads in worship — into an opportunity to dress as their best selves, as royalty.