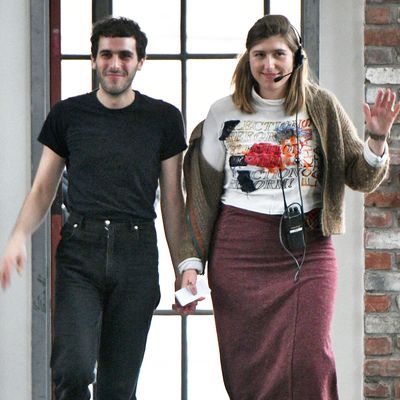 Designers Mike Eckhaus and Zoe Latta at their New York Fashion Week fall/winter 2018 show in February.
Photo: Victor VIRGILE/Gamma-Rapho via Getty Images
New York Fashion Week's favorite indy label, Eckhaus Latta, will have an exhibit this summer at the Whitney, the first fashion-related show at the museum in 21 years.
And you can "shop" the gallery space and buy the clothes, too.
For the label's owners, Zoe Latta and Mike Eckhaus, this is a major stride forward, both in terms of recognition and of introducing their work to a wider audience. For the museum, it's a bold move with an element of risk. How will critics and Whitney patrons feel about the museum selling duds on the first floor?
On the other hand, the concept that Eckhaus and Latta have proposed, with associate curator Christopher Y. Lew and Lauri London Freedman, the museum's head of product development, could be a smash hit. The exhibit will run from August 3 to October 8.
The plan for "Eckhaus Latta: Possessed" is a three-part installation that reflects various aspects of the fashion industry, like advertising and voyeurism. Visitors will first see a sequence of photographs intended to comment on the type of images found in fashion ads and magazines. The centerpiece of the installation will be an operational retail space, with clothing and accessories designed for the show. According to a statement from the Whitney, the core space will be done in collaboration with more than a dozen artists with whom "Eckhaus Latta has been in dialogue over the years." They will contribute such elements as clothing racks, display shelves, and a dressing room. Among the artists are Susan Cianciolo, Jeffrey Joyal, Lauren Davis Fisher, Matthew Lutz-Kinoy, and Amy Yao.
The final part of the exhibit features a darkened room, evocative of a security office, with screens depicting surveillance images. The idea is to give visitors a voyeuristic view of the rest of the exhibit, as well as a glimpse of the surveillance that shadows shopping.
In the statement, Freedman said: "Working with Mike and Zoe has challenged us to consider the roles that our museum spaces play and the objects that are presented. They pushed us to ask broader questions such as 'How can we reexamine the format of an exhibition?' and 'What is the best way to exhibit an artist's work?' "
Certainly Eckhaus and Latta are at home in both worlds. They met as students at the Rhode Island School of Design and founded their label in 2011 — with Latta based in Los Angeles and Eckhaus in New York. They staged a superb runway show in 2016 in the dome at PS1, and their efforts to combine texture, arresting shapes, and urban attitudes have been distinguished for their intelligent restraint. The designers are also current finalists for the LVMH Prize for Young Fashion Designers, so this could be a big year for them.