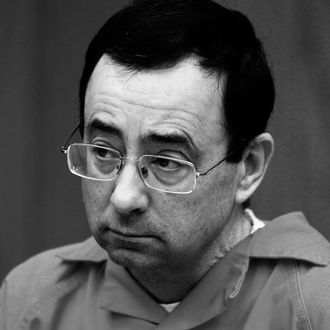 Ex-USA Gymnastics doctor Larry Nassar.
Photo: Jeff Kowalsky/AFP/Getty Images
A number of gymnasts have long argued that USA Gymnastics was complicit in ex-doctor Larry Nassar's alleged abuse of hundreds of athletes, and a new report from the Indianapolis Star provides damning evidence to this claim. According to emails obtained by the publication, USA Gymnastics covered up for the disgraced doctor on at least two separate occasions in 2015.
Since the Star broke the Nassar story in August 2016, the former USA Gymnastics doctor has been sentenced to up to 360 years in prison, three senior members of the USA Gymnastics Board of Directors have resigned, and Aly Raisman — who delivered a powerful testimony at the hearing — has sued USA Gymnastics.
But before Nassar's survivors saw some semblance of justice, USA Gymnastics was reportedly enabling the doctor's inappropriate behavior. Leading up to the 2016 Olympics, when Nassar was under investigation for child sexual abuse, the doctor and a USA Gymnastics attorney conceived of cover stories to explain Nassar's absence at two major events, rather than divulge to parents and athletes that the doctor was under investigation.
In one of the emails obtained by the Star, Indianapolis attorney Scott D. Himsel told Nassar that USA Gymnastics was reviewing his "therapy techniques," and that it was "in everyone's best interest" that he tell people he was skipping an event for "personal reasons." Nassar replied, "Can we just say that i am sick? That would make more sense to everyone. Would that be ok?"
"We'll let Ron know to advise people that you weren't feeling well and decided to stay home," Himsel responded on July 22, 2015.
On another occasion on July 29, at which point USA Gymnastics had reported Nassar to the FBI, Himsel asked Nassar to skip the USA P&G Championships, to which Nassar wrote back: "If I am not going to be at Championships, then it is due to financial reasons with my clinical practice, which is an accurate statement." Himsel reportedly agreed.
After USA Gymnastics received its first complaint about Nassar in June 2015, at least 14 women and girls allege that the doctor sexually abused them. In an interview with the Star, former gymnast Kaylee Lorincz expressed her complete disappointment in USA Gymnastics for failing to disclose the investigations into Nassar's behavior.
"It could have saved that many more if they could have just stopped him in 2015," said Lorincz, who was allegedly abused by Nassar on two separate occasions. "It makes me angry and upset because it could have prevented so much."