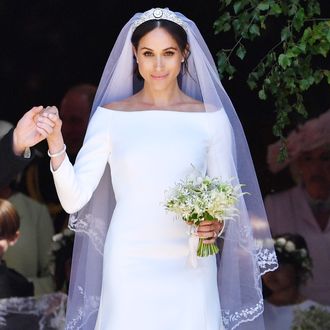 Photo: WPA Pool/Getty Images
According to the Daily Mail, British fashion designer Emilia Wickstead is claiming that Meghan Markle's Givenchy haute couture wedding dress bears an uncanny resemblance to one of her own design.
"Her dress is identical to one of our dresses," Wickstead is quoted saying in a publication that lives for drama, adding that "a lot" of commentators backed up this claim. It is unclear in what context Wickstead allegedly gave this quote, or whether she deeply regrets it now.
Elle magazine pointed to an Instagram of a Wickstead dress that does look a lot like Markle's. It is a wedding dress. It is white. It does have a boatneck collar. But Wickstead did not invent any of these things. In fact, Markle's wedding dress was inspired by the work of the late Hubert de Givenchy, who was designing white boatneck wedding dresses more than 50 years ago. The dress Markle wore was also haute couture, with only six seams holding it together. It may look like Wickstead's, but, well, it isn't.
Wickstead's name was tossed around when rumors swirled over who would fashion Markle's dress, but obviously, Markle ended up going with Clare Waight Keller instead — a choice that has perhaps left Wickstead more than a little salty.
"If you choose a simple design, the fit should be perfect," Wickstead allegedly told the Daily Mail. Like esteemed fashion critic Katy Perry, she also believed it was too loose. She also wasn't into Markle's eternally messy bun, saying: "Hold the wisps [of her hair] back — it's a Royal Wedding for God's sake."
In a statement provided to the Cut in the days following, Wickstead clarified that she thought Markle looked "absolutely beautiful" on her wedding day. She does not actually think Markle's dress was a copy, adding that she has the "greatest respect for Clare Waight Keller and the House of Givenchy – a huge source of inspiration to [her]."
With knockoffs of Markle's wedding dress already being made, we say Bob's your uncle! Or whatever the British say instead of: ¯\_(ツ)_/¯
This article has been updated to include Emilia Wickstead's statement.