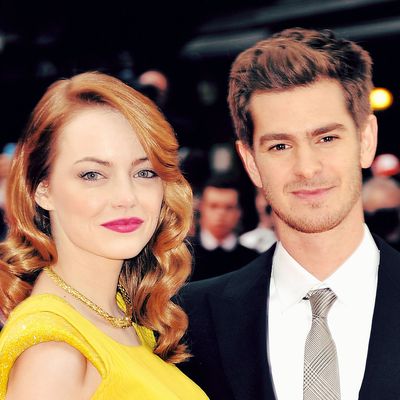 Emma Stone and Andrew Garfield in happier times.
Photo: Gareth Cattermole/2014 Getty Images
Love famously died this year after several celebrity couples split — including Jenna Dewan and Channing Tatum; Jenny Slate and Chris Evans; and Ross Mechanic and Tiffany Trump (okay, maybe not them). How does anyone dare to enter into a romantic relationship anymore when even these hyperattractive people can't figure it out? Well, love may have a fighting chance now that Andrew Garfield and Emma Stone were spied getting "cozy," according to "Page Six."
The two dined at an Italian restaurant in the West Village and looked "very much like a couple." How so? They were "talking and sitting very close" and "laughing and smiling."
Granted, the couple has been rumored to be on-again-off-again since their initial split in 2015. The phrase "Emma Stone Andrew Garfiled back together" returns 11,000,000 hits on Google. Even if the two aren't together, it's comforting to know that two exes can still be amicable friends who dine together at intimate restaurants in New York.