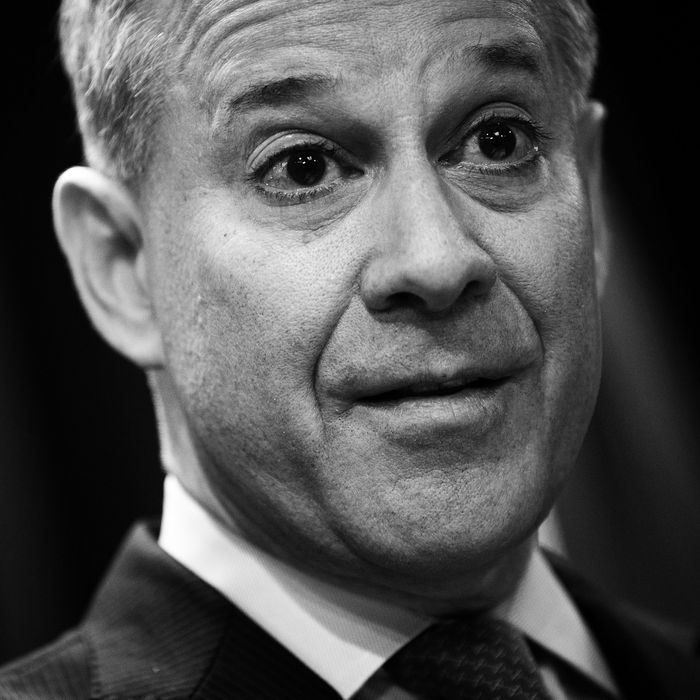 Eric Schneiderman.
Photo: Drew Angerer/Getty Images
New York attorney general Eric Schneiderman resigned abruptly on Monday night, hours after The New Yorker published a report in which four women accuse him of physically assaulting them. Two women, Michelle Manning Barish and Tanya Selvaratnam, spoke on the record, claiming Schneiderman slapped, choked, and hit them "often after drinking, frequently in bed and never with their consent," and that they both eventually sought medical attention following his assaults. In response to these allegations, Schneiderman — a progressive Democrat who has been seen as a champion of women's rights and the #MeToo movement — said he had "engaged in role-playing and other consensual sexual activity," within "the privacy of intimate relationships."
Schneiderman is not the first man accused of assault to claim he was consensually engaging in a kink. Back in 2014, several women told the Toronto Star that Canadian public-radio host Jian Ghomeshi — another supposed champion of women's rights — had choked, slapped, and bitten them without warning or consent. Ghomeshi claimed he had "not done anything wrong," and that it was not unusual for him to engage in "adventurous forms of sex that include role-play, dominance, and submission." The next year, multiple women accused adult-film star James Deen of assaulting them and not respecting their sexual boundaries or safe words. "Most of these are descriptions of things on BDSM or rough sex sets," Deen told the Daily Beast.
But the very fact that there is disagreement over whether what happened between these men and the women accusing them of assault was consensual illustrates just how poorly these men understand the mechanics of their excuse: If they knew how BDSM and other kink play works, they'd know how deeply intertwined it is with consent.
One of the main principles of BDSM is that everything be "safe, sane, and consensual." On the website of the Rose City Discussion Club, a non-profit organization in Portland for people who are interested BDSM, fetish, and other kinks, Tamay Kay explains that "'Safe' means that we take care of each other as best we can, that no matter how we want our scenes, however gentle or rough, we do them in ways that do not injure our partners." "Sane" is being able to trust the person with power in a given scene to have good judgment and self-control. And "consent" means that "Everything that happens in a scene between people must be acceptable to all concerned."
"If you aren't sure that your partner has consented — has said 'yes'" Kay elaborates, "then you need to talk until you are sure."
In a 2013 essay on her blog Sex Geek, Andrea Zanin clearly delineates fantasy and crime, writing: "In the planning to enact a fantasy that involves two people, both people are involved in that planning to whatever extent they agree they will each be involved (everything from 'I trust you to surprise me, honey!' to 'You pick the apple to put in my mouth, and I'll polish it so it'll look good in the pictures'). […] In the planning of a fantasy enactment, roles are discussed, safety is considered, limits are negotiated. ('If I squawk twice, that means this 'turkey' needs to come out of the 'oven'!')"
In other words, the boundaries of a scene, and of people's comfort, must be explicitly communicated and laid out beforehand, something none of Schneiderman's accusers, or even Schneiderman himself, said he did. Instead, his actions seem to follow the theory sex columnist and activist Dan Savage put forth about Ghomeshi in 2014:
"My theory is that Ghomeshi's MO has been to initiate rough sex — become violent in the lead-up to a sexual encounter — and that he either believes or intends to argue that this was how he got a woman's consent. If he became violent and they didn't respond negatively or didn't leave or if they returned, he saw that as consent. If they reacted negatively, if they were unhappy, he stopped."
Using kink and BDSM to justify his allegedly vicious attacks on women shows an astounding degree of entitlement on Schneiderman's part. Not only an entitlement to women's bodies and sexual experience, but an entitlement to a narrative in which he remains the liberal knight in shining armor — an open-minded, sexually adventurous ally. As Kat Stoeffel wrote about Ghomeshi in 2014, "Questioning a person's sexual proclivities runs the risk of sounding like sex negativity or slut-shaming — this is the progressive mentality Ghomeshi's lurid mea culpa appeals to."
Schneiderman, like Ghomeshi and Deen before him, attempted to deflect the blame off of himself and onto kink — implicitly accusing anyone who would judge his actions of being a small-minded prude. But in doing so, these men displayed a fundamental misunderstanding of the practice. Because, as Stoeffel noted, "sex-positive open-mindedness doesn't excuse misconduct. If anything, it creates a greater responsibility."