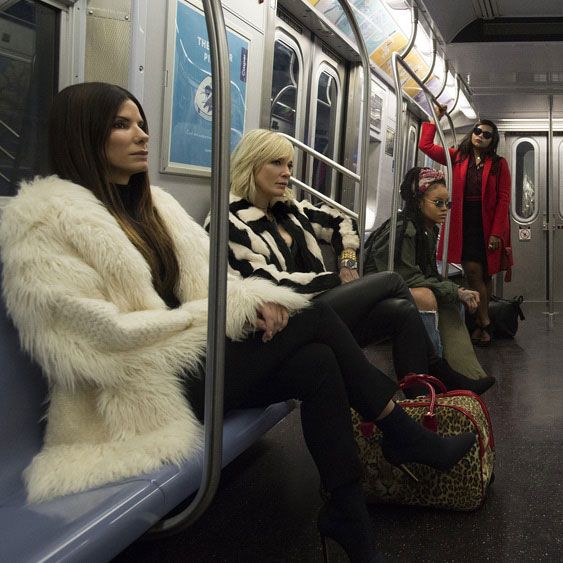 The Cast of
Ocean's 8.
Photo: f
Ahead of tonight's real-life Met Gala, let's not forget: There's a Met Gala movie coming out this summer, and it's going to be good.
Ocean's 8 is the all-female successor to the Ocean's 11, 12, and 13 franchise, which starred lots of men with Julia Roberts and Catherine Zeta-Jones. Instead of George Clooney, Matt Damon, and Brad Pitt, in Ocean's 8 we get Sandra Bullock, Rihanna, so many more famous women, and cameos that include Kim Kardashian and Serena Williams. Here's everything we know about the movie so far. Mark your calendars: It arrives in theaters on Friday, June 8.
Okay, so who else is in it? And how does this relate to the Met Gala?
Ocean's 8 stars Sandra Bullock as Debbie Ocean, a career criminal fresh out of jail who is the sister of George Clooney's Danny Ocean, the star of the previous films. The rest of the titular eight are Cate Blanchett, Helena Bonham Carter, Anne Hathaway, Rihanna, Sarah Paulson, Mindy Kaling, and Awkwafina.
It's a jewelry heist: Bullock and her right-hand woman, Blanchett, target Hathaway — a celebrity/socialite who plans to attend the Met Gala wearing a diamond necklace worth more than $150 million. Bullock and Blanchett partner with Bonham Carter, Rihanna, Paulson, Kaling, and Awkwafina to pull it off.
Is it a sequel or a spinoff of the other Ocean's movies?
It's both, according to Variety. Steven Soderbergh, who directed the Ocean's trilogy, is a producer, along with Clooney and Susan Ekins. The director is Gary Ross of Hunger Games and Seabiscuit fame. He co-wrote the screenplay with Olivia Milch.
Will we see Anna Wintour?
Yes! Expect many high-profile cameos, including Kim Kardashian West, Kendall and Kylie Jenner, Dakota Fanning, Olivia Munn, Katie Holmes, Zayn Malik, Zac Posen, Adriana Lima, and Serena Williams.
So wait, Rihanna is in this?
RiRi co-stars as a hacker named Nine Ball. She wears dreadlocks and dark sunglasses, and helped director Gary Ross develop her character's name, a reference to her Barbadian roots. Rihanna is also hosting the real-life Met Gala tonight with Amal Clooney and Donatella Versace.
Who created the all-female cast?
Bullock had a lot to do with it. She and Clooney are close friends, and she recently told InStyle, "I always said I want what the guys get to have — whether I'm doing an action movie, a comedy, or a sexy heist film. I'm like, 'Why can't we ladies have that?' I told Jerry Weintraub [the film's original producer, who died in 2015] I don't care who it's with as long as the ladies are all lovers of women and we get back the character Yen [Shaobo Qin, the contortionist from the Ocean's Eleven films]. I just want Yen." Debra Zane, who is known for her work on American Beauty and The Hunger Games, cast the film.
What was it like on set with an all-female cast?
It was great, according to Bullock, though that could be considered a sexist question. Back in December, when the first teasers were released, she told Entertainment Weekly:
…isn't that funny how with the guys, I don't remember ever hearing anything about potential discord. But you so get it with women. If there's ever more than two women in the film there's rumblings of, 'oh, they're having cat fights.' There was nothing … because of the unique situation of this and because we all are trying to achieve the same thing, we bonded pretty quickly out of necessity and just because we like each other.
She said the movie isn't meant to just be about women – it's a heist film like any other. "This is not a man-hating," she continued. "We love the men. There's men in this movie. We love them. But this one heist needs women."
When is it out again?
June 8 — one month after the real Met Gala.