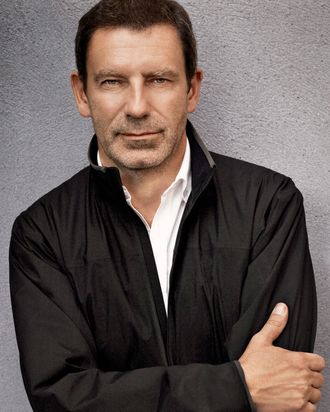 Tomas Maier.
Photo: Collier Schorr
Tomas Maier is one of those people who actually qualifies as a "man of the world." The German-born fashion designer came up at the Chambre Syndicale de la Haute Couture in Paris before landing at Hermès, where he designed women's ready-to-wear for nine years. Now, he divides his time between Milan, where he serves as Bottega Veneta's creative director; New York, where he showed last season; and Florida, which he calls home. On top of all that, he operates five eponymous stores of his own in Palm Beach, Bal Harbour, East Hampton, and New York — plus a new pop-up in Los Angeles.
Maier also spreads himself across creative disciplines. On Tuesday, he closed out New York Art Week by co-hosting an event to celebrate the Judd Foundation's latest exhibition, "15 x 105 x 15." And his personal style is a mix of high and low as well. His beach-inspired Uniqlo collaboration hits stores May 18, and is a blend of all of the above worlds.
Below, Maier shares everything from his favorite art coffee-table books to his preferred jeans.
Piece of furniture you've had the longest?
Mies van der Rohe stools.
How do you thank someone for a gift?
In writing.
What would you never wear?
Fur.
Song you like to listen to in the morning? Evening?
Anything by Chet Baker.
What's your guilty pleasure?
Ice cream.
What do you sleep in?
Nothing.
Book on your coffee table right now? 
Double Vision: The Unerring Eye of Art World Avatars Dominique and John de Menil.
What is your fantasy vacation?
Patagonia.
Preferred drink:
Hendricks martini or Chateauneuf du Pape blanc wine.
Dress shirt or T-shirt? 
T-shirt.
What's your favorite…
Pair of jeans?
My own: Tomas Maier dark denim.
Cologne?
Bottega Veneta Parco Palladiano No. 5.
Bedding?
Braun & Co.
Pen?
I use a pencil.
Museum in the whole world? 
Kunsthistorisches Museum, Vienna.