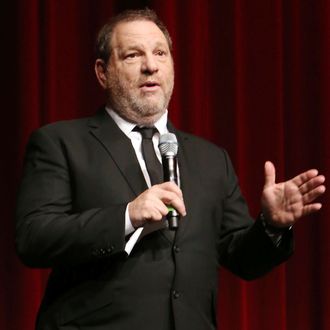 Harvey Weinstein.
Photo: Alexandra Wyman/Getty Images For TWC
Federal prosecutors in Manhattan have started a criminal probe into the numerous sexual-abuse allegations against Harvey Weinstein, according to a report from The Wall Street Journal. According to their sources, the U.S. Attorney's office for the Southern District of New York is looking into whether Weinstein lured or induced women to cross state lines for the purpose of committing a sex crime, which is a federal charge. Previously, local authorities in Los Angeles and New York had opened investigations into Weinstein, though neither have led to an arrest — though the NYPD has claimed that they are waiting for DA Cyrus Vance Jr.'s approval to make one.
Per the WSJ, Weinstein's lawyer has met with federal prosecutors "in an attempt to dissuade them from proceeding" and will continue to meet with them. Weinstein still denies any nonconsensual sexual acts. Federal prosecutors had already been looking into possible fraud charges against Weinstein, but expanded their probe recently.