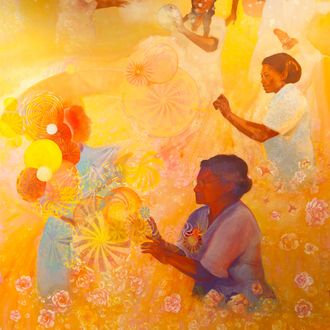 Untitled
(detail), 2018.
Photo: Courtesy the artist and Kavi Gupta Gallery; Chicago
Joy Out of Fire, the latest exhibition from the Studio Museum, features what artist Firelei Báez calls "visual roadmaps." The huge canvases incorporate photographs, notes, diaries, letters, and manuscripts to evoke the complex, connected history and cultural achievements of notable black American and Caribbean women — whose impacts are often excluded, minimized, or denied.
Báez, born in the Dominican Republic in 1981, is known for large-scale, intricate work that explores her interest in anthropology, diasporic identity, and how women of color navigate selfhood. She has been awarded the Joan Mitchell Painters and Sculptors Award and her work is included in the Studio Museum's permanent collection.
Joy Out of Fire, with its exploration of black womanhood and reclamation of history, showcases Báez's curiosity and discipline. To conjure these imaginative portraits, Báez spent hours among the archives of New York Public Library's Schomburg Center for Research in Black Culture, where she dug into collections devoted to Maya Angelou, Jean Blackwell Hutson, and Ada "Bricktop" Smith. The aim, outside of celebrating recognizable names, is to share compelling stories from women Báez came across during her research. Together, they present the achievements and interconnectedness of black women across diasporas and generations.
As part of the inHarlem exhibition series, the portraits are hung in the Latimer/Edison Gallery of the Schomburg Center, turning the space into a celebration "of the joy that these extraordinary women brought out of the fire of their lives." It is on view until November 24, but scroll for a sneak peek below.