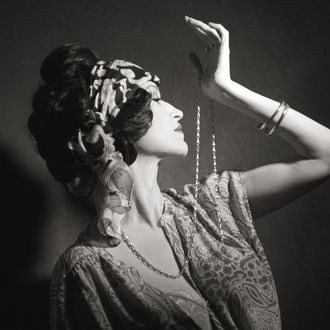 Photo: From One Woman by John Botte & Elicia Ho; © 2018; www.glitteratieditions.com
Former NYPD officer John Botte never showed up to work without his Leica M camera hanging around his neck, an attribute that garnered him nationwide fame after the September 11 attacks with his project Aftermath: Unseen 9/11 Photos by a New York City Cop. Years later, Botte has transitioned his focus and creative vision to a profoundly intimate and personal subject: his lifelong muse and wife, the former ballerina Elicia Ho. His new book, One Woman, is an ode to the vintage silhouetting of 1930s portraiture, and to real, fictional, and historical female characters.
From 19th-century pop-culture icons and activists like Josephine Baker and Gloria Steinem, to relatives like her American mother and Chinese aunts, Ho delves into self-exploration and empowerment to reveal her multifaceted identity through her husband's photographic eye.
The decision to collaborate on this project came spontaneously, as Botte requested Ho pose to test out his 75mm lens one evening. "As I fired off about a dozen frames, she glanced at them in my camera, excused herself and came back into the room a few moments later looking like Priscilla Presley circa 1968," he said in a 2015 interview with Walter Leica, "She had changed her blouse, her hair was in a bouffant and her eyes were made up thick with liner and long lashes," he continued. Beside the images, which have a dark, quintessential film noir look, a variety of capsule texts written by Ho describe each persona along with their influence on her life.
One Woman was released by Glitterati Editions on May 1, 2018, and is available here to purchase for $60. Scroll below for a selection of images featured in the book.