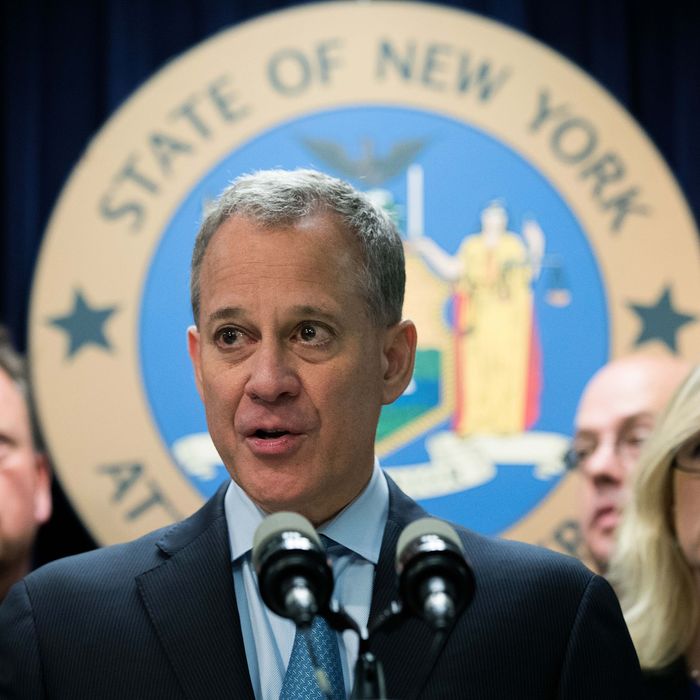 Eric Schneiderman has been regarded as a champion of women who were abused and harassed. Now he stands accused himself.
Photo: Drew Angerer
Up until now, the main encounter New York attorney general Eric Schneiderman has had with the #MeToo movement was a source of righteous pride: a civil-rights suit he filed against Harvey Weinstein's company to secure greater compensation for the victims of the mogul's unwelcome attentions and alleged crimes.
But that is abruptly changing. A report from The New Yorker's Jane Mayer and Ronan Farrow makes it clear Schneiderman is "facing a reckoning of his own." Four women — three of whom had romantic relationships with the divorced father of a 24-year-old daughter, while another rebuffed his advances — have accused him of violent acts and vile language. Two of the women, Michelle Manning Barish and Tanya Selvaratnam, went on the record with The New Yorker:
They allege that he repeatedly hit them, often after drinking, frequently in bed and never with their consent. Manning Barish and Selvaratnam categorize the abuse he inflicted on them as "assault." They did not report their allegations to the police at the time, but both say that they eventually sought medical attention after having been slapped hard across the ear and face, and also choked. Selvaratnam says that Schneiderman warned her he could have her followed and her phones tapped, and both say that he threatened to kill them if they broke up with him. 
These are not allegations from way back in the day, like many that have finally come to light as women have finally felt empowered to come forward. Manning Barish dated the Attorney General for about two years beginning in 2013 and Selvaratnam beginning in 2016 — also the year of the alleged assault against another woman he had just met.
Schneiderman, a Democrats, was first elected attorney general in 2010, and is seeking a third term this year.
Here's Schneiderman's statement to The New Yorker in response to the story:
In the privacy of intimate relationships, I have engaged in role-playing and other consensual sexual activity. I have not assaulted anyone. I have never engaged in nonconsensual sex, which is a line I would not cross.
The incidents the story reports seem to have often coincided with heavy drinking on Schneiderman's part. If his denials don't stick, you could see him pretty quickly discovering some alcohol-related memory loss and an urgent need for treatment.