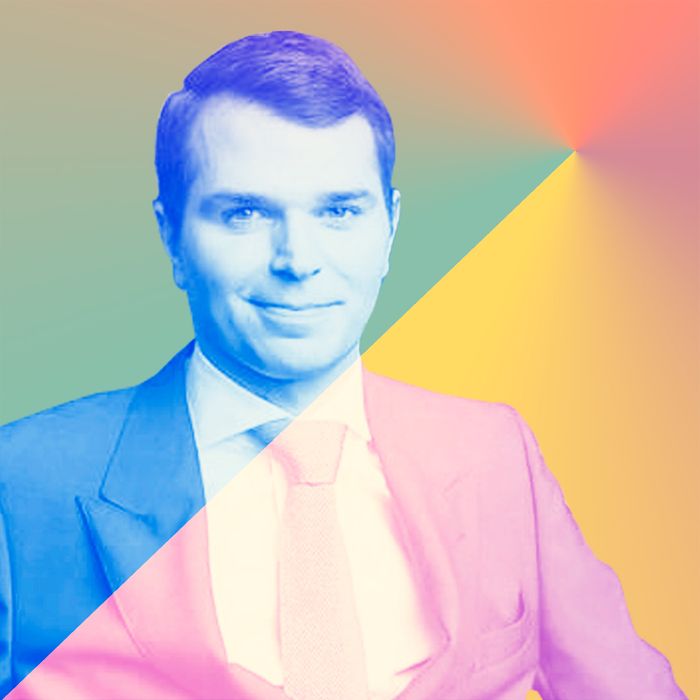 Photo-Illustration: Stevie Remsberg
When Francesco Clark was 10, he professed to be part of a famous, albeit apocryphal, singing family.
"My sister and I were at the airport on our way to visit our grandmother in Italy," he explains. "Our mother always made us dress formally when we flew, so I think the flight attendants took pity on us and let us into the first-class lounge. As we sat there eating cheese, the nicest elderly woman came over and asked if we were flying to Italy to tape a television show. Without skipping a beat, I told her we were the von Clark family singers, but we had to save our voices so we couldn't converse for too long. My sister thought the airplane police were going to come arrest us."
The anecdote is classic Fran (as his friends call him), whose penchant for mischief and whimsy spill over into much of his dialogue —whether it's a retelling of a starstruck moment with Meryl Streep or Madonna, or how he discovered a potent new retinol ingredient.
It has been 16 years since Clark suffered a spinal-cord injury from a swimming accident. I'm inclined not to elaborate on the accident since his injury is not what defines him. But it does connect him to two of his proudest achievements: his work as a national ambassador for the Christopher Reeve Foundation, and Clark's Botanicals, the skin-care line he created in 2009.
Known for calming sensitive skin, the line was born out of a side effect Clark experienced after the accident.
"One thing that happened after my spinal-cord injury was the inability to sweat," explains Clark. "My face became totally broken out, red and full of dry, scaly spots. I looked like Alf."
After dozens of skin-soothing products proved futile, his father, a doctor trained in homeopathic healing, stepped in and started formulating with his son. Among the many ingredients they tested, jasmine was a clear star. As Clark's blemishes began to disappear, so too did the samples they created. First, his mother and sister tried them, then friends — one of them being his former boss, Glenda Bailey, editor-in-chief of Harper's Bazaar. "When Glenda saw how my skin had improved, she asked me what I'd been using," explains Clark. "Because of her, it turned into a full line."
Fourteen skin salves now make up Clark's Botanicals, including best sellers Smoothing Marine Cream, Deep Moisture Mask and the newest, Retinol Rescue Overnight Cream. Fans include Julianne Moore, Sofia Coppola, and the aforementioned Ms. Streep, whom he first met through the Reeve Foundation. Two more bold-faced names are his next wishlist gets.
"Prince Harry has done so much for disabled veterans, it would be an honor to work with him on Reeve," says Clark. "I'd cut off a pinky to get him and the Duchess of Sussex involved."
The CEO and president of Clark's Botanicals took a few minutes to speak with the Cut about his unwavering oral hygiene, his active sweet tooth, and why Pantone should let us all vote on its color of the year.
Favorite smell? Earl Grey tea, jasmine and dry fig.
Sweet or salty? I may or may not be eating Pralines and Cream ice cream as I type this out.
What celeb would be your friend if only you two could meet? Julia Louis-Dreyfus could yell at me all day long and I'd still love her.
Style icon? It was Cary Grant for a long time, but recently, it's moved to Timothée Chalamet. And for women, Claudia Cardinale, specifically as Angelica in The Leopard.
Ring tone? Timba!
What item stresses you out if you're running low on it? I have a weird addiction to this echinacea throat spray (Purple Coneflower Sore Throat Spray) that helps prevent against colds and makes you smell kind of herbal but non-nasty.
What do you do or take when you can't sleep? I take valerian root and ashwagandha root capsules, then go through a self-guided three-part breathing mediation that my friend Suzan Colón taught me.
Girl crush? Amal Clooney, Ina Garten, and Tina Fey.
Boy crush? I was always obsessed with how cool Einstein was. You think of everything he accomplished and then you realize how funny and creative he was. There's a certain secret to loving life in that.
Scent of choice: Acqua di Parma Fico di Amalfi mixed with Byredo Ambre Japonais.
Toothbrush of choice? Sonicare DiamondClean. It kind of feels like a jackhammer but I'm OCD about my teeth. I legit still wear retainers at night.
Who cuts your hair? DJ Quintero at Serge Normant for John Frieda.
Shoe of choice? My titanium wheelchair, customized Adidas, and Prada.
What phrase or word are you known for saying? "ARE YOU AWAKE?!"
What drives you crazy? Any sort of apathy. My friends are all smarter than me and the conversations are always so peppery, it kind of always is on the verge of us slapping each other, but in a fun way.
What is a lost art? Transparent joy. In social media, we have all these personas we inherently try to become and there's that too-cool-for-school thing I suck at, so I don't even try. If you miss someone, reach out. If you know a friend is going through a hard time, go see them.
What do you think Pantone's color of 2018 should have been? Why couldn't it have been "Borrowed Light," by Farrow & Ball? It's serene and seemingly the appropriate antidote to everything that is overly shock-and-awe right now.
What do you splurge on? Food, because it's experiential and you get to enjoy it with friends.
Weakness? The aforementioned Pralines and Cream. Also, cheese, wine, and carbs, and anything fluffy. Also, Marvelous Mrs. Maisel.
Preoccupation? Not having enough time for it all.
Favorite spot in the entire world? On the street in Cortina, Italy, when I'm rushing to a meeting and the smell of fresh pastries just slaps me in the face and I realize what it feels like to be a little kid eating bomboloni all over again.
What technology or app do you rely on most? Technology has changed my life so much recently. When I was first injured, I could hardly move my arms and could not use my wrists or hands at all, and touchscreen phones were not a thing back then. The iPhone, Siri, and the Amazon Echo have made my life so much easier to navigate with work and fun.
What product in your domain is misunderstood and should be a best seller? Our Deep Moisture Mask. I was so pleasantly surprised to learn that customers use it as a night cream, then leave it on as their daytime moisturizer. It's so good if your skin is on the sensitive side because it has high concentrations of green tea and algae extracts.
What do you foresee as the top beauty trends in 2018? I do love clean beauty, but it's gotten to the point where we're just buying ONE ingredient in a pump. Like, here's w-ah-ter, but it's fancy, I guess? It's kind of becoming the Zoolander scene: "Moisture is the Essence of Wetness," and everyone's side-eyeing to see what everyone else thinks.
If you won the Power Ball tomorrow, what are the first five things you would do? (after, of course, donating the majority of it to your top charities …) I'd throw my family on a private jet to a villa in Italy where my mom wouldn't have to cook or clean. I'd throw the biggest surprise birthday parties for my friends. Figure out a way to spend a week living in the Louvre. It would be so cool to be someone's Secret Santa, but all year long for someone who actually needed it. Buy an apartment with a huge terrace in NYC, Paris, and Rome and decorate each with outlandish old and new art.