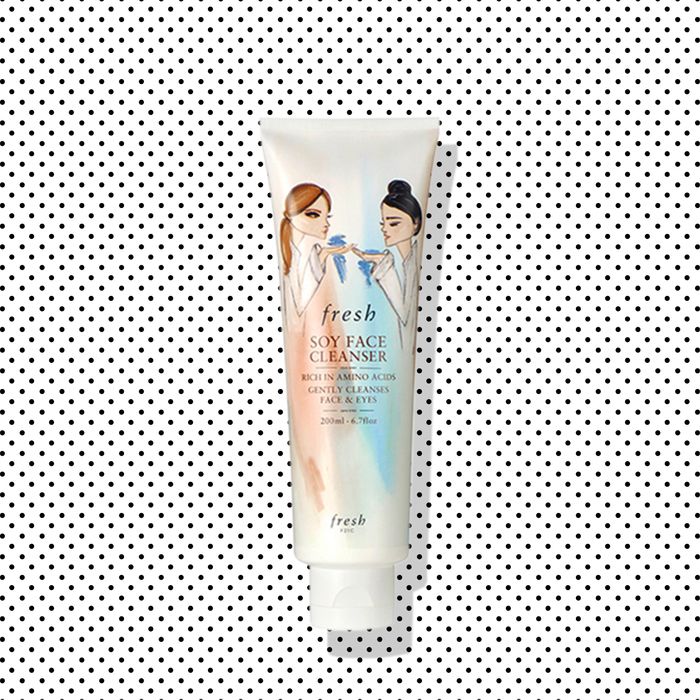 You already know soy is a suitable dairy alternative — but did you know that it's often used in beauty products? For example, there's Innisfree's fermented soybean collection and Farmacy's Honey Drop moisturizer. Perhaps the most popular soy skin-care product is Fresh's first ever, the Soy Face Cleanser — they claim one is sold every minute across the world. Fresh founders Lev Glazman and Alina Roytberg created the gentle cleanser in 1999 and to celebrate its nearly 20-year reign, Fresh gave its look a limited-edition redesign.
The previous packaging was solid white, minimalist, and only had the product's name on the tube. The new design is loosely inspired by the original design from 1999, which had an illustration of a woman (a "Soy Girl") wrapped in a bath towel with her hair piled on top of her head (the original #bathleisure). The 2018 iteration is illustrated by Blair Breitenstein, who has worked with Oscar de la Renta and Vogue. Breitenstein created two modern "Soy Girls" drawn with watercolors and markers.
Although the packaging has changed, the Soy Face Cleanser formula is still the same gentle yet effective formula (oat isn't coming for it, yet) Reviewers love that the cleanser feels similar to Cetaphil and purportedly doesn't irritate sensitive or broken skin. The soy proteins supposedly help maintain the elasticity of skin, rosewater and cucumber are included to calm and soothe, while borage seed oil is intended to nourish.
The limited-edition Soy Face Cleanser is available now at Sephora.
If you buy something through our links, New York may earn an affiliate commission.