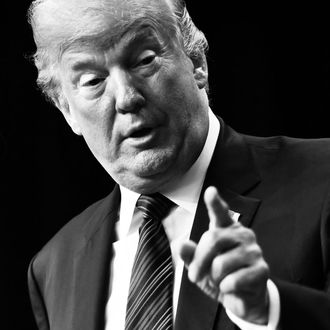 Donald Trump.
Photo: NICHOLAS KAMM/AFP/Getty Images
Wednesday evening, Twitter went to the Dark Place after Donald Trump tweeted a picture of himself and Kim Kardashian following their scheduled meeting about prison reform at the White House. While it's unclear whether they truly stayed on topic, Trump described the meeting as "great," which is open to interpretation.
According to Vanity Fair, the two had plans to discuss the worthy case of Alice Johnson, a 62-year-old great-grandmother who is currently serving a life sentence without parole for a first-time drug offense. Earlier today, Kardashian wished Johnson a happy birthday on Twitter, saying, "Today is for you."
While there have yet to be any official reports about the meeting, Twitter was quick to caption the Trump-Kardashian photo that the former tweeted.