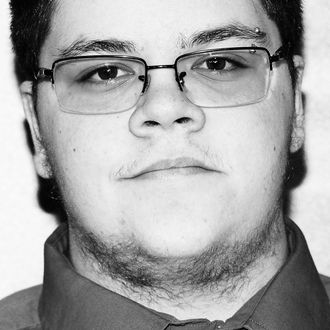 Gavin Grimm.
Photo: Desiree Navarro/WireImage
A federal court in Virginia sided with transgender teen Gavin Grimm on Tuesday, ruling that anti-trans discrimination qualifies as sex discrimination under Title IX and the Equal Protection Clause.
In 2014, Grimm — who was then a 15-year-old sophomore at Gloucester High School — was prohibited from using the boys' bathroom, and was instead told to use a unisex restroom. The following year, Grimm's story was pushed to the forefront of the transgender rights movement when he and the American Civil Liberties Union sued his school district.
Though Grimm, 19, has faced setbacks since filing the civil-rights lawsuit three years ago, he won a major victory for transgender students today when U.S. District Court Judge Arenda Wright Allen denied the Gloucester County School Board's motion to dismiss his case.
In her ruling, Wright Allen wrote, "As Mr. Grimm contends, attempting to draw lines based on physiological and anatomical characteristics proves unmanageable."
Grimm, who has since graduated from Gloucester High School but continues to fight for the rights of other transgender students, told the ACLU that he's feeling "an incredible sense of relief."
"After fighting this policy since I was 15 years old, I finally have a court decision saying that what the Gloucester County School Board did to me was wrong and it was against the law," he said in a statement. "I was determined not to give up because I didn't want any other student to have to suffer the same experience that I had to go through."
ACLU senior staff attorney Joshua Block also released a statement, saying, "The district court's ruling vindicates what Gavin has been saying from the beginning. These sorts of discriminatory policies do nothing to protect privacy and only serve to harm and humiliate transgender students."