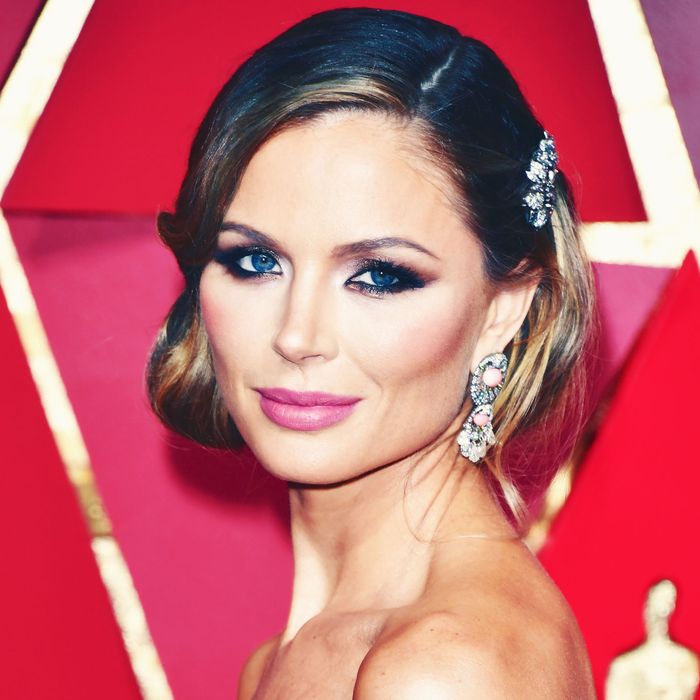 Georgina Chapman.
Photo: George Pimentel/FilmMagic
In October, dozens of women bravely came forward to accuse former Hollywood titan Harvey Weinstein of sexual harassment and assault. Since then, his now-estranged wife Georgina Chapman has remained largely quiet. Although she announced that she was leaving Weinstein, the Marchesa designer otherwise cancelled Fashion Week appearances and had yet to comment on the allegations — until now.
In a new interview with Vogue, Chapman speaks out about the scandal for the first time. Reporter Yashar Ali, who spoke with more than a dozen of Weinstein's survivors, wrote in the Huffington Post on Thursday that it is largely believed that Chapman had at least some knowledge of Weinstein's behavior, as some survivors said he made misogynistic comments in front of her. However, the Vogue article is largely sympathetic to the Marchesa designer. Chapman told the magazine that she was "absolutely not" and "never" suspicious about his behavior, explaining, "I've never been one of those people who obsesses about where someone is."
The designer, and mother of two children with Weinstein, said that she hadn't really stepped out of the house in last five months:
"I was so humiliated and so broken … that … I, I, I … didn't think it was respectful to go out. I thought, Who am I to be parading around with all of this going on? It's still so very, very raw. I was walking up the stairs the other day and I stopped; it was like all the air had been punched out of my lungs."
She further explained that she's been seeing a therapist since the "shock" of the allegations. "There was a part of me that was terribly naive — clearly, so naive," Chapman said. "I have moments of rage, I have moments of confusion, I have moments of disbelief! And I have moments when I just cry for my children. What are their lives going to be?"
Chapman said that she "lost ten pounds in five days" after the New York Times and New Yorker reports about the allegations were published:
"My head was spinning. And it was difficult because the first article was about a time long before I'd ever met him, so there was a minute where I couldn't make an informed decision. And then the stories expanded and I realized that this wasn't an isolated incident. And I knew that I needed to step away and take the kids out of here."
But on Thursday, Jodi Kantor, one of the Pulitzer Prize-winning reporters of the Times investigation into the Weinstein allegations, tweeted that Chapman's statement about the "first" article was "incorrect." The Times report included accusations through 2015, while Chapman was married to Weinstein:
In the article, Chapman also spoke about how "happy" she was with Weinstein before the allegations emerged, and her friends provide details about how they first got to know them as a couple. The interviewer spoke with Chapman's friends Huma Abedin, actor David Oyelowo, and model Karen Elson about the scandal, its impact on Chapman, and their support of the designer. Abedin revealed that she and the designer "bonded" after the scandal broke, given her own experience with estranged husband Anthony Weiner:
"This particular club, ironically, it's not such a small one: women who have had to endure it in such a public way, women like Georgina and me. People don't feel sorry for us; you don't get that empathy. People think you're beautiful, you're thin, you're rich, you're photographed on the red carpet, and you get stuck in this category. There's so much more depth beyond all that with Georgina."
Chapman further divulged that she and her kids left the country after the scandal, heading to London to be with her family in its wake.
In addition to revealing the personal toll that the Weinstein revelations took on Chapman, the article also highlights the scandal's impact on Marchesa. Anna Wintour even devoted the editor's letter to voicing her support of Chapman and the brand. Read the full interview here.
This post has been updated.