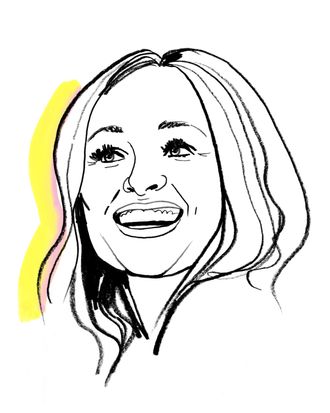 Illustration: Lauren Tamaki
Giada de Laurentiis is a cookbook author, television host, restaurateur, and chef. She's known for her Food Network series, Giada at Home, and her frequent appearances on NBC's Today and talk shows such as The Ellen DeGeneres Show. The author of nine books (the most recent is Giada's Italy, out this past March), she has two Las Vegas restaurants, Giada and Pronto, and just opened a third one: GDL Italian by Giada, in Baltimore. Next month, she'll resume filming Giada's Holiday Handbook and Giada Entertains. When she's not working, she spends time with her 10-year-old daughter Jade in her Los Angeles home. Here's how she gets it done.
On her morning routine:
I wake up at 5:30 a.m. and check my phone — not email because I feel like there's just so many that it's daunting. But I check my texts because I have a 10-year-old daughter and she's not always with me. Sometimes she's with her dad. That's the first thing I care about.
If Jade is with me, I usually go wake her up because she has to get ready for school. Then I make myself a cup of coffee. I stretch and, if possible, I listen to three minutes of a fireplace on the Calm app. I have a yoga mat in my bedroom and with blocks placed so that I can put one under my shoulders and one under my head to open up my shoulders. Because of what I do for a living, I'm hunched over a lot, cooking or writing.
On what she wears to work:
Like any woman, it depends on how I'm feeling and where I'm at in the month. My wardrobe is not really as sophisticated as people might think. I like to wear casual clothes like jeans and a T-shirt. But what I do is accessorize. I don't really wear rings, especially now that I'm divorced, but I do wear bracelets. And I will tell you that on my show I get complaints from my producer or my sound person, telling me that my bracelets are getting in the way of things. But you know what? I like them! If I'm going to be casual then something has to glam me up.
On cooking at home:
Making breakfast for my daughter is actually a ritual I enjoy. I make pancakes. I like to cook, and as long as I'm not talking in front of a camera or having to explain to anyone what I'm doing, I sort of zen out. That's my second form of meditation in the morning.
On taking 20 vitamins a day:
My acupuncturist makes my little supplement bags for me. I try to go once a week. She muscle-tests me for what she thinks I need. The only regular things that I take are vitamin D, a probiotic, a prebiotic, and biotin. Everything else will sort of switch out. It's like a baggie of — I hate to say this — 20 pills a day. Which is a lot. I have to tell her, "You can't give me more than 20 pills a day. I cannot take them." I take ten in the morning and ten in the evening.
On answering emails:
When I don't have to be somewhere for a photo shoot or a show or traveling, I tackle emails. I try to tackle all emails on my cell phone. If it's a pretty day, I like to go outside with a second cup of coffee and in the sun get a little bit of vitamin D. I read my emails with my glasses and a hat because I can't see otherwise.
On scheduling appointments:
If I'm not shooting or I don't have to be anywhere, I start my day with all of my appointments. Acupuncture, I try to do once a week. Yoga, I try to do five days a week. And then any doctors appointments. Because I travel so much and I've had a history of really bad sinus infections, I tend to get vitamin pushes from my doctor once a week when I get busy to try to get my immune system going and so that I don't get sick. If I think about it, my free time is all taken up by maintenance for myself. I think people forget how much women, as we get older, have to keep up.
On assistants:
I only have one. She's young and eager. I like to keep a very, very close knit group. I have a culinary director who helps me with all things food, and I have a social-media person who runs all my social along with me. I'm very type A in that way. I like to be on top of what I'm doing and I like to be in the middle. If I feel like I have too many people running too many things, then I lose track of what's happening and who to ask.
On learning to say no:
My daughter is with me on tour right now because she's on spring break. Years ago, I used to jump on a plane every week and go to New York, do the Today Show and work. And then I realized, "If I continue this, I will not see her grow up." I started to make decisions about my schedule — what I can bring Jade to and what I just had to say no to. I started to say no to a lot more things, and then I got divorced, and now I say no to even more things because my time with her is limited.
On finding time to write:
The cookbooks get done every 18 months. It's the cycle that I've been on for ten years. I will do some of it when I'm on vacation. For some reason, being at my house, I can't relax. There's too many distractions, so I'll rent a house somewhere. I like to go to the mountains or Palm Springs. For my recent one, my daughter and I went to Rome, where my mother lives.
On opening new restaurants:
Usually I split my time 50/50 between restaurants and television/media. When it comes to restaurants, I have a hand in all of it, from the recipes to the decor. It's an ongoing process — I'm always adding to the menu to keep it current and interesting. Every restaurant is an extension of my brand, so it's really important to me that my guests feel like they're a part of my world when they walk into the space.
On testing recipes:
Every recipe is tested multiple times and I'm always creating new recipes, whether it's for my restaurants, shows, or my lifestyle site, giadzy.com. I put a lot of my recipes on giadzy.com to see how fans like them before adding them to my restaurant menus … so give me your feedback!
On her work ethic:
Taking a break is not the easiest thing for me because I feel like if I'm not doing something then I'm wasting my time. I like to make the most of every second I have. Thirteen years ago my brother, who was two years younger than me and who I was very close to, died of cancer. I realized that life is fleeting and it can be taken away at any time. I feel like I only have a limited amount of time on this planet. I have to get as much done as possible. As sad as that might sound, it's the truth.
On the best advice she's ever received:
When I first started doing this, because my grandfather [Italian film producer Dino De Laurentiis] had already made a name for our family, he was very fearful. He was very worried that I would ruin the name or make the De Laurentiis name something that wasn't prestigious anymore. I always had at the back of my mind to think about my family first. Would my family be proud of the choices that I've made? I guess my overall advice would be: Make sure that when you look at yourself in the mirror, you're happy with the choices that you've made.