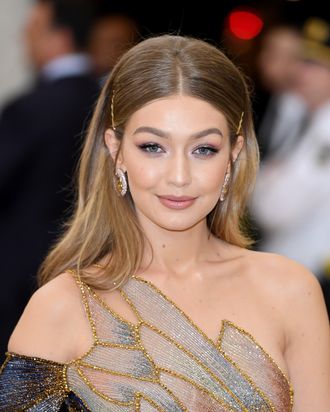 Gigi Hadid.
Photo: Karwai Tang/Karwai Tang/Getty Images
While all eyes were on the headpieces and Jesus pieces at the Met Gala last night, Gigi Hadid wowed in her flowing stained-glass gown by Versace. Her beauty look was simple, soft, and romantic, and courtesy of a new Maybelline palette that's coming out this fall.
Hadid enlisted the help of Maybelline and celebrity makeup artist Patrick Ta (he's worked with Ariana Grande, Joan Smalls, and Shay Mitchell) to create a look that reflected the blue and blush accents on the gown. For the look, Ta used the upcoming Soda Pop Eye Shadow Palette, which will come with 12 fizzy shades. All the shadows are named after sodas and smell just like them, too. Ta also swatched the shades last night, showing that just like soda, they have an effervescent quality of them (in this case, achieved with glitter).
Shades Blue Raspberry (navy blue), Cherry Cola (mauve) and Grape Pop (violet) were used last night on Hadid. The palette also comes colors like Soda Fizz (bronze), Crushing (bright orange), Cherry on Top (burgundy), and Tonic (a cream soda-like highlight). Half of the palette is split into cool and warm tones. Hadid remains a face for the Maybelline brand and the Jet Setter palette, her last big release, sold out worldwide. No word on whether Hadid had any input into the shades for this new collection.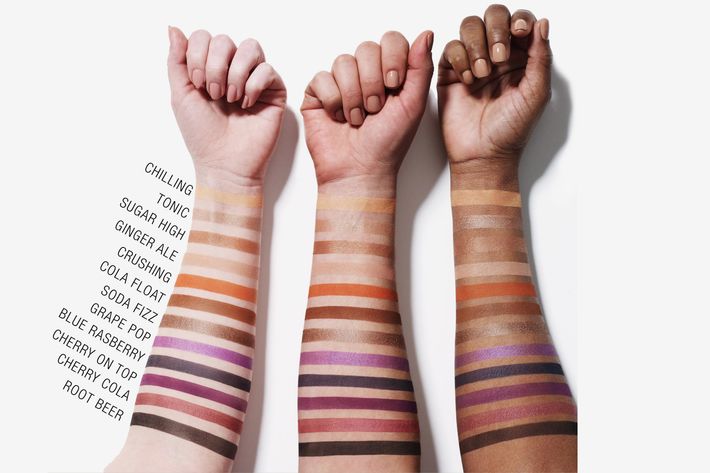 The Soda Pop palette comes out in September in major drugstores and will cost $14.