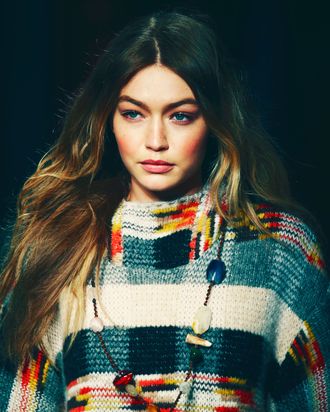 Gigi Hadid.
Photo: Estrop/Getty Images
In comparison to her peers, Gigi Hadid is guarded on social media, only sharing what she has to (sponsored posts, red-carpet photos, magazine spreads, runway images, responses to controversy) and the occasional glimpse of her personal life (family photos, a hockey game here and there). Every so often, though, she decides to speak up, whether it's about her body image, or issues as big and complicated as the Israel-Palestine conflict — which she commented on this week and promptly regretted.
On Tuesday, Hadid, who is half-Palestinian, shared screenshots on Twitter of an Al Jazeera article detailing the recent violence on the Gaza Strip, which resulted in the deaths of dozens of Palestinian protesters at the hands of Israeli forces. She also shared a post from her cousin, Lina Hadid, who appears to be a pro-Palestine activist.
"I've said it before and I'll say it again. For me, this is not about religion or one against the other — it's about the greed," Hadid wrote as a follow-up, using the hashtags "Free Palestine," "Free Gaza," and "Coexist," with a peace-sign emoji. She later added: "My intent is never to further separate groups in hatred. I'm not anti-anyone. I am only pro-coexistence."
Her tweets received thousands of interactions, including charged responses of support and dissent from both sides. The Israel education organization Stand With Us was particularly upset with her use of "greedy" — a historically loaded word in reference to Jewish people. They wrote: "So you're saying that Jews who want to live in their homeland in peace and defend against shooting and bombing attacks are "greedy"!? Seriously?"
"I didn't call Jews greedy," Hadid clarified. "I'm saying coexistence is not to live in greed."
Hadid and her family — some of whom currently live in Palestine — have always openly supported their roots. Bella Hadid has attended pro-Palestine marches and the two sisters both protested Donald Trump's immigration ban in New York City in December.
The recent backlash Gigi Hadid received on Twitter, though, frustrated her to the point that she declared she was going to "start keeping [her] opinions to [herself]." Some expressed disappointment in this decision, seeing that she has such a huge platform and that so few others in fashion are willing to earnestly speak up about politics.
Shortly thereafter, Hadid turned her attention toward another conflict currently dividing the internet. Six minutes after her final tweet about politics, she posted one word: "Laurel."