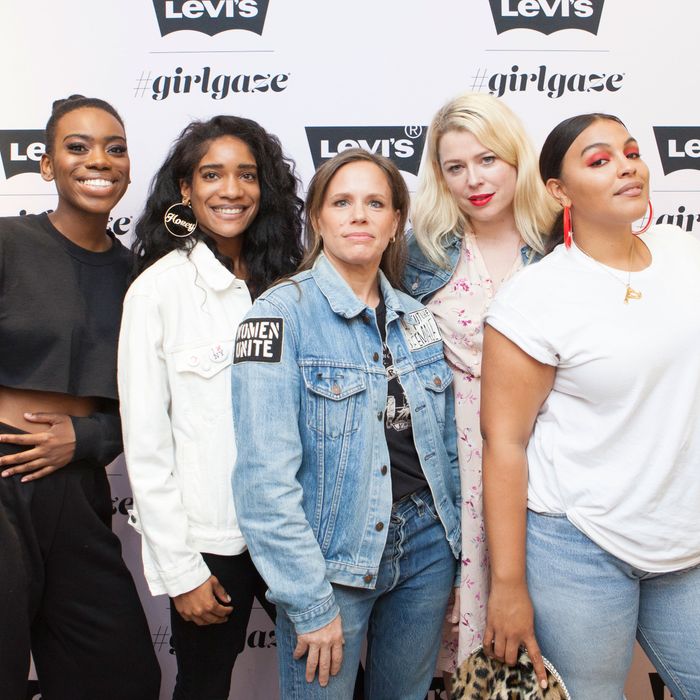 Kaia Burke, Elyse Fox, Jen Sey, Amanda De Cadenet, Paloma Elsesser.
Photo: Macy's Media Team
The term "Girl Power" is overplayed, sure, but Girlgaze's short documentary film series is one area where it applies. Girlgaze is a photography group founded by Amanda De Cadenet that supports young female photographers and filmmakers. In their new series, sponsored by Levi's, they tapped four women to make short films about other women who have changed the world around them.
Last night, De Cadenet hosted a panel at Macy's Herald Square alongside Levi's chief marketing officer Jen Sey featuring activist Kaia Burke (the child of #MeToo founder Tarana Burke), body positive activist Paloma Elsesser, and Sad Girls Club founder Elyse Fox. The Q&A portion got emotional as the panelists discussed carving their own spaces in the world and "living their truth." Watch the shorts featured at the event below.
She's Revolutionary
Director Brittany "B.Monét" Fennell explores the relationship between #MeToo founder Tarana Burke and her gender non-conforming, activist child Kaia Burke. Kaia told the crowd last night that her mother raised them to be excellent and love themselves, and the film will make you want to call your mom.
Drum As You Are
Switching coasts from NYC to L.A., this short tells the story of a woman who created a school of rock for young girls. Mona Tavakoli created her program after growing up in a world where it was odd for her to be a drummer. Some awesome rock and roll tweens feature in this film, directed by Jess Colquhoun.
#6
Young athlete Sam Gordon started out playing tackle football with the boys, then created her own league for girls. Now 15, she's the first woman to be honored by the NFL with the Game Changer award and is telling her story to director Molly Fisher.
Jasilyn: Activist of the Land
This film by Lina Plioplyte tells the uplifting story of Jasilyn Charger. Charger, a Native American teen, made headlines after rallying young people around the Dakota access pipeline protests at Standing Rock, North Dakota. In the film, she opens up about her mental-health struggles, and connection to her community and the earth.