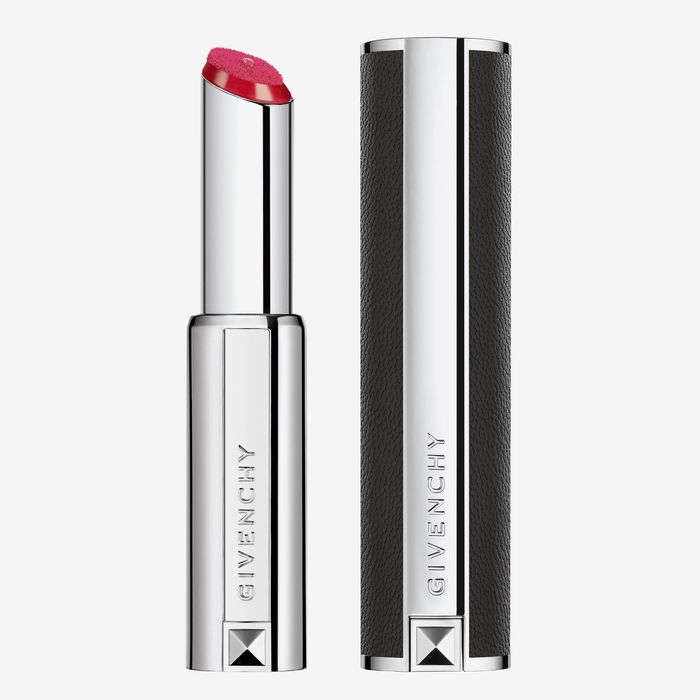 Photo: Courtesy of Givenchy Beauty
Givenchy may undergo changes, but Nicolas Degennes has weathered them all. The makeup artist has been the artistic director for Givenchy Beauty for more than a decade, and he's responsible for creating some of the beauty world's prettiest and most desired products. Collectors love his eye-shadow palettes in particular; last winter's collection goes for hundreds of dollars on eBay.
Degennes has spent the past few years working on a new liquid lipstick for Givenchy called Le Rouge Liquide. To develop the brand's new signature shade of red, #309, he tested thousands of options. Below, he talks to the Cut about how darkness is essential to his creative process, how he draws inspiration from traffic signs, and what shade you should reach for when you're tired.
Givenchy Beauty says of this new launch, "It is not what it seems." What does that mean?
Le Rouge Liquide is not a gloss, it's not a lipstick, it's something else. I wanted to create something new that would also feel familiar. So it still looks like a tube of lipstick, but you open it and there's a sponge.
It's a live matte — not too matte or drying on the lips. You won't feel it. The sponge helps it be more matte and act like a stain, but still gives strong color. What's different is also the delivery. You turn the tube to release the lipstick, but there are no clicks. It's smooth.
At the beginning we were working with clicks, but it was difficult to control the amount. So I said, "Why don't we do something without any clicks?" You can turn it forward to get more product and backward if you make a mistake and need to bring it in. Each time, you can update your application.
It's a completely powder-less formula. Powder gets into wrinkles, which is fine for Instagram when you can retouch. But I'm working for real women.
There are 14 shades, one of which you're calling the universal red. With all the shades of red out there, how did you create that specific shade?
Yes, you will find Rouge Interdit 309 across all the ranges. It will be one of our signatures. It's funny because your eye is drawn to recognize about thousand different grades of color. That sounds like a lot, but there are way more colors in the world. From there, there are maybe a hundred different reds and blues. But unless you're trained, it is totally impossible to distinguish between even five different reds.
I had to choose one red shade I knew would be recognized. So I chose the color of a Stop sign. Everyone knows about it and it looks good on everyone.
How about the rest of the shades? Do you have a particular woman in mind?
Well … me. [Laughs] I'm spending my time playing with colors and looking at women. When I'm doing 12 or 24 different shades, I actually develop 50 or 60. I try all of them. I try to think about something more universal. A lot of times, people say "The model is my muse." But that's limiting. You're creating for many women, so one person does not physically exist. I try to think about women of all ages and to be as broad as possible. Sometimes there are colors I don't like too much, but I know a woman will love them. It is in my DNA to please everyone.
When you look at the colors you've created, what do you see as the common theme?
Blacks and blacks and red and reds. They all have an undertone. We have even done a black lipstick before. But black is not a color — it's something else. It's something undefined. Just like white.
Black and white are the yin and the yang, the mother and father of all the colors. If I don't have black and white, I could never do a pink or a dark shade — they're part of every color.
In beauty, we're often trying to remove darkness — like dark eye circles or shadows — and bring out more luminosity. Why are you drawn to black?
In my colors there's always an undertone of black, more than white. A dark red doesn't work without black. But you really need both light and dark to appreciate each. The contrast is what makes darkness or lightness work. At Givenchy, it's always been about the contrast of black and white. It's truth; it's real.
And red is a core color for me because it's a reminder of passion. It's the color of blood, and blood is a reminder of being alive. For example, when a geisha does her makeup — she puts red around her eyes and not black. Red drives you. You can use it to express a lot of your life.
How so?
When you're tired, hungry, or want to say something to someone, wear red. A lot of women ask me, "When I'm tired, what should I do?" Put a little concealer on your skin, but not too much. But add red — let the color talk. An incredible red makes everyone look at it and forget everything else.
If you buy something through our links, New York may earn an affiliate commission.