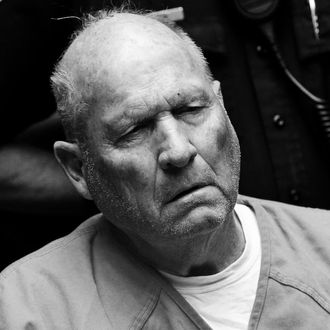 Joseph James DeAngelo.
Photo: Rich Pedroncelli/AP/REX/Shutterstock
The man suspected of being the Golden State Killer was just charged with four more murders, bringing the total number of murder charges he's facing up to 12.
NBC News reports that retired police officer Joseph James DeAngelo, 72, has now been charged in Santa Barbara County with the December 1979 murders of Robert Offerman and Alexandria Manning and the July 1981 murders of Cheri Domingo and Gregory Sanchez.
The Golden State Killer — also known as the East Area Rapist and Original Night Stalker — is accused of committing at least 12 murders, 45 rapes, and over 100 burglaries across the state of California between the years of 1976 and 1986. Part of his MO involved tying up husbands before raping their wives, and calling victims and taunting them after the fact. There was recent renewed interest in the case thanks to late crime writer Michelle McNamara.
DeAngelo was arrested on April 24 at his home near Sacramento; police were able to find him, in part, because of DNA a distant relative submitted to genealogy websites.
If convicted of any of the murders, he faces the death penalty.