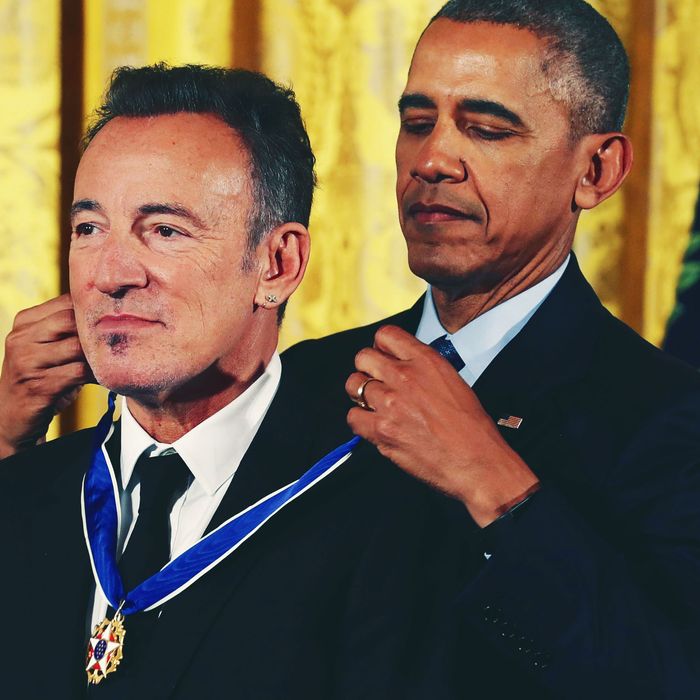 Huh.
Photo: Chip Somodevilla/Getty Images
Turns Out It's Pretty Good is an occasional series about our new-old obsessions.
BAD-LAAANDS! You gotta live it everydayee, let the broken hearts staaand as the price you gotta pay — keep pushin' 'till it's understoooood and these bAAadlAands start treating us goooooooood! WOAHWOAHWOAHwoah, Bruce Springsteen is good!
I never listened to Bruce Springsteen until about five months ago, I think for the same reason I didn't eat broccoli until my 20s: my parents didn't make me, and then I just never did. Bruce Springsteen isn't broccoli (he is a man) but, similar to broccoli, he lacks the child-enchanting theatrics of something like a Little Richard or a David Bowie or a carrot. To grow up with him, I think you need a push — if not a Springsteen-loving parent eager to pass on their affection, at least the home state of New Jersey. I didn't have either of those things (I'm from the esteemed state of Pennsylvania), but that's okay. I know Bruce Springsteen now.
And he's great!
I came to Bruce Springsteen more out of curiosity than anything else. I have a friend who is very into him, and I realized it was odd to hear him and other people talk about Bruce Springsteen and have almost no sense, beyond "Dancin' in the Dark" and "Born in the U.S.A.," of what that meant, or of what he sounded like. (American?) Though I've been listening to him for about five months, as I said, I've only digested two of his albums. When it comes to music, particularly music of significance, I like to move slowly and really dig in. I listened to Darkness on the Edge of Town for a couple months before moving on to Born in the U.S.A., then, out of a distaste for change and the '80s, returned to Darkness for a few more weeks before finally settling in, for real, with Born in the U.S.A. Next I'll listen to The River and then Born to Run, because — as I'm sure you understand — I don't want to do two Borns in a row.
It's really crazy how good Bruce Springsteen is. There are so many moments in his songs that make me smile and laugh a little every time I hear them — truly, without obnoxious writerly hyperbole — simply because I cannot believe how good they are. The first tension-releasing "baby if you wanna be wild!" in "Candy's Room." The final time the "Badlands" chorus shows up, after "I wanna find one place, I wanna spit in the face of these—!" When he really gets in the groove at the end of "I'm Goin' Down." I'm smiling right now just thinking about it. I'm tearing up!
Speaking of "I'm Goin' Down," one surprising thing I learned about Bruce Springsteen, in listening to the two albums of his I've listened to so far, is that "I'm Goin' Down" and "Glory Days" are by him. I would always hear those songs at my cousins' weddings and, though I never actively thought about which artist they were by, I guess I just assumed they were by John Mellencamp, Warren Zevon, or Billy Joel. They're not, though — they're Bruce Springsteen songs. I love an opportunity to learn.
I must admit, I'm a bigger fan of Darkness on the Edge of Town than I am of Born in the U.S.A., the album from which … no … man … can keep can-dy safe! we KISS! Sorry, the album from which those wedding-reception-appropriate songs come. Though I wouldn't describe either as gritty, Darkness is certainly grittier; and though I wouldn't describe either as wedding party music, Born certainly has those two songs that are often played at my cousins' weddings. They're both great albums that bring me a lot of joy, but, really, I just love Darkness so much that I expect it'll be hard for any Bruce album to beat it. "The Promised Land"? Come on. "Prove It All Night"? Come on. "Badlands," like I already talked about? Come on!
Bruce reminds me of Jack Handey, my favorite writer, in the way that he pushes the thing one step further than where a lesser talent would stop. It's not the joke, or the twist on the joke, it's the twist on the twist on the joke. It's not the verse, or the chorus, it's the pre-chorus going into the chorus that one last time you don't expect. I know this is likely extremely obvious to everyone else, perhaps save for the Jack Handey comparison, but I must remind you that I just began listening to Bruce Springsteen.
And it turns out, he's pretty good!