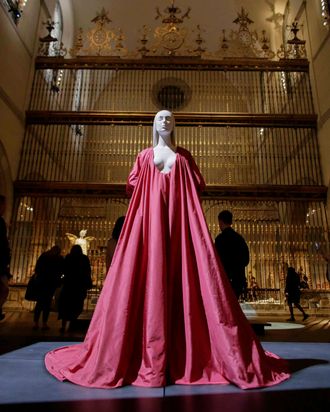 Photo: Kena Betancur/AFP/Getty Images
There's something so satisfying about a time-lapse video — especially ones that speed-up actions as complex and precise as the installation of the Metropolitan Museum of Art's new Costume Institute exhibit.
An exclusive new clip shares every step it took to make "Heavenly Bodies: Fashion and the Catholic Imagination" come together, from the red Valentino gown in the center of the room to the lighting that makes it so dramatic. While it's too short to play a drinking game, it's just long enough to inspire a pilgrimage to the museum — one we think is definitely worth it. Maybe even a second or third visit. Watch the exhibit come to life, below.