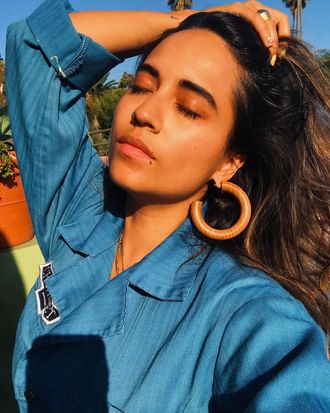 Cyndi Ramirez-Fulton.
Photo: @cyndiramirez/Instagram
Do you ever see someone on Instagram and think "Why is your skin so good?" We do, so we started asking. Welcome to Why Is Your Skin So Good, a series.
If you live in New York City and have an Instagram account, you've probably come across the Lower East Side nail salon and massage parlor Chillhouse, which describes itself as "A destination for modern self-care." The brains behind the cool-girl hangout is Cyndi Ramirez-Fulton.
Ramirez-Fulton has always been into skin care. It helps that she grew up with an expert. "My mom's an esthetician," she says. "But it's not until a few years ago that I've been more on top of it from a routine standpoint. I think the biggest issue women have with taking care of their skin is that it can get expensive if you give into the pressures of the industry. One of my goals is to show younger women that it's important to start young and don't stress about the huge price tags or pressure of getting regular treatments. There are affordable ways to do it!"
Read on for her favorite products.
The Mask
Photo: Courtesy of the Vendor
"This leaves my skin super clean. I wear it in the bath."
The Toner
Photo: Courtesy of the Vendor
"I love this new brand. They just launched. I don't normally use toner, but I'm really into it! I love the smell and it's a solid product. It preps and brightens, and it's doing a good job."
The Mist
Photo: Courtesy of the Vendor
"I love how this makes me wake up, and how it makes me feel."
The Eye Cream
Photo: Courtesy of the Vendor
"I go between a few brightening eye creams. This one has ginseng, and it de-puffs and brightens — especially good for those mornings when you had a couple too many drinks before. I use it in a circular motion, always pulling out and up."
The Serum
Photo: Courtesy of the Vendor
"I don't stick to one moisturizing routine, but this is my No. 1. I've gone through my bottle. I'm obsessed with it."
The Other Serum
Photo: Courtesy of the Vendor
"I mix my oil with this serum. I'm not a huge fan of the smell, so that's why I mix it, and that's my moisturizer!"
The Sunscreen
Photo: Courtesy of the Vendor
"This has SPF50 and it's so easy to throw in your bag for on the go. It does exactly what it says it does, which is give you a glow. You can apply to your upper cheek or nose."
A Water Enhancer
"I put these in my water whenever I remember to. Five to six drops are awesome, it does my body wonders."
The Highlighter
Photo: Courtesy of the Vendor
"This is always safe to keep in your bag because you never know where you're going to end up. If I decide to go out, or to drinks after work, and I put it on my cheeks, I feel like I'm really out."