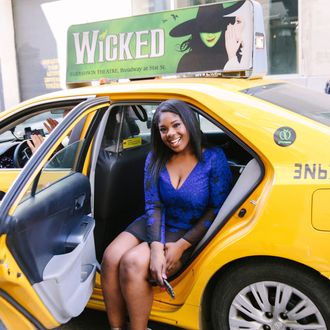 Photo: Jenna Bascom Photography
As a kid, I was the Girl Scout who refused to knock on doors to sell cookies. Instead, the day our order forms were due, I'd make my mother pull over right before my elementary school, place an order for 500 boxes, and accept my promise to resell all of them. Once the cookies arrived, I'd sell them after church — typically, it took no more than two Sundays to find each box a home. In my even younger youth, I enjoyed selling candy bars after church for $2 a pop to support "The Mariah Cause," a charity for myself. I got away with this for months until my pastor kindly asked me to stop selling goods on church property.
I say all of this to give you a bit of context surrounding my recent actions. Aside from seeking the truth in all things, I have two additional personality traits: getting what I want and tackling a challenge. Naturally, these traits combined to inspire me to have a #Sponsored Birthday Party for my 27th. I can't say the idea was all my own: In 2004, Star Jones came under fire after asking vendors to pay to be a part of her wedding in exchange for publicity. I've always wanted to try out her iconic methodology — and make it better.
Though I would never ask anyone to pay me to use a product, I did wonder if I could get products I sincerely love in exchange for some light promotion. Plus, at my core, I'm Extra AF. Doesn't everyone want to live that #SponCon life for a day to see what happens?
The Plan
Right after I officially decided to have my Sponsored 27th, I held the first (and only IRL) meeting with my team. I'd secured an event producer, who moonlights as my sister, Rachel Smith, to run the party. Rachel was chosen for the job because even though she currently works in higher ed running social channels, she used to be in the media game. And since she's expressed interest in being the sister version of Kris Jenner, I decided to use this as her audition. I also asked a friend of ours who works in PR, Alicia, to come on as a consultant, making sure Rachel used the right language when reaching out to brands.
As is the #SponCon custom, we met over salads and white wine one Sunday afternoon, fleshing out how a sponsored party could work. I know I'm loved by a handful of people, but for all intents and purposes, I'm just a regular old civilian like you all, and realistically, my reach is about as far as a newborn's. Still, given my commitment to the event, I felt confident.
My staff and I even decided on a rule: If we couldn't get something sponsored, it wouldn't be at the party. And we meant it: When my parents expressed excitement at the idea of participating in the celebration of my birth, I told them I'd actually kick them out if they found a way from St. Louis to New York via any form of transit that wasn't paid for, in full, by some company. I was even willing to go shoeless should my shoes not come with an #ad attached. This is not a game. This is the sponsored life.
The Venue
In January of this year, my sisters and I visited a restaurant called MID|NIGHTS in Brooklyn. We were observing a Dry January, so we couldn't drink, but vowed to come back to try a cocktail called "Justin Bieber." Waiting for the day I could sip the sweet liquidy taste of my favorite male vocalist (yup, I said it!), I returned in March with Rachel. After a few Justin Biebers, some vegan food, and fun bartender company, we decided that MID|NIGHTS was our desired party location. Even though the venue is in a different borough from my home (not ideal most nights), I've always adhered to the school of thought that we make sacrifices for the things and people we love. And, boy do I love me some MID|NIGHTS — especially after they hooked me up with the world's best liquor sponsors.
#Alcohol, Baby
To ensure my guests' enjoyment at an open bar, Rachel and I were ready and willing to break our backs getting at least one liquor sponsor. But there was no need for bodily sacrifice: MID|NIGHTS really pulled through and secured not only my personal water, St-Germain, but wine from AP Wine Imports and Simple Vodka as well. If you're not familiar with Simple Vodka, you should be. Every bottle of Simple Vodka provides 20 meals to combat hunger in America. I mean, who am I to say no to getting drunk in the name of providing food for my fellow Americans!
MID|NIGHTS was also kind enough to create a Mariah at Midnights cocktail made with Simple Vodka and St-Germain, and provide an open bar with said drink and Domaine de l'Etoile rosé for the duration of my party.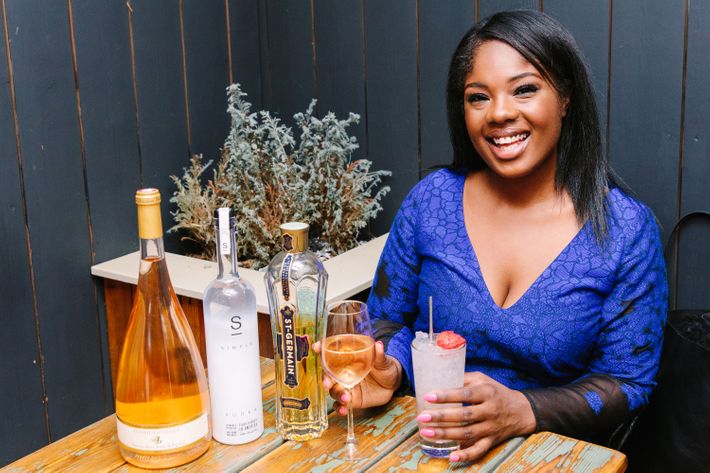 The Glam
Since I knew I would be professionally photographed throughout the day, I couldn't have my cute little face looking any kind of way. For my moneymaker, I asked celebrity makeup artist Mimi Kamara to make me look perfect. As you'll see, she did an amazing job. I fear I'll never achieve such beauty for years to come.
A preview for you, my privileged readers: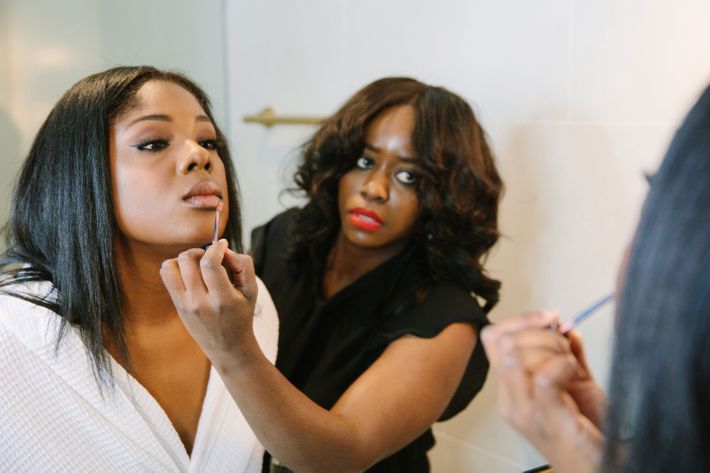 Saying Yes to the Dress
Time to talk about my custom dress, babies. Here's the truth: If I didn't look cute, I'd have to put myself on mute and cancel the party. Such a tall order required someone who knew both the ins and outs of fashion, and the ins and outs of Mariah (not in a nasty way, omg, eww)! That's why Jasmin Brown of J.Carmen was called upon to get my look all the way together. A Realtor by day and future Met Gala curator by night, Jasmin has been in my life since I was a child. She went to my alma mater, Sarah Lawrence, with my older sister/party planner, Rachel, and they've been pals ever since. So, yeah, we really do know how to pick 'em. It's okay to be jealous.
Here's the thing, though: Jasmin is based in Washington, D.C., and I'm based in New York City, which means creating her masterpiece took a lot of ingenuity and effort. Much of the work was done over FaceTime and quick trips (on Jasmin's blessed end) from D.C. to NYC.
To start, Rachel took my measurements over FaceTime with Jasmin as her guide. We covered every square inch of this body of mine, dolls. Next, we talked about fabric and style. I knew I wanted a bright blue, sexy (but modest, she's a woman of God after all!) design based off a Balmain look Amy Schumer wore a few years back. My preferred silhouette came from my constant desire to rock a long-sleeve mini-dress with a v-neck. I was tasked with getting my fabric, but the first time I went shopping, I almost cried into every roll of confusion in my path. Thankfully, Jasmin was able to settle my nerves by offering to go fabric shopping with me on her first trip to NYC.
I chose the fabric store by taking the 1 train to Herald Square/the Garment District, typing "fabric" into my Google Maps, going to the shop with the most reviews (not the highest, just the most), and lucked out. Apparently, Mood, also known as my personal fabric store, is seen on television a lot. Even the store dog, Swatch, is famous! In any case, Jasmin hopped off a bus from D.C. to meet me at Mood, and, surprising both of us, I went with a cobalt blue brocade/sheer fabric moment for my birthday dress. Initially I thought I wanted ribbed spandex, but who knows when I'll get a dress made for me again (my second wedding)! I took a chance.
Jasmin and I didn't get to meet up again until the night before my party. She arrived to Rachel's house with a dress at least five times larger than necessary to make sure alterations could be made appropriately. From 11 p.m. on, she worked tirelessly overnight (after a sleep break around 3 a.m.). Somehow, Jasmin worked magic and by 11 a.m., I had the perfect dress. If you're wondering, this process was a lot of me getting naked in front of Jasmin and Rachel to fit the dress as needed.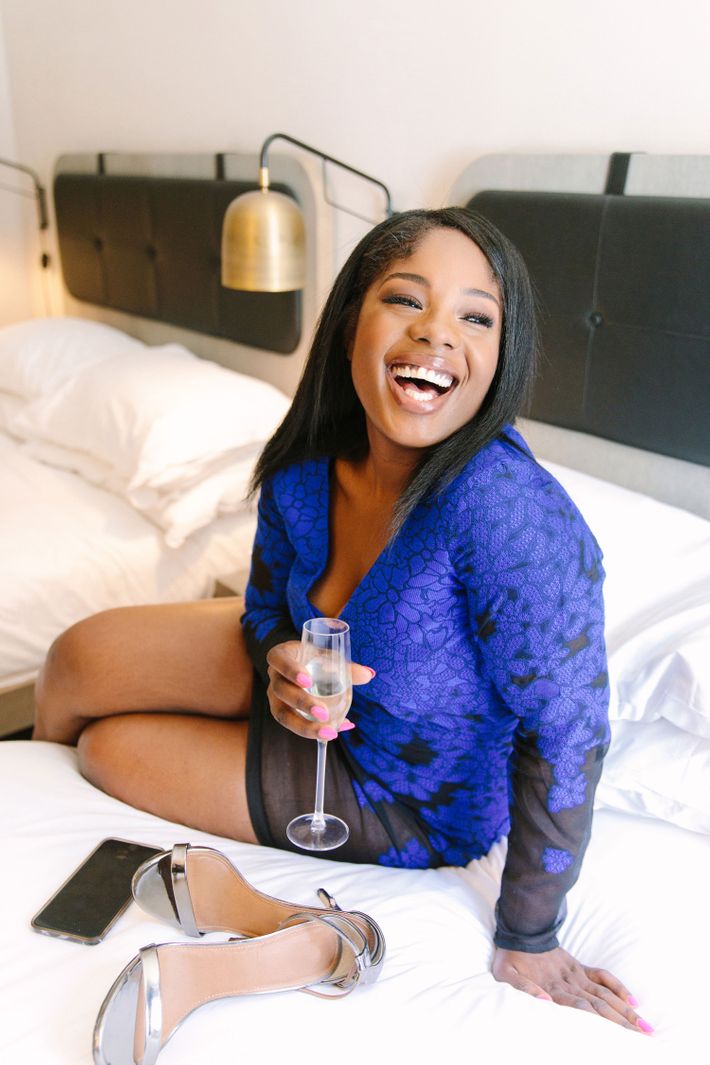 Cake, Cake, Cake
As a vegan, I wanted to make sure my friends and family members would shut up, once and for all, about vegan food not tasting as good as the "real" thing. The only company I know capable of taking on such a lofty goal is Clementine Bakery in Brooklyn. Their cakes are a requirement for any celebration of mine, so I knew this #Sponsored kiki would be no exception. Thankfully, the kind folks at Clementine were game and donated one vanilla cake with pink frosting and rainbow sprinkles. The cake's lettering? Oh, just my Twitter handle, @mRiah. Feel free to follow and share at your leisure.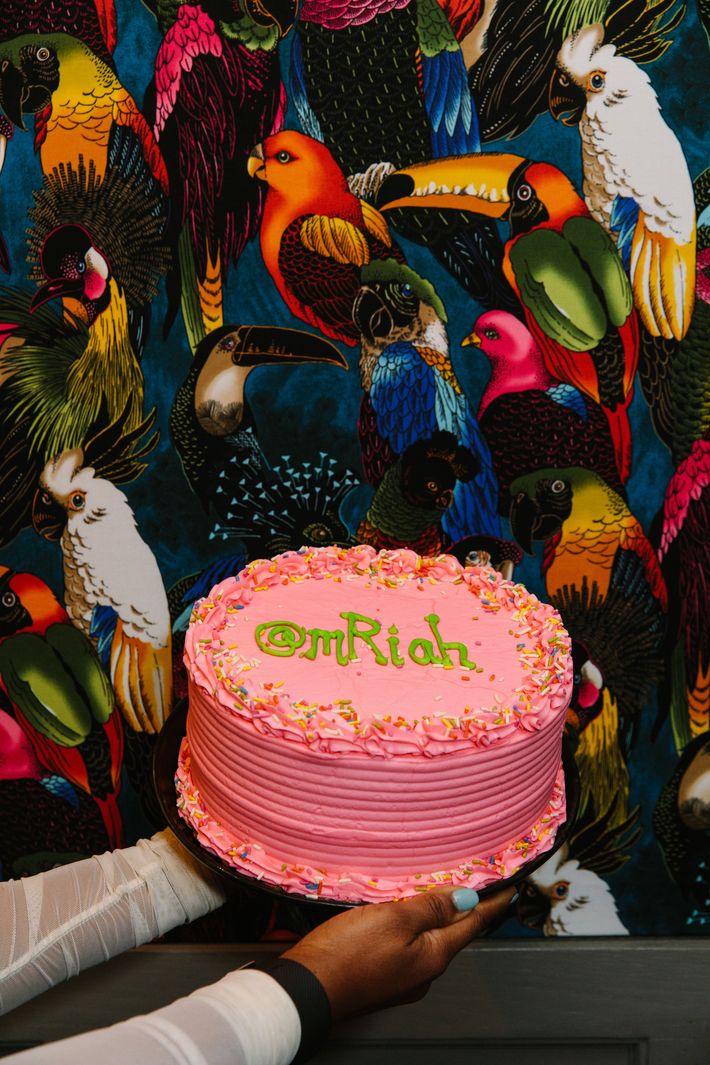 Swag
Swag bags were one of the most important aspects of the party. If I don't leave a place without a material item I didn't have before walking in, the event was a bust.
For my party, the actual bags came from BCCO NYC, a custom printing business in midtown Manhattan, and the design was one I've been working on for years. It's simple but effective — my name in all-caps, five times, in white lettering on a black canvas. I used to sell this design as a sweatshirt, and people have been begging me for a Mariah Season 2 since 2015. So, as I can't help but do, I gave the people what they wanted: Season 2 brought the children MARIAH TOTES filled with some of Mariah's favorite things — candy and tea!
SQUISH, a Montreal candy company with the best name in the business, was so kind to gift me and my guests with bags upon bags of two different kinds of gummies: Vegan Prosecco Bears and Vegan Sake Blossoms from their newest Japanese collection of candies.
My next swag item draws a close comparison between myself and Adele: Just as the singer feels about London, I have a lot of love for my hometown, St. Louis, Missouri. I wanted to make sure my guests went home with a little bit of STL in their hearts and mouths, so Bissinger's Handcrafted Chocolatier in St. Louis was kind enough to send NYC some magnificent Strawberry Mango Gummy Pandas, along with Dulce de Leche chocolate bites, for my non-vegan pals.
To top off the bags, I added an assortment of tea samples from Brooklyn Tea. I didn't want people going home worried about having to live up to my party with no way to cure, and a cup of Brooklyn Tea is the perfect way to chill. I'm just that great of a host.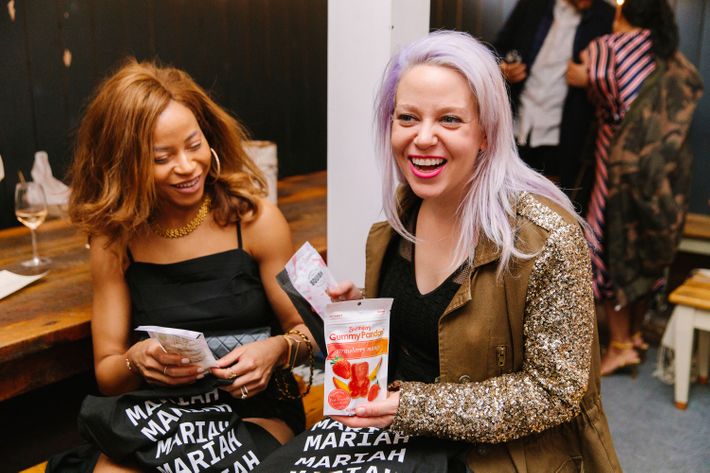 My Ones and Twos
This girl loves some hot tunes, so instead of simply hitting play on a playlist, I asked a DJ friend of mine, Gillian Sandman of the pop/house/soul band Shirley House, to work the party. My meager requests: Top 40 hits, Betty Who, and Shirley House. Gillian also made sure that there was never a lull or a "Why is this happening?" moment during the party.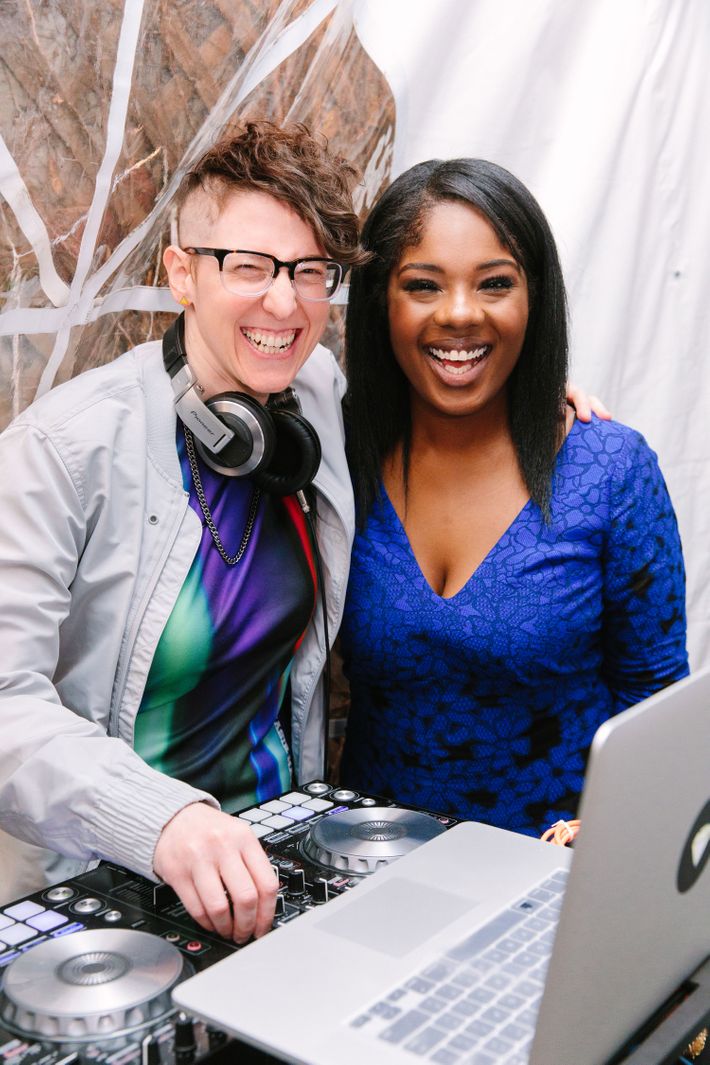 Photography, Please
For my photos, I knew I had to look my best and stunt on all my haters, and the only woman I had in mind for the job was Jenna Bascom of Jenna Bascom Photography. Jenna is possibly the best photographer I've ever worked with (I've worked with a few, shut up!). For my party, Jenna and her director of business development, Caryn Oberstein, were on hand for the entire day. From glam to party wrap, I had a photographer trailing my ass, as the good Lord intended.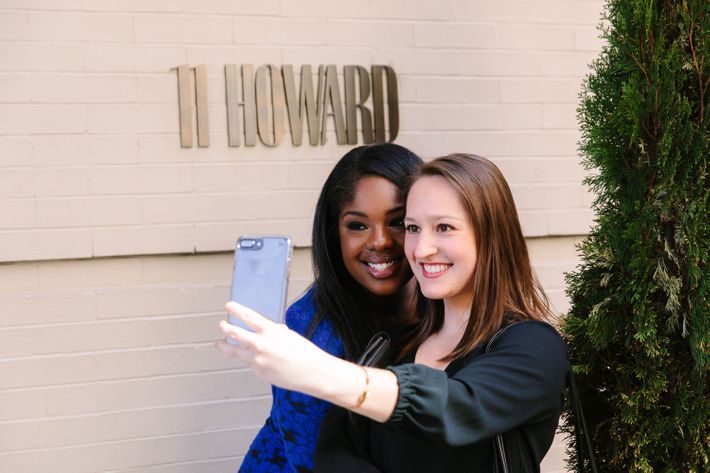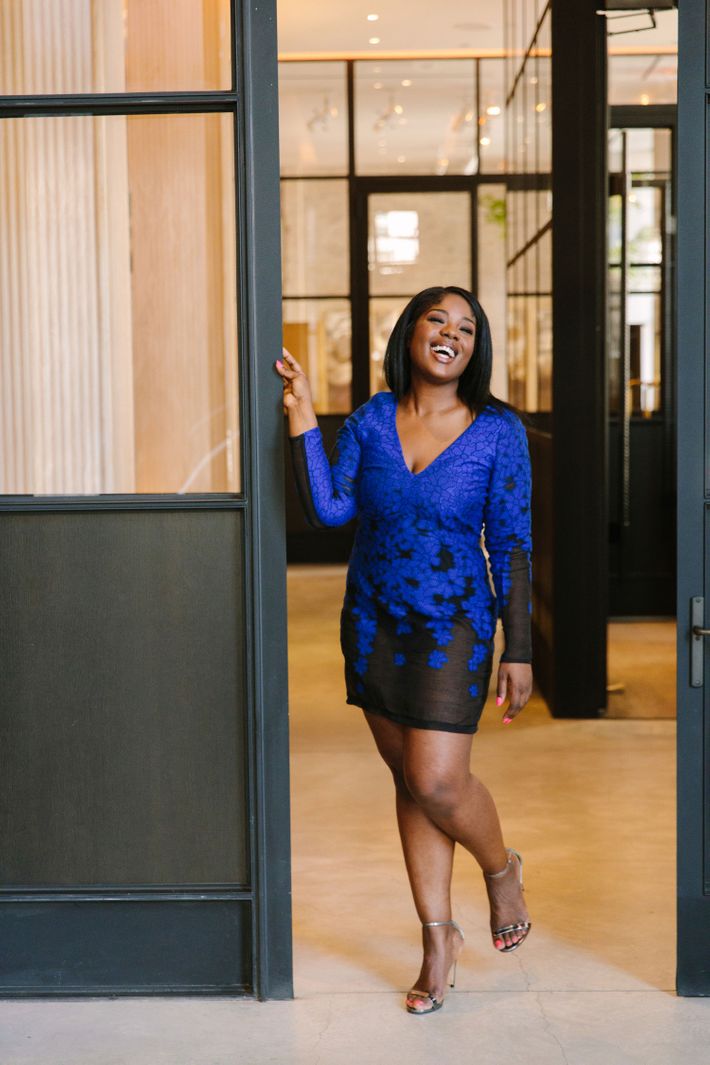 The Hotel
One of the greatest bookings of our event was the hotel. Rachel really rubbed together some magic beads to partner me with the new One Night app. One Night is my new favorite hotel booking app — it allows you to book spontaneous stays at a curated group of hotels in 14-plus cities. There are already 170-plus hotels to choose from and they're adding more! Beginning at 3 p.m. daily, hotel stans like myself have instant access to the One Night hotels at the lowest rates. One Night also suggests an hourly timeline of tips in their "What to Do While You're Here" section for whatever area your hotel is in. I love this feature because when I travel, I hate making itineraries!
The only downside about the app is the excitement leading up to booking a room. Knowing that I was about to experience the perfect stay at one of the most elite hotels in Manhattan — the hotel I picked was 11 Howard in Soho — was excruciatingly exciting. On the day of my party, I quickly booked a room for glam, photos, and a little Champagne before the kiki. I returned to the room after the party with my friends and family to keep night going, but we'll get to that later.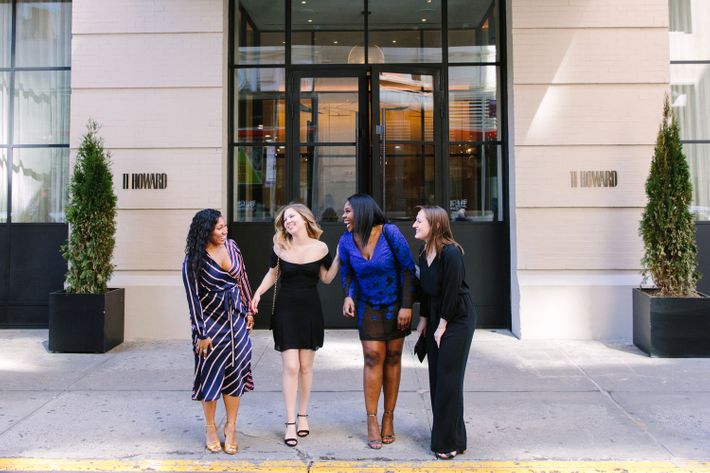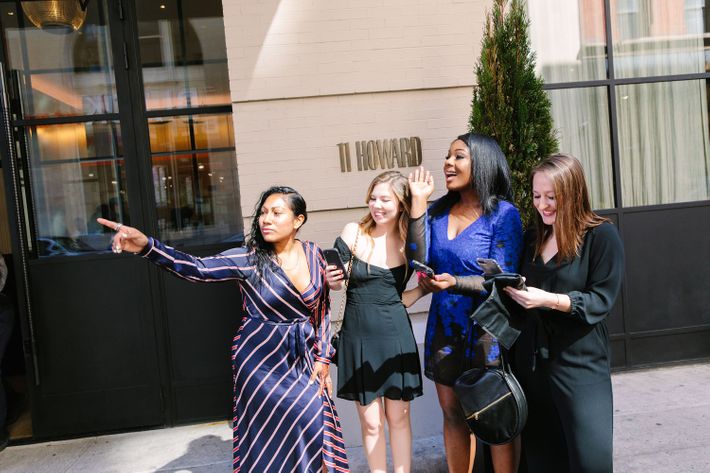 In Conclusion
All of my vendors are now part of my will (should I ever die, or die with money), but that doesn't mean we didn't face some challenges. Rachel put it best when she explained that for every "Yes," we also got a handful of non-responses or straight up "No"'s from potential vendors. Including this party-bus company who was not having it at ALL.

Lastly, I asked that my guests bring a doll to serve as their ticket into the party. No, I didn't keep the dolls (even though I wanted to). Instead, they'll be donated to the not-for-profit children's hospital specializing in neonatology, cardiology, pediatric and fetal surgery, and cancer services, Cardinal Glennon in St. Louis, Missouri, later this month. I've always wanted to do a toy drive for a party, and it felt right this year — especially since I was getting so many things for free. She wanted to sprinkle in some corporate responsibility and spread some cheer, you know?
If you're wondering how Rachel and I turned all of the above into what you see below and which celebs I had in attendance, well, you'll just have to come back tomorrow to find out. #ad