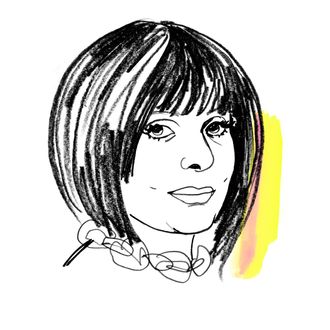 Illustration: Lauren Tamaki
With a practice exceeding 15,000 patients, Patricia Wexler, the New York City dermatologist, is in high demand. She treats everyone from Hollywood A-listers to Manhattan socialites, all of whom trust her sharp eye and soft touch for smoothing wrinkles and sucking out fat. Wexler says she rarely strays from her "robotic" schedule, which allows her to see up to 50 patients a week while squeezing in power naps, Pilates, and daily dinner dates with her husband. Here's how she gets it all done.
On a typical morning:
I wake up at 5:30 a.m., shower, and get ready for work. Three times a week I have someone come to my house to blow out my hair because it's naturally really curly and I don't wear it that way. I have an unbelievable amount of clothing. I have closets and closets of clothes, but lately my uniform is a black skirt or black jeans, a black top, and heels. I always wear heels because I'm five-foot-one-and-a-½ so I wear 3-½ or 4-inch heels.
My driver picks me up a little before 8 a.m. I call him my wife because he does everything I need done during the day — errands and pickups. On my ride to the office I go over my emails and social media. I arrive around 8:15 a.m., at least 30 minutes before my patients start at 9 a.m.
When I get to the office, I eat breakfast, which is either three hard-boiled eggs or three soft poached eggs, and that's when I read the New York Post and the Times. I love reading the paper every day, and it's nice because I have something to talk to my patients about. I call it talk-a-thesia, while I'm giving injections. We can speak about what Trump did today or what he did last night. I have my shtick. If I went to the theater, we talk about what theater I went to and I give my reviews.
On seeing patients in a timely fashion:
We have 11 exam rooms and two operating rooms, but I only work out of two of them because I don't like to crowd patients and keep them waiting. I try to always run on schedule. While one person is numbing in one room I'm working on another person. I see eight to ten patients every day because I usually schedule 45 minutes to an hour with each of them. My patients have multiple procedures done at the same time. They're getting filler, they're getting toxin, they're getting body checks. And we're talking, because I've developed relationships with people over years. I still have the first patient who ever came into the office. And that's how the practice develops.
On staying fit:
I do Pilates and weights with my instructor three nights a week at 6:30 p.m., before dinner. I'm very dedicated to it. There's a great gym in my building with all the Pilates equipment and I have it in my home in the Hamptons, too.
On keeping up with what's new in her field:
I just came back from a conference in South Beach on innovations in dermatology. There is always something new to learn. If you don't learn something new, it was a waste of a conference. And there are certainly conferences in New York where I don't have to travel. All the universities: Mount Sinai, Cornell, Columbia, they all offer conferences. There is always something innovative to learn and there are always new fillers coming out. That doesn't mean that the new filler is going to be better than the one you're using. You have to evaluate. I like to say, I'm never the first and never the last to use a new filler. It's not always necessary to use the new one.
On having a "happy office":
There are four doctors in the practice including me, and we each have our own consultation room that's designated to us. It's decorated the way we like it, with our desks, our computers, our books. And I think that's important because when we see a new patient, we see them in that room first. We don't see them in the clinical setting in the exam room.
My room looks like my apartment. It has an 1800s partner desk. It's got a beautiful Chippendale chair with a leaf design. It's got a British khaki armoire with hundreds of books. I have a couch, so I can take my power naps sometimes. The walls are a blush color with gray carpet, and there are touches of burgundy in the leather upholstery. It's a pretty room. I'm here enough hours, I want it to be comfortable.
I have a huge photography collection of Cindy Sherman, Annie Leibovitz, and Amy Arbus throughout the office — it looks like a gallery in the hallways. Patients constantly say we have a happy office.
On taking lunch breaks with her team:
The office goes on lunch together from 12:30 p.m. to 2 p.m. at least three times a week. We're 19 people, and it's really important to me that everyone bond. We have a very big lunch room and most of us eat at the same time: the doctors, the medical assistants, and the front desk people. I call it "global takeout" — we order in Chinese, tacos, deli, Italian. Twice a week my husband [Dr. Eugene Wexler] and I take our date lunch. We go to the same Italian restaurant because we never have time together. We're in the same office, but we never see each other.
In the office, we don't always eat for the full hour and a half, so if I take a half-hour break to eat, sometimes I'll make a meeting with a drug company to talk about a new product or a new technology. Sometimes I'll take a 20-minute power nap if I'm really tired and had a busy morning. Sometimes we'll have an administrative lunch where we'll talk about problems.
The doctors don't take many breaks during the day, and I try not to look at my phone. I can get 60 emails by the time I get a break, and have to quickly scan them and see if there's anything important that I missed. The only telephone calls I take are from my family. I have two daughters and two grandsons, so if I get a call, I will stop and take it. Otherwise, I try not to interrupt my patient schedule.
On treating celebrities:
My high-profile patients are actually so down-to-earth, I think because this is New York, and not L.A. I've realized the bigger and more successful they are, the more down-to-earth they are. They're real people. I've become friends with many of them. We've gone out for dinner, we've gone out for coffee. I've had people come over for breakfast on a Saturday. And they're less stressed about a bruise than a lot of my Upper East Side patients. I remember doing one patient who was getting a special award at the Tonys and I gave her a terrible bruise on her lip and she said, I guess I'll be wearing red lipstick, darling.
I felt terrible, and she was such a lady about it.
On ending the workday:
I'm out of the office by 6 p.m. My schedule is robotic almost. I have to keep the schedule. I tell people if they're running late, sorry, tonight I can't leave late.
I'm up all day long, so on the nights I don't work out, I wind up taking an hour nap before dinner. It kills my sleep, but because I've been up all day I just sort of crash when I get home.
I don't cook dinner because I have no time to cook. My husband, God bless him, makes a turkey meatloaf once a week, and that will last for a couple of meals. It's really delicious. E.A.T. is great for some chicken soup, and then we have a really good Chinese place that sends over wonderful steamed shrimp with steamed eggplant. We'll also go to Sette Mezzo usually at least once a week, or I like Milos for seafood.
On her nighttime routine:
Before I go to bed, I put out all my makeup for the morning, and I put out my clothes for the next day. I'm sort of neurotic about getting all set up so I can just get up and run in the shower.  I use my Patricia Wexler M.D. Universal Anti-Aging Cleanser to take my makeup off or my Serge Lutens makeup pads and then I put my Patricia Wexler M.D. Intensive Night Reversal & Repair Cream all over my face.
I'm a terrible sleeper, I usually don't sleep more than four or five hours. There are certain television programs I really like watching. I like This is Us, I like The Alienist, I still like Law and Order. It's decompressing time, and usually to get myself tired I'll read a little before bed. I usually don't go to sleep before 11 p.m. or 12 a.m.