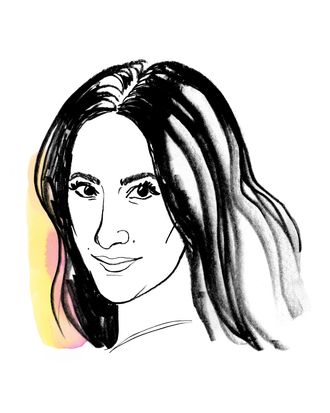 Illustration: Lauren Tamaki
Jen Atkin is one of the busiest hairstylists on the planet. With a slew of top models and celebrities (including the Kardashian family) among her clients, she's rarely on any one continent for too long. When she's not armed with a blow-dryer, Atkin is working on her cult-favorite hair-care line Ouai, collaborating with companies like Dyson and Calpak, or creating content for Mane Addicts, an online platform she launched for hair education. She lives in Los Angeles with her husband, director and photographer Michael Rosenthal. Here's how she gets it all done.
On her mornings:
I don't have a routine. I wish I did. My morning is usually either rushing to set for a job, or rushing to the office, or doing calls at home for the first half of the day and then rushing to the office in the afternoon. It's a lot of doing makeup in the car, trying to squeeze stuff in where I can.
The first thing I do is look at my calendar because it is a little cray-cray. My iCal is everything in life. Then, I look at my to-do list on Trello. I have a whole team and we all share a to-do list, which is awesome. It's chaotic, but it's fun.
I drink English Breakfast tea in the morning when I can, but I'm really bad about eating breakfast. I usually don't eat until 12 or 1 p.m. I stopped exercising because I just needed sleep, so I haven't worked out in a good year.
On her hair routine:
If I shower at night and sleep on my hair it gets crazy in the morning, so I like to wake up early to shower and let my hair air dry. I use our [Ouai] Wave Spray when it's wet, and I do a mixture of the Matte Pomade and a few drops of the Ouai Rose Hair & Body Oil and run it through my ends. I have really thick hair and it's short with layers, so I put it in there to weigh it down a bit. I wash my hair twice a week and I use our mask as my conditioner every time I shampoo.
On having a busy and unpredictable life:
I can't really ever be on a schedule because my clients' schedules change so much. Right now, I'm set to go with a client to China and Paris, and we have a two-week hold. We don't know when it's going to be. I don't usually get my call sheets for a job until the day before.
This is typical: I went to Paris Fashion Week, then took a red eye to Dubai where I did four salon days, which is 30 haircuts a day. While in Dubai, I also did a press day for Dyson and Ouai, a store appearance at Sephora, and taught three classes. Then I took the red eye back to L.A. I landed at 1 p.m. and Khloé Kardashian's baby shower was at 2 p.m. I got there at 3:15 p.m.
Sunday was Hailey Baldwin for IHeartRadio. She was hosting, so we were with her all day figuring out five quick changes in a two-hour show. On Monday, Kendall [Jenner] had interviews for Keeping Up With the Kardashians, and I had phone calls with my team planning out activations for different collaborations that I'm doing. I had a photo shoot with Kendall all day Tuesday. Lorraine Schwartz had a party Tuesday night I had to go to. Yesterday was Ellen. Last night was a Dior makeup party.
You know what's funny? This is very applicable to my life. My husband and I had a 10:30 p.m. conference call with Dubai for this beauty pop-up event, so we asked the club owner at the Dior party if we could go in his office to roll calls for 30 minutes. That happened.
On working in the Middle East:
I don't cut hair in the States anymore. I work in a salon in Dubai called Belle Femme and [at a salon called] Sash in Bahrain, and I'm going to Qatar in April. My girls get so mad at me in the States, but there are so many hairstylists that you can read about on Mane Addicts that do amazing haircuts in L.A. and New York. There are not a lot of trained stylists in the Middle East who that know how to do modern curls, or know how to really cut thick, coarse hair in a way that grows out nicely. So that's why I still go to the Middle East. I've been going for six years, taking hair clients out there. And they wait six months in between each haircut.
On the well-oiled machine around her:
I'm super-organized, and everyone around me is super-organized as well. We have so much going on, there are so many moving parts, and we are all here and ready with our label-makers.
One thing that I learned early on was to work smarter, not harder. I'm not a control freak. I am very specific about stuff, and I'm detail-oriented, but I also like to have people around me who can get stuff done.
I have two hair assistants who help me teach classes and help with social content when we're on the road. Mike and I have a personal assistant to help us with personal life stuff: keeping the house clean, the groceries. I cannot take any credit for what goes on at the house. I just live here [Laughs].
And then I have an executive assistant, Nicole. She's my mini-me. She keeps my schedule in order and sits in on every meeting and writes the most applicable notes.
On getting her rest on planes:
There were a couple times last year when I cried when my plane took off because I was so tired. I don't even know what I was crying about. I was just tired, like a baby crying. I am craving sleep — I would die for eight hours. But I do get that when I'm on planes. I sleep every single flight.
On being called "The Most Influential Hairstylist in the World" by the New York Times:
It was such a surreal time because that year had been so hard formulating Ouai, and I couldn't really talk about it yet. We were launching Feb 1st, and that New York Times piece came out in November. It just changed my life and gave me the confidence to say, This was the right time to do this. It put me on the map, I think, in a business light, because a lot of businesspeople didn't really know who I was. But that title is so nuts. I still can't believe that happened. And I will say it was the one time my parents were super-psyched about something I did.
On being a mom-ager to her business:
I always tell clients I feel like Kris Jenner. I feel like I have six kids; I feel like there's always something going on; I feel like there's going to be a drama. I'm going to drop the ball somewhere, but I'm just doing me. I'm doing the best that I can.
On remembering to stay grateful:
When I take the morning flight on Emirates to come home, it's always a 6 a.m. drive to the airport, and it's happened two or three times now where I'm feeling like, Oh my god, this isn't fair, my life is so hard, blah blah blah. And then I see these buses, they call them the Slaves of Dubai, which are people who are being bused in to go and build construction all day. And I'm just like, Okay, shut up, your problems are not problems.
I know I live a fancy life and I work around celebrities, but it's so important to me to still remember who I was when I first moved to L.A. I think about the people who really helped me — Lorraine Schwartz was one of them — and I was nobody. I really want to focus on other people the way that I was helped.
On what she finds relaxing:
It's called "drinking Kim Crawford White Wine with ice." My dream night is maybe smoking a little bit, then sitting on the couch with my husband, with the blanket my mom made for us. We watch Comedians in Cars, and we love Housewives. I make him watch it with me. It's so calming to me to watch them fight.