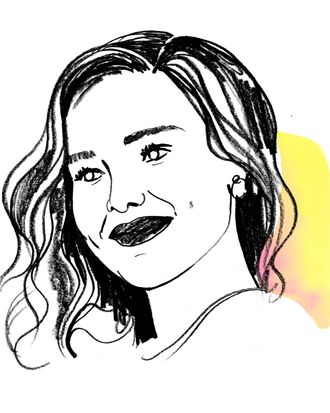 Illustration: Lauren Tamaki
Miranda Kerr was a supermodel and Victoria's Secret Angel before she launched her holistic skin-care company, Kora Organics, in her birthplace of Australia in 2009. A self-described "micro-manager," Kerr oversees everything from product formulations and profits (her company is self-financed) to customer feedback. By year-end, her certified-organic products will be available in 25 countries worldwide.
Kerr lives in Santa Monica with her husband, Snapchat co-founder Evan Spiegel, their newborn son, Hart, and Flynn, her 7-year-old son, with whom she shares custody with ex-husband Orlando Bloom. The Cut talked to her before the birth of Hart in early May to find out how she gets it all done.
On a typical morning:
My husband is up at 5:30 a.m. and once he's up there's no way I can go back to sleep. I meditate for a half hour and set my intentions for the day. By the time I've finished that at 6 or 6:15, Flynn comes in and I get him ready for school. We generally pick out his outfits the night before to make things easier; now that he's 7 he's very opinionated on what he's going to wear [laughs]. I'll get dressed, and we'll have breakfast together. I really like Ezekiel bread with avocado, and we start every day with a little noni fruit extract and apple juice.
I drop Flynn at school on the days that he's not with his dad. My office is around the corner from his school, which makes it really convenient. Depending on my schedule, I will either go into the office or I'll go home and do calls or meetings from there.
On a typical day at work:
When I'm in the office, I'm there from 8:30 a.m. to 4 p.m. My day includes everything from emails to conference calls and product development. I oversee every single facet of the business. I'm a little bit of a control freak, and I've had to learn to let people do their jobs. But at the same time, all of packaging, all of the design, every single word on the back of the box — that comes from me.
I talk to the labs about the formulations and the ingredients that I want to include, and how we're going to make sure they work effectively and efficiently to get the best results. I can be on the phone with the illustrator, I can be on the phone with the team in Australia, working with marketing or social media. It's exciting. And then I have to stay on top of the P&Ls to make sure that where we're spending is the right place to be spending.
At the end of the day, I've invested all my money into this company. It's not just like I've got my face to the brand. This was my idea, this was my concept, this was my baby. I believe wholeheartedly in this business and everything that it stands for, and I do everything I can to make sure that I'm on top of every little part of it.
On her office space in Santa Monica:
It's very minimal. Downstairs we have everyone's desks, and a little kitchen, and a bathroom. Upstairs we have a conference room, which is where we have our group meetings. It has great light, and we have a couple of orchids in there and rose quartz crystals. We have a vision board with a lot of positive words, and pictures of our key ingredients. There's also a big sofa so we can sit around and chat or sometimes do a meditation. But it's not a big office. In Australia, I have a bigger office because I have 30 people there. But I only opened this office here two years ago.
On mom duties:
I pick up Flynn from school at 4:15 p.m. When he is with me, everyone on my team knows that we have to do everything that we need to get done before 4 p.m. They can email me; I'm on my phone. I'm pretty much reachable all the time except for when I'm sleeping.
When we get home, sometimes Flynn might have a playdate, and then we'll have an early dinner. He'll have his shower, I get him into his PJs, and generally he's in bed by 7 p.m. We read three little short stories, do a meditation, say his little prayer, and then he goes to sleep.
I was busy before, but now with Flynn — just making sure I get him organized and get him to bed, and the school pickups and drop-offs — that obviously takes a lot of time. So I need to make sure I plan and prioritize because otherwise I won't get anything done. To be honest this is the most routine I've had in my life. With modeling, every day was different.
On staying focused and organized:
I try to stay in the moment, wherever it is that I am. When I'm with Flynn, I'm really conscious of the fact of Hey, I'm with Flynn. And when I'm away from Flynn, I'm like, Okay now is my time to work. I even schedule in things like calling my grandma, because otherwise the days just roll by. Planning and prioritizing is key to making things run smoothly and effectively.
I also have a lady who has worked with me for quite some time, managing everything with my schedule. So, whether it's modeling or meetings for Kora, we put everything on the calendar.
On what sets Kora Organics apart:
A huge point of difference for our brand is that all of our skin care is certified organic. Some other lines might say they have an organic ingredient, but they're not actually certified organic. They might be mixing organic with toxic ingredients. And when you're certified organic, it's a totally different ballgame because Ecocert COSMOS [a European private standard] has very strict standards. They don't allow sulfates or parabens or synthetic fragrances or silicones or formaldehyde, and every little thing is approved through them.
It makes it a bit of a pain in the neck for me, you know. Owning this company, it's expensive. But that way the customer knows that there is integrity behind the brand. I wanted that personally for myself, and I thought, Look, if I want that for myself then there's going to be other people out there that want that as well.
On expanding into 25 countries:
It's a big risk. I have to buy everything upfront — all the raw materials and all of our packaging — so it's a huge investment on my behalf. It's worth it, though, when I go to my email and read the testimonials that I get every day. I love to see the products working and helping people feel good about themselves in their lives.
On modeling:
I just did a shoot for a Japanese brand, so I am still modeling, but I've wanted to focus more on my family, and I've made a decision to focus more on Kora. Before my children, I'd be shooting six days a week, but all of the travel was just a lot. If we can make it work and do a photo shoot here, then I do it, and if it's aligned with my beliefs I'll do it, otherwise my priorities are my family and Kora.
On quiet evenings:
After Flynn is in bed, I'll go downstairs and get dinner ready for Evan. We'll sit and have our dinner together, take a bath, and a lot of times we'll sit and talk. Other times he'll be tired and go to bed, and that's when I'll get back on email, especially the ones that are coming through from Australia. The ones that are urgent I get to, and the ones that aren't I prioritize for the next day. I'm still in bed pretty early. I do feel like sleep is very important. I get between seven and eight hours. Eight is ideal but seven is sufficient.