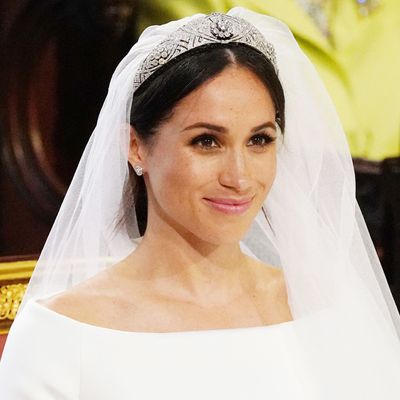 Meghan Markle.
Photo: WPA Pool/Getty Images
Meghan Markle's Givenchy wedding dress stunned many of the millions who tuned in to see her marry a British ginger. Some loved it for its easy elegance, others were disappointed that she didn't go all out in lace or puffy sleeves, à la Kate Middleton and Princess Diana. But don't be fooled by the simplicity of the gown. In a new interview with WWD, designer Clare Waight Keller revealed just how much work went into creating the wedding dress of the decade.
It took an incredible 3,900 hours over the course of four months to make the dress. That's more than double the length of Kim Kardashian and Kris Humphries's marriage. Waight Keller didn't specify if that included the veil, which was 16 feet long and embroidered with flora of commonwealth countries. For comparison, Rihanna's pope ensemble from the Met Gala took 750 hours to sew and hand-embroider, and a pink Dior gown took 1,000 hours to create. Fifty people worked on the dress, veil, shoes, and bridesmaids' dresses. That figure is high but not unheard of for custom-made couture gowns.
The number of hours that went into making the gown is a testament to Waight Keller's attention to detail and razor-sharp tailoring. The dress itself had very few visible seams and no visible embroidery, ruffles, or puffs that normally take up time in the atelier. It's also a testament to how long it can take to get an off-the-shoulder look that actually looks really, really good.