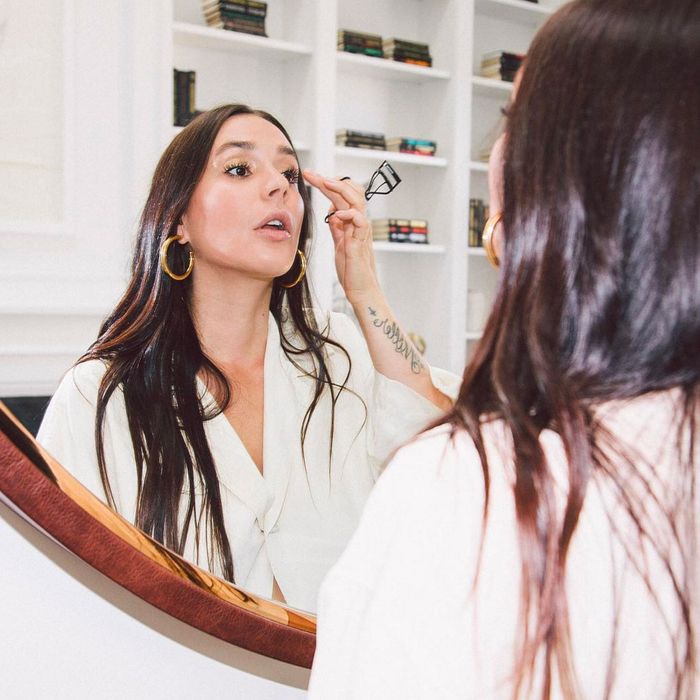 Do you ever see someone on Instagram and think "Why is your skin so good?" We do, so we started asking. Welcome to Why Is Your Skin So Good, a series.
Pia Arrobio has a wedding coming up. A second wedding, to be exact, her first one being a small backyard get-together featuring homemade lasagna. Time will tell what the second one will bring to our Instagram feeds. (Yes, both weddings are to the same man.)
Arrobio, the creative director of the clothing line LPA and the possessor of 101K followers on Instagram, says she doesn't start her "very extensive, expensive, annoying" nighttime skin routine until she's wearing the right utilitarian outfit. "The first thing I like to do is put on a respectable pajama," she tells the Cut. You know, in case there's a fire or someone breaks in and she has to leave the house.
Arrobio says she knows that plenty of people insist on drinking nothing but water for clear skin, but adds, "I'm never not going to not drink alcohol, so I've really got to take into account into what's going on with skin care." So here's her Los Angeles–approved routine for any bride-to-be who spends a lot of time in front of the camera.
The Cleanser
"This spa water has a ton of awesome shit in it. I do this twice. Even if I put on the littlest bit of makeup, this really gets off all of the product from your skin. I hate waking up with mascara under my eyes. I always use lots of spa gauze for this — not cotton pads!"
The Soap
"This charcoal clay soap doesn't dry my skin out. It's easy to travel with. I used to use a ton of anti-acne face washes … and it backfired."
The Toner
"You have to really press in your toner, rather than rubbing, which has made this product work so much better for me. I really feel like it works and it doesn't dry out my skin! I'm always mindful of where I have wrinkles. I have so much Botox so I don't have a lot, but I get acne around my nose and chin. The gauze is super important here too."
The Serum
"This is totally watery. I rub it under my eyes, all over, up my neck. And then I let that sit and dry."
The Other Serum
"I only use three or four drops. I don't put it under my eyes. This is the best investment. I also put it on the back of my hands. I literally let this set for 10 to 12 minutes before bed."
The Face Roller
"I roll the Serum C in with this roller. I do anything I can to keep it super clean. This thing has been a game-changer. Don't listen to me because I don't know if I'm doing it right … but I love it."
The Anti-Blemish Solution
"If I have a big pimple, I put this balm on and dermaroll it in, and that guy will be gone in the morning!"