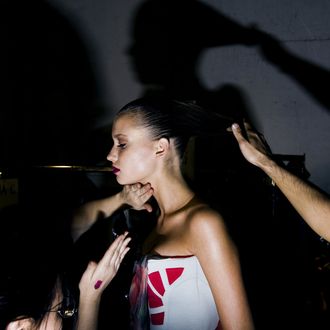 A model being fitted backstage.
Photo: Benjamin Lowy/Getty Images
Over 100 models signed an open letter calling for accountability for sexual harassment and assault in the fashion industry, released today from the advocacy group Model Alliance. Edie Campbell, Milla Jovovich, Karen Elson, and Elliott Sailors were among the original signatories.
Since the Harvey Weinstein story broke in October, stories of abuse in the model industry have been shared far and wide. Now, models who signed the open letter are calling for a legally binding contract, called the RESPECT Program, between models, agencies, designers, and publishing companies to hold people accountable for the mistreatment of models. The letter reads:
RESPECT will go beyond addressing specific acts of sexual harassment, and also seek to foster a work environment that is no longer fertile ground for abuse.




Every company in our industry says it abhors sexual harassment and wants to protect those at risk of abuse. We believe that if a company is serious about protecting us, it will be willing to go beyond mere promises to do better and embrace enforceable standards, with real teeth.
While no companies have signed on yet, Model Alliance founder Sara Ziff told the Cut that her group has discussed the program with major modeling agencies as well as Condé Nast and received "positive responses." A central point of the program is enlisting an independent third-party where models can report complaints without fear of being blacklisted, as hotlines within companies are rarely used. Other facets include making sure models are paid on time so they're not vulnerable or indebted to their agency, and encouraging signatories to work with each other more frequently.
There are tiers of violations and responses. The most stringent is if someone is reported to be a serial sexual predator, then signatories will be obligated not to work with them.
"It's a way for individual companies to make sure that they're compliant and there are real consequences for people who abuse their power," Ziff said. "If you have these lofty standards but there are no consequences for violating them, you'll see the same problems over and over again."
Ziff describes the program as a "blueprint for change" within the industry, which has had it's share of #Metoo moments in the past year. While some steps have been made — a code of conduct at Condé Nast and a model charter at LVMH and Kering — Ziff says RESPECT is different because it's a coordination between aspects of the industry and has "real teeth" and "fosters genuine accountability in the industry."