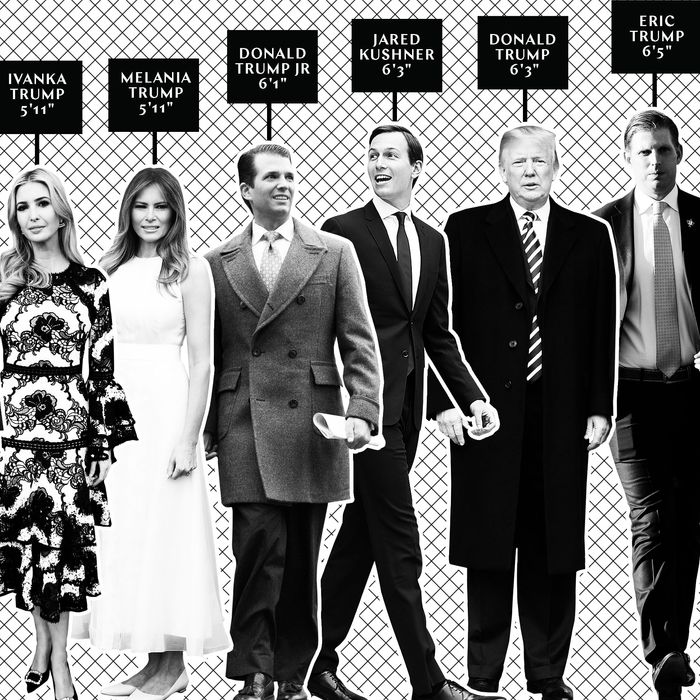 Imagine how awful it must have been in the olden days, before the internet, when someone at a party would say something like, "Did you know Jackie Kennedy is five-foot-four?" and you would say, "Uh, actually she's five-seven," and both of you would argue for a while before finally giving up and grumpily "agreeing to disagree." Also everyone would probably be smoking inside. It sounds terrible. (Jackie Kennedy was five-seven, by the way.)
Now, the heights of celebrities are immediately available at the tips of our nosy, size-obsessed little fingers. And, regardless of how you feel about them, some of the biggest celebrities in the world right now are the various cast members of TrumpWorld, the reality-TV show that never ends, where everyone dresses poorly, and that you can't look away from because at any moment it could send us hurtling toward nuclear war.
To help you determine how you would stack up (literally) in this elaborate circus, the Cut has developed a handy guide to the heights of the various family members, White House officials, Cabinet members, exes, and miscellaneous characters who have come to dominate our news cycle since our 45th president was sworn in.
As you can see in the image above, the Trump family is, in general, extremely tall. Donald Trump himself is six-foot-three, as is confirmed man Jared Kushner. Eric Trump, the president's blond son, clocks in at a whopping six-foot-five, a fact I have not stopped thinking about for several days now. (When reached for comment, the White House did not confirm these numbers.)
Here are how other people in TrumpWorld measure up.
Trump's White House Team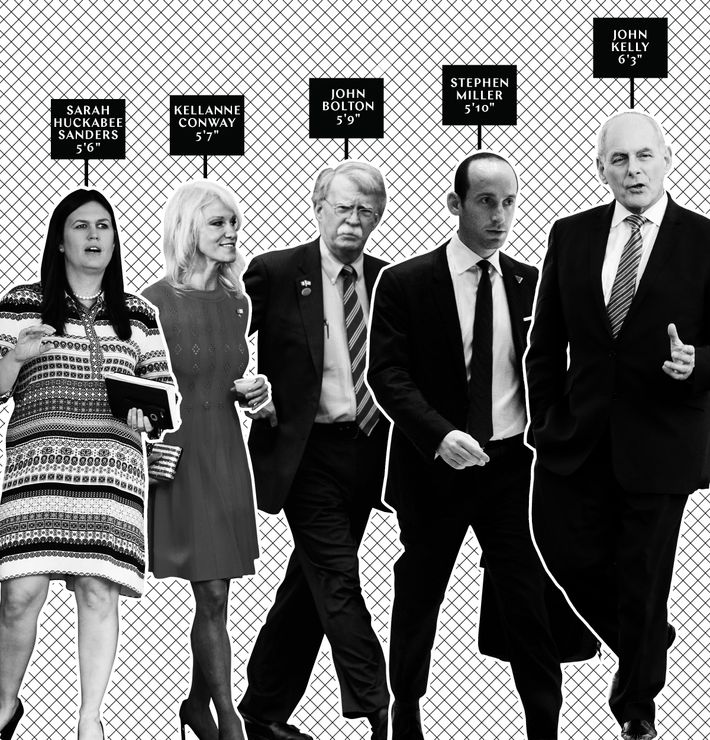 Sarah Huckabee Sanders - White House press secretary - 5'6"
Kellyanne Conway - counselor to the president - 5'7"
John Bolton - national security adviser - 5'9"
Stephen Miller - senior policy adviser - 5'10"
General John Kelly - chief of staff - 6'3"
The White House did not confirm most of these heights, but Sarah Huckabee Sanders did tell us she is five-foot-six, not five-four as famousbirthsdeaths.com suggested (the website also listed her status as "Alive").
Trump's Cabinet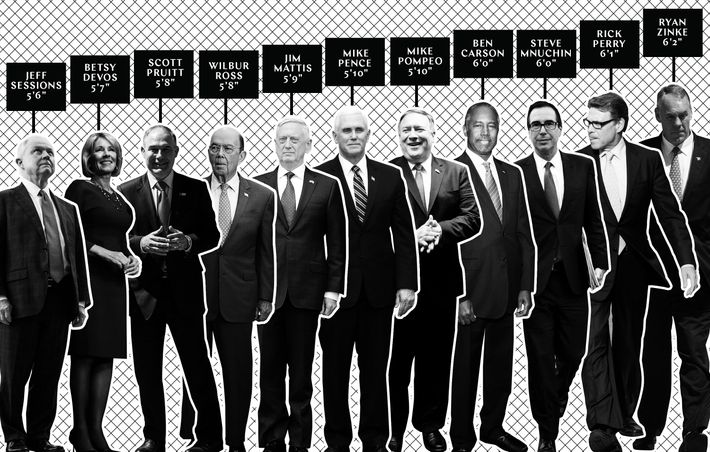 Jeff Sessions - attorney general - 5'6"
Betsy DeVos - secretary of Education - 5'7"
Scott Pruitt - administrator of the EPA - 5'8"
Wilbur Ross - secretary of Commerce - 5'8"
General Jim Mattis - secretary of Defense - 5'9"
Mike Pence - vice-president - 5'10"
Mike Pompeo - secretary of State - 5'10"
Ben Carson - secretary of Housing and Urban Development - 6'0"
Steve Mnuchin - secretary of the Treasury - 6'0"
Rick Perry - secretary of Energy - 6'1"
Ryan Zinke - secretary of the Interior - 6'2"
Government agencies clearly have different policies when it comes to disclosing the height of their chief officials. The Department of Energy confirmed that Secretary Rick Perry is six-foot-one, and the Department of Justice informed us that Attorney General Jeff Sessions is five-six, not five-four as famousbirthsdeaths.com said (like Sarah Huckabee Sanders, he is also marked "Alive"). But the State Department and Department of Defense would not confirm how tall Secretary Pompeo or Secretary Mattis are, saying height is considered personal information. What do you think, should Cabinet secretaries' heights be public record?
This picture, you will note, does not include Trump's entire Cabinet. There is currently no height information available for Secretary of Agriculture Sonny Perdue, Secretary of Labor Alex Acosta, Secretary of Health and Human Services Alex Azar, Secretary of Homeland Security Kirstjen Nielsen, or Acting Secretary of Veterans Affairs Robert Wilkie. If they or anyone they know has information about their heights, please contact me.
Trump's (Professional) Exes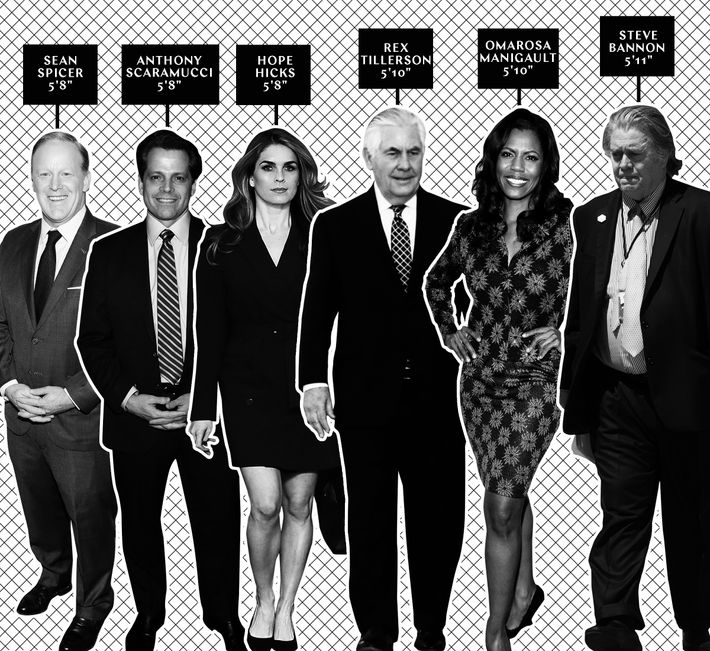 Sean Spicer - former White House press secretary - 5'8"
Anthony Scaramucci - former White House communications director- 5'8"
Hope Hicks - former White House communications director- 5'8"
Rex Tillerson - former secretary of State - 5'10"
Omarosa Manigault - former communications director for the Office of Public Liaison - 5'10"
Steve Bannon - former White House chief strategist - 5'11"
Just as famous as the current members of the Trump administration are those who have already made their — for the most part — messy exits. Overall, these numbers seem accurate, though there is much debate over Anthony Scaramucci's height. As Katie McDonough noted at Splinter, pictures of the Mooch next to luggage and Mitt Romney suggest he is shorter than five-eight. But if you take a look at the picture below, of him and Sarah Huckabee Sanders awkwardly hugging, the tops of their skulls appear to be at roughly the same height. And since she claims to be five-six and was wearing heels that day, maybe he really is five-eight?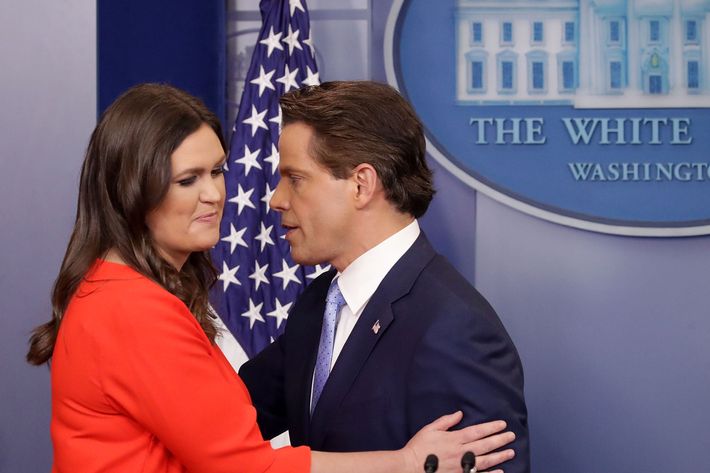 Other Important Characters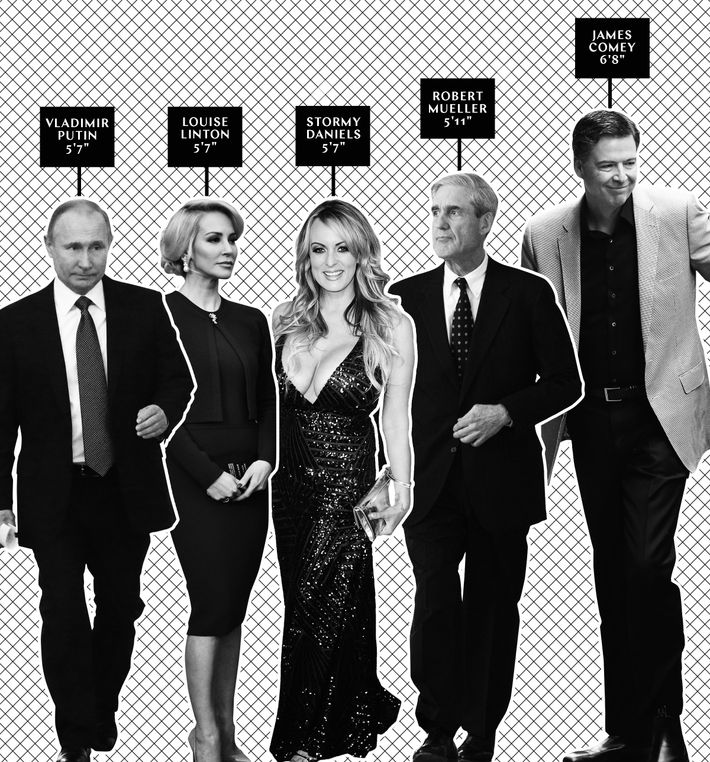 Vladimir Putin - president of Russia - 5'7"
Louise Linton - wife of Treasury Secretary Steve Mnuchin - 5'7"
Stormy Daniels - adult-film Star - 5'7"
Robert Mueller - special counsel for the Dept. of Justice - 5'11"
James Comey - former FBI director- 6'8"
Remember the theory that Trump fired Comey because Comey's height made him feel inferior? That's probably not true, but Comey does remain very, very tall.