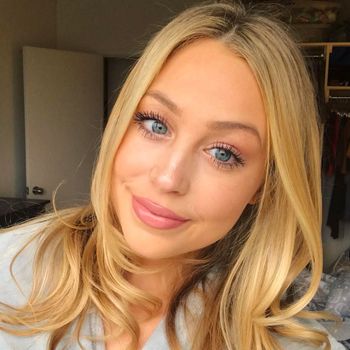 Do you ever see someone on Instagram and think "Why is your skin so good?" We do, so we started asking. Welcome to Why Is Your Skin So Good, a series.
Skyler Bouchard might look familiar for one of multiple reasons. Perhaps you're one of her 169,000 Instagram followers. Maybe you've seen one of her series on the Food Network. Or maybe you've just seen her at a restaurant in New York, because she eats out a lot.
Because of all the time Bouchard spends in front of the camera, skin care is crucial to her. "I think sleep is the most important thing for your skin," she told me. "Some weeks I don't sleep much because of my stressful lifestyle, and my skin is dull and dehydrated." She says that her dining adventures don't affect her skin, but she does try to eat a lot of omega-3s: "Healthy fats are great."
Here's her full beauty rundown at the end of the day, when she finally logs off and prepares for a good night's sleep.
"I wear a lot of makeup because I'm on camera a lot. So I like to remove it all before I wash my face. Tarte's products are cruelty-free too! And it all comes off nicely. I will use these for my whole face when I'm feeling lazy."
"I use these drugstore makeup remover wipes for all my face makeup. They're so easy, and easy to find."
"I use a lot of different products, but right now I'm obsessed with this face wash. It has toner in it, and it's exfoliating, and it doesn't irritate my skin! I have sensitive skin so that's great."
"Another thing I love is this plumper. Theres a p.m. and an a.m. side of it. I think people neglect the lips with skin care."
"I have really, really dry skin. This helps so much and I always wear it at night."
"All my self-tan lovers say HEY! This is the best because you mix it in to whatever moisturizer you're already using."
"I cannot recommend this enough. I love it. I use it overnight. It smells like orange juice! I do these once a week. I find that it's a good exfoliator for me."
If you buy something through our links, New York may earn an affiliate commission.