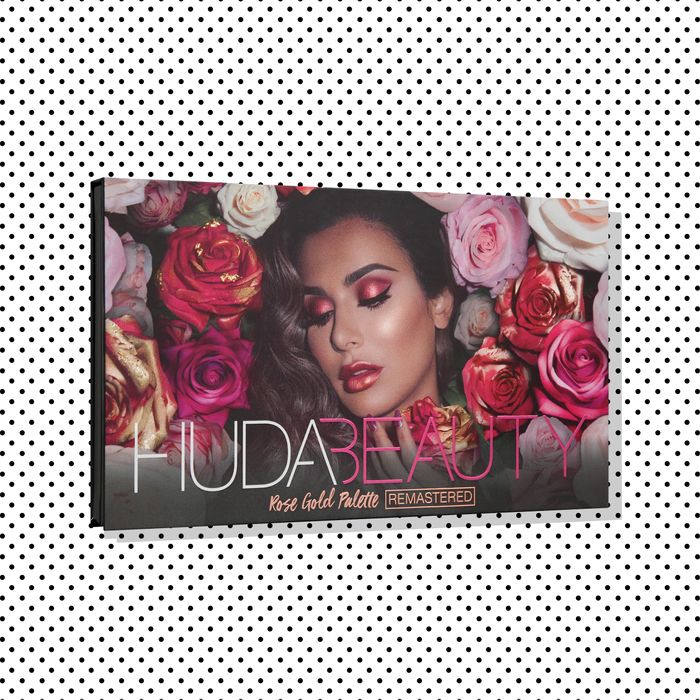 Beauty obsessives have been left without Huda Beauty's Rose Gold Palette, which many vloggers had praised, since October 2017, when the company took it off the market and replaced it with the Desert Dusk Palette, which offers golden and purple shades. But Kattan just announced she's bringing rose gold back, and it'll be much better this time around.
In an Instagram caption, Kattan explained that when her company first launched the Rose Gold Palette in 2106, she didn't have enough money to pay herself, let alone enough money to invest in pretty packaging or "innovation." The original palette, while beautiful, lacked a mirror. And some of the shadows, like a few of the metallic foiled ones, were chunky and sometimes difficult to blend.
But the new one has solved all these woes, and the packaging is easier on the eyes. The first and most noticeable difference is the palette itself — it actually has a mirror now, instead of a plastic film serving as a protective cover. And the front of the palette has Kattan's face surrounded by pink and white roses and metallic lettering.
Like the original, the interior of the Rose Gold Palette Remastered contains 18 pans of rich shades made for creating a soft and romantic rose-hued look — or a gilded glamorous one. While the original palette was best suited for those who knew how to work with difficult textures, these shadows are smooth and blendable, with a cream base. Even those who are new at makeup can easily work with them.
Most of the shadows are the same shade as last time — just more pigmented — but a few have been updated so they fit better within the overall collection. Doll Face is a brighter reddish pink than the original Flamingo, and Demure a more muted coral pink than the original Shy shade.
The shades technically aren't waterproof, but they're certainly water-resistant — at least according to all the videos of women dousing their faces in water without any rose-colored smudges.
The palette comes out on May 22, so you won't have to wait too long before trying your hand at the Huda waterproof challenge.