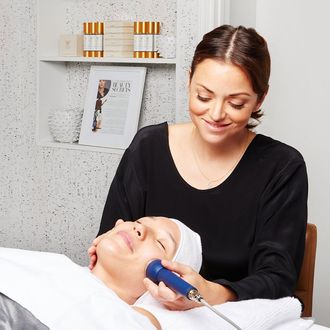 Photo: Courtesy of Georgia Louise Atelier
I blame Sandra Bullock. Thanks to her, my internet history will forever have my name associated with the words penis facial. To be fair, it's Cate Blanchett's fault too. A few weeks ago, Bullock's Ocean's 8 co-star gave an interview with Vogue Australia that went viral (now removed following controversy), talking about how they both love the skin-rejuvenating benefits of a treatment called the "penis facial." It's allegedly not that kind of facial, despite Blanchett telling the magazine that it smells a bit "like sperm."
Facialist Georgia Louise is the practitioner of spermly facial delights. Despite the facial sounding questionable, she is very legit — her client list includes a healthy percentage of Met Gala attendees. She's also got a game sense of humor, and an iPhone that seems like it would be really fun to hack, filled with multiple text chains from celebrities asking for that "penis treatment." "I have text threads which would blow your mind from celebs, asking for the 'penis treatment' all the time now," Louise told People. On the day I visit Louise's facial "atelier," she's out of town, having been whisked away by Jennifer Aniston. (She'll be back later in in the week, administering "penis facials" the morning of the Met Gala to Emilia Clarke and Anne Hathaway.)
Instead, a Brit named Sarah gives me the penis treatment. Louise's atelier is on the first floor of an Upper East Side townhouse, decorated in a style that looks like high-end hygge, with light wood paneling that creaks with walking. Her waiting room has the entire range of Elemis and Biologique Recherche products (including all seven types of P-50), plus the $2,500 LED Desse mask. There's a small hallway with several treatment rooms, and I'm whisked into one with warm, dim lighting and a treatment bed that has a fitted sheet, a top sheet, a duvet, another feathery blanket on top, and the option of two pillows (including one just for my knees).
The best facials I've had are ones in which I fall asleep and am then gently woken up with better, well-defined cheekbones without any idea why. While I was incredibly relaxed and comfortable, being administered high-end sperm to your face is not the stuff of nap time. First off, it takes 12 steps. The first few all involving making sure my face is super-clean — all the better to, counterintuitively, dirty it up later with Korean baby foreskin — go figure. Sarah first lovingly double-cleanses my skin and applies toner, using firm, sweeping hand motions that really get into the lymph nodes and massage the pressure points of my face. Then she does a light peel, to make sure that dead skin cells don't clog up the dermis.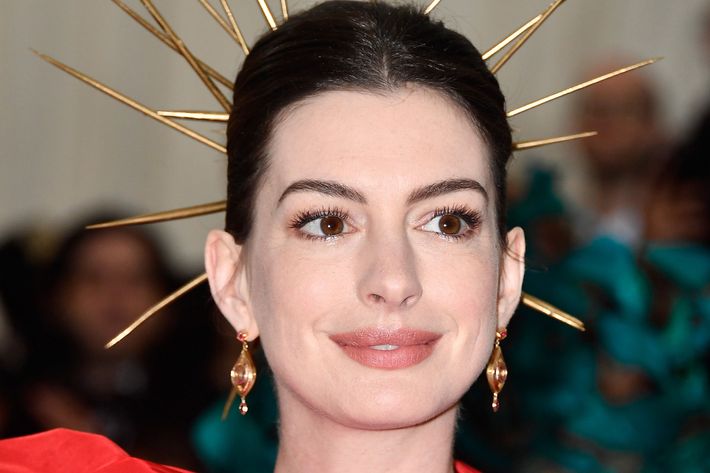 Then came the sperm. A big component of the "penis facial" involves using a tiny roller device to needle hundreds of tiny holes into your skin — an insane-sounding, but actually scientifically proven beneficial process called microneedling. It sounds crazy (then again, it is happening during a "penis facial") but dermatologists agree that it activates the repair mechanism of the skin, stimulating collagen, the building block of skin that makes it look bouncy. Dermatologist Dennis Gross adds, "There is scientific evidence indicating that it works. I personally use the technique to more deeply deliver nutrients that promote collagen and plumping such as vitamin C and hyaluronic acid." In effect, activating the "fight or flight" action to your skin makes it stronger. (You can do it to yourself at home, even). A facialist once described microneedling to me as feeling like "a cat swiped its tongue around your face." I've gotten it done before and, more accurately, it feels like seven cats are licking your face the day before your period. Gratefully, Sarah told me in soothing Mary Poppins–like tones that she was going to apply a numbing agent to my skin before poking it full of holes.
For the next few minutes, I heard buzzing. While wearing black gloves, Sarah moved a motorized microneedler or dermaroller over my face from chin to cheek. While the numbing cream helped and I wasn't in pain, I still felt a dull prick of pressure. Areas like my nasolabial folds and the outer corners of my eyes got an extra helping of dermarolling to help treat fine lines. Then, she patted a thin, viscous clear liquid onto my skin, patting it into my pores.
"When does the penis part come in?" I offhandedly murmured at some point.
"It already happened!" Sarah said. That mystery liquid applied during dermarolling was the special sauce. Without much of a scent at all or gooey texture, I would have thought it was any other pricey serum I'd ever tried. The crux of the treatment is a fluid containing EGF or epidermal growth factor (FDA-approved), obtained from the progenitor cells of human fibroblasts from Korean newborn baby foreskin. It's grown in a lab, Louise assures me, and not continually harvested fresh from Korean male babies — the progenitor cells are cloned. Korea allegedly has the largest stem cell bank in the world. "There are millions of them in the laboratory — lucky us!" she says.
Experts are generally bullish on the efficacy of stem cells and their derivatives. Dennis Gross has seen commercial companies produce research results, like promoting cell renewal and collagen. In most cases, "stem cell" products aren't "real." Dermatologist Sejal Shah clarifies it's the stem cell byproduct that's often efficacious, rather than a live stem cell. "Live stem cells into skin-care products are not realistic — they're difficult to keep alive, even in a lab setting. A lot of these facials are using a byproduct of something derived — there is evidence that using those growth factors and peptides can have benefits for the skin." On this point, even cosmetics cop Paula Begoun agrees (although unsurprisingly, she's skeptical overall of stem-cell claims). On her site, Begoun says, "Stem cells must be alive to function as stem cells, and by the time these delicate cells are processed and added to skincare products, they're long since dead and unable to work as they once did."
One of the most valuable benefits of EGF is that it contains over 40 antioxidants and vitamins. Among them are vitamins C and D — so yes, at the very least you can say this facial gave me the D. Across the board, all experts agree that antioxidants are beneficial for the skin. They block much of the oxidative stress resulting from just plain life-living, caused by free radicals. Quite simply, antioxidants have been proven in many medical studies to help with improving the skin's resilience and tone over time.
At the end of my facial, my skin feels soft, and not sticky. It's slightly red in certain areas, like around my forehead, but doesn't show any signs of being punctured with holes or leaking like a watering can. My eye bags are depuffed and look slimmer. For the rest of the day, my skin feels soft and clean to the touch. I've looked better after facials and I don't think I look the best, but Sarah tells me that the results get better over the course of the week.
I don't tell any of my friends about my spermy facial but around the third day post-treatment, one of them tells me that my skin looks really great ("smooth" and "glowy," she clarified), even in the middle of eating ramen. Another tells me that my face looks lifted and more contoured, which is the second-best thing about the facial. The best thing about the penis facial is that it's not very penis-like at all — zero eggplant emoji, but three stars.