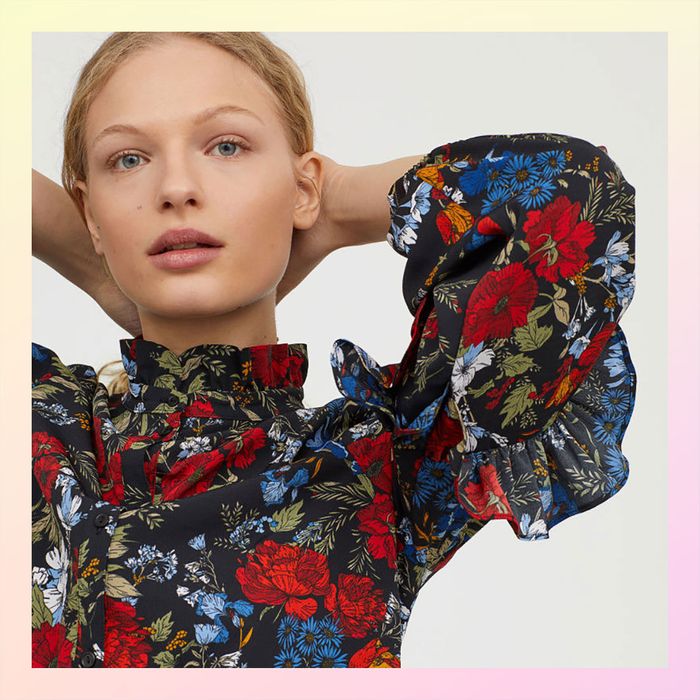 Pretty Things: A week dedicated to beautiful objects.
Just because I'm a fashion editor doesn't mean I'm laboring under the delusion that every trend can work on me. And at first, prairie dresses — you know, the high-neck, vintage-looking floral dresses that have slowly been taking over Instagram — seemed like the ultimate "just for runway models" look. As pretty as a prairie dress can be, if you don't find the right silhouette or print, you can look like you're wearing something you found in your grandmother's closet.
But the more I saw them, the more they grew on me. I started to keep a folder of all my favorites on Instagram from brands like Batsheva. On her website, designer Batsheva Hay explains that she's trying to take "elements symbolic of restraint and repression (high collars, voluminous sleeves and skirts)" and make them look modern. You might think, looking at the Batsheva dress that Aurora James of Brother Vellies wore to the Met Gala, that she's on to something.
Prairie dresses are essentially a full look in one piece; once you put one on, it speaks for itself. At this point, I've come to prefer them to flowy, unstructured bohemian dresses because they have so much personality. I still wouldn't call them in a staple in my wardrobe, but I do own several now. It reminds me of getting dressed in simpler times, when all I wanted was to wear something pretty.
Because of the modest silhouette and frilly details, I like to pair mine with chunky sandals or sneakers to add some contrast. Still not convinced? Scroll ahead to see ten chic examples of the trend.
If You Only Want to Spend $30
This version is cut straight and hits at the calves, so you could wear as a dress or remix with jeans underneath.
The Best One in Bright Colors
I love this shade of teal, and the fit is nice if you want something loose but not oversize.
The Best Babydoll Version
Between the whimsical print, the sheer overlay, and the short hemline, this feels like a doll's dress in the best possible way. Add Nikes to make it feel slightly weird — but, you know, good weird.
If You Want a Defined Waist
This style is bit more fit-and-flare than most on this list, but it still has all the elements of prairie style: a vintage-feeling print, flounces, and a bow at the neck (especially useful if you're concerned about the neckline suffocating your boobs.)
The Best Vintage-eque Vibe
Since this dress is so dainty and charming, I'd tone things down with hoops and sneakers or flats.
Add white shoes for contrast and voila — instant outfit.
The ruffled neckline feels modern instead of matronly. And the tiered skirt and balloon sleeves make it more special.
This dress is so popular that it sold-out twice. The combination of the black mesh print, dark green and orange flowers, and ruffle detail have made it a street-style favorite.
The Best Off-the-Runway Version
Celebs like Kate Bosworth and Selena Gomez have worn this dress in different colors. We like the subtle western feel, and the necktie detail is stunning.
It's Victorian-inspired, and so off-beat yet so cool. I recommend wearing with this season's cowboy boots or sneakers to play off the frills.
If you buy something through our links, New York may earn an affiliate commission.