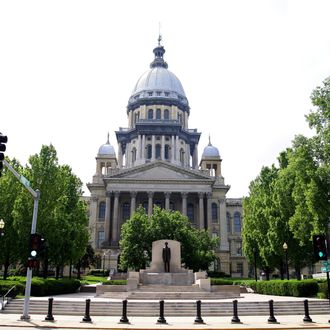 Illinois State Capital.
Photo: Raymond Boyd/Getty Images
Thirty-six years after the congressional deadline, Illinois voted to ratify the Equal Rights Amendment, which guarantees civil rights for all citizens regardless of sex.
This makes Illinois the 37th state to ratify the constitutional amendment, which Congress passed way back on March 22, 1972. Following its approval, the ERA went to the states, where it fell short of ratification after only 35 out of the required 38 states passed it by the June 1982 deadline.
But in the past few years, everyone from actress Meryl Streep to attorney Gloria Allred has revived the call to pass the ERA, despite the passed deadline. In March 2017, decades after Indiana was the last to ratify the ERA before 1982, Nevada approved the constitutional amendment. On May 29, the Illinois House voted 72-45, after the Senate had already passed it.
While it's unclear what will happen from here, as the ratification deadline has long passed, only one more state needs to approve the ERA to meet the three-fourths majority of state legislatures. If anything, the approval was symbolic, especially in the state where now-deceased conservative activist Phyllis Schlafly launched her anti-ERA campaign in the 1970s.
Following the House vote, Democratic state representative Stephanie Kifowit expressed her embarrassment over how long it took for her state to pass the amendment.
"I am appalled and embarrassed that the state of Illinois has not done this earlier," she told the Chicago Tribune. "I am proud to be on this side of history and I am proud to support not only all the women that this will help, that this will send a message to, but I am also here to be a role model for my daughter."
Democratic state representative Juliana Stratton, who discussed the discrimination she has faced as a black woman during the debate, tweeted after the vote, "I'm so proud to take this historic vote to pass the ERA in Illinois!"