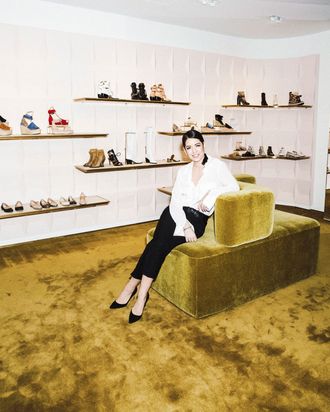 In Her Shoes is a column about what real women wear when they need to get things done.
Heather Shimokawa has a clotheshorse's dream job: picking the best clothing for an entire department store. In her case, that store is Bloomingdale's, and as vice-president of Fashion Direction: Ready-to-Wear, she leads a team of people responsible for what you'll find at both the brick-and-mortar shop and online.
Shimokawa grew up in L.A. and studied creative writing at Cornell. Before landing at Bloomingdale's just under a year ago, she took a tour through the media landscape, working at Us Weekly, Men's Journal, and Best Life. After a short stint doing public relations at Brioni, she went to Vanity Fair, where she served as fashion market director. From there, moving to retail felt like the natural next step.
Shimokawa's day-to-day in her current role isn't that different from what she did as a fashion editor. She visits showrooms to check out new brands, pores over runway photos to dissect the latest trends, and meets with the in-house teams to execute ideas for the store and website. The Cut caught up with her on Bloomingdale's new shoe floor, where she explained why she takes a uniform approach to dressing.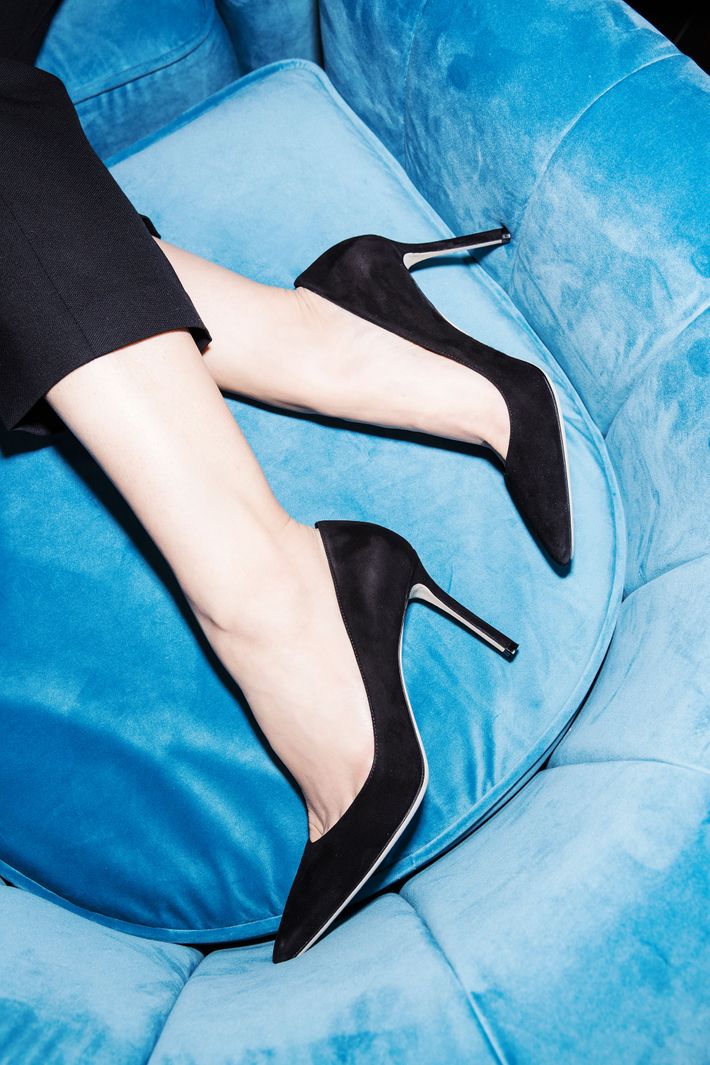 On her weekday mornings: I generally check email before getting out of bed. Then I wake up my family and we all have breakfast together before I take my son to school. I drop him off at kindergarten before going in to work, so I'm in flats or sneakers in the early morning. I have a sneaker rotation that includes Stan Smiths, Golden Goose Superstars, and Common Projects.
On her big meeting uniform: I'm pretty consistent — I love wearing a well-tailored jacket and silk blouse with a high-heeled pair of pumps or sandals. If it is an executive meeting, I'll wear pants from Theory, 3.1 Phillip Lim, or Stella McCartney. But for more day-to-day meeting, I'll dress up a pair of jeans. My favorites are from Rag & Bone, Paige, or Frame.
On her favorite heels: I have a crazy number of suede pumps. They're not always the most practical for NYC weather, but they go with everything. I think a black suede pump is like a perfect white T-shirt — it's a go-to for the office. I'm a fan of these Jimmy Choo heels since they only measure in at 85 mm or a little over three inches — they're really comfortable for running around the city for market appointments.
On her desk shoes stash: I have at least six pairs of shoes in my office at any given time. They're all high-heel suede pumps in a range of colors. It makes dressing for work easy since I always know I have what I need. The only time I have to plan ahead is if I have a black-tie function after work.
On post-work plans: If I have a black-tie event in the evening, I generally opt for a tuxedo or an evening jacket. It takes the guesswork out of deciding what to wear and I can have more fun with jewelry or a brightly colored shoes. I'm really into these jewel-toned satin heels from Sergio Rossi at the moment.
On her approach to dressing: It's empowering to know exactly what clothes you like that work for your lifestyle. I love the freedom that comes in not having to agonize over what to wear.  I rarely wear dresses and feel most myself in a pair of sharply tailored pants. I keep it simple, tailored and crisp so I can focus my attention on other things.
If you buy something through our links, New York may earn an affiliate commission.