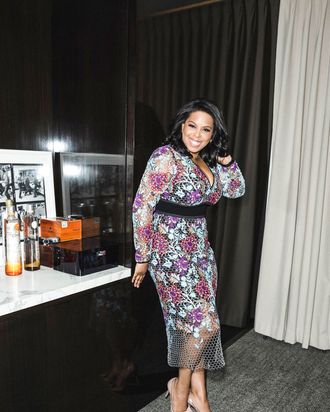 In Her Shoes is a column about what real women wear when they need to get things done.
Back in the aughts, it was Diddy's world and we all just happened to be living in it — in Dia Simms' case, quite literally. Simms was hired in 2005 as Sean Combs's executive assistant and rose through the ranks of his empire, ultimately being named president of Combs Enterprises in 2017. Now, she oversees business activities across multiple brands built and cultivated by Combs including Bad Boy Entertainment, CÎROC vodka, Revolt Media, and Sean John to name a few.
After growing up in Queens, New York, Simms went to Morgan State University in Maryland. She landed a job at the Department of Defense upon graduation and soon found herself negotiating $100 million contracts. When she moved on to a role in advertising, Bad Boy was a client, which is how she wound up working for Combs.
Thirteen years later, Simms splits her time between the New York and Los Angeles locations of Combs Entertainment and Maryland, her home base. At her Times Square office, she told the Cut about how she dresses to exude confidence, elegance, and black excellence.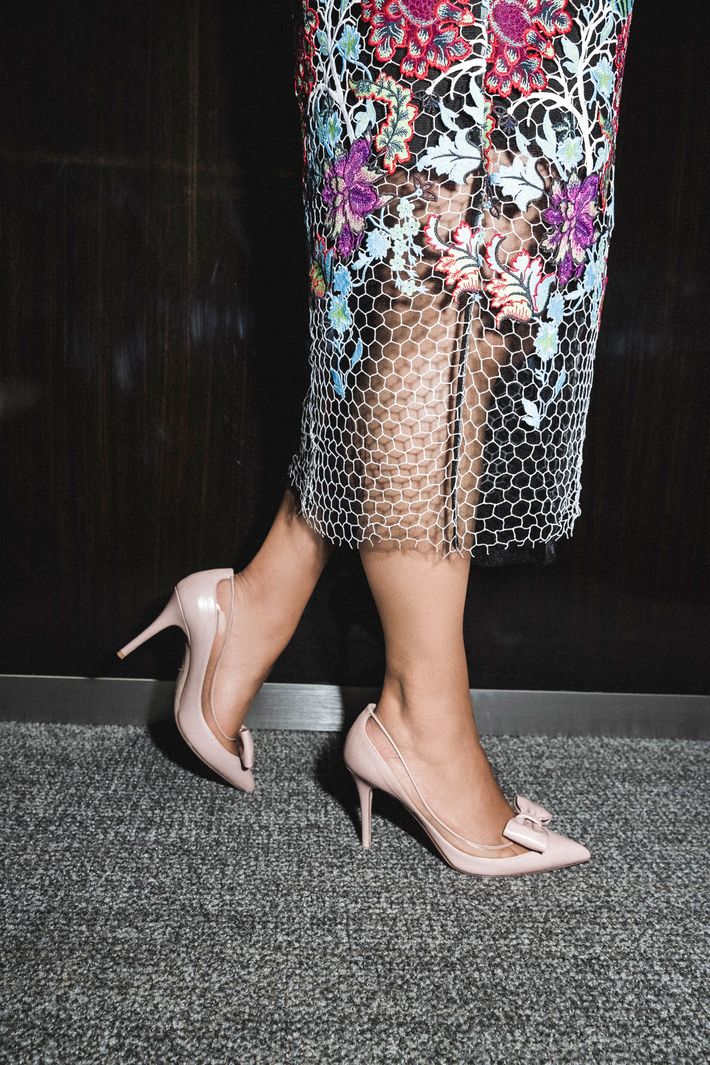 On her daily shoe choices: I'm always in a high heel for work — the higher the better. My favorites are these distressed metallic Cesare Paciotti heels that I love to wear when I need to bring a bit of spice to my look. I've had them for years, since back when four inches was considered tall! My other go-to option are black Jimmy Choo pointy pumps — I keep a pair at my home in Maryland and one in my NYC apartment.
On her high heel survival secrets: A stacked or platform heel is much more comfortable. Beyond that, it's important to buy the right size and invest in a well-made shoe — your feet are worth it. Also, the leather spa at The Plaza is the absolute best if you need your shoes stretched or restored.
On how she dresses for big meetings: I almost always wear dresses with pumps. I love anything below the knee, whether it's a shift or wrap dress. Recently I had a Baltimore designer, Jody Davis, make a black shift dress for me which fits perfectly. It's slimming, has an elegant neckline, and hits me mid-calf length with a long zipper in the back. I love it so much that I want to order it in orange too! I can never anticipate where the day will take me — a call can shift to a face-to-face meeting, or I might suddenly have to go to a benefit dinner — so my approach is to always dress sharp, regardless of what I think is going to happen.
Shop Work-Appropriate Dresses
On her desk shoes: I keep four pairs in my office at all times. There are my Gucci nude platform pumps which are actually nude to my skin tone — those aren't always easy to find. You'll also find black Versace heels, gold and cream Alice & Olivia pumps with a slightly retro-ish silhouette, and blush-colored Christian Diors that can go with almost everything.
On dressing up after work: I dial up the glamour at night. Lately I've been loving vintage Halston dresses for evening, usually found in Park Slope consignment shops in Brooklyn or on Melrose in Los Angeles. And then I add on fun accessories like vintage cocktail rings or oversized men's watches. I'm into mixing metals but my style tends to vacillate between super monochromatic and surprising pops of color.
Shop Cocktail Rings
On her go-to Monday outfit: I like to wear the tears of my enemies! Just kidding — it really depends on the day, mood, zip code, and plan of attack for the day. In my role, I work pretty much around the clock, so my Monday look isn't much different than Friday. I'm always in something with a cinched waist, and then I'll tap into my collection of dusters and capes for that superheroine finishing touch.
On her not-so-average workday: I rotate between Maryland, where I live with my daughter and husband, New York, and Los Angeles. Sometimes I work from all three within one week, so average is not an option! My job is overseeing the diverse Combs Enterprises portfolio, so there's always a range of high-profile projects in process at all times. Most recently, we relaunched the CÎROC 2018 Summer Collection flavors with the first all-female roster featuring Karol G., Teyana Taylor, and Cassie.
If you buy something through our links, New York may earn an affiliate commission.