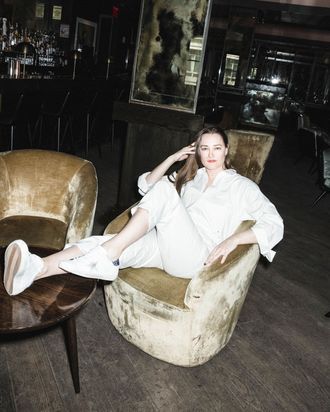 Kristy Hurt wears Golden Goose sneakers and Everybody.World flightsuit at the blond at 11 Howard.
Photo: Victoria Stevens
In Her Shoes is a column about what real women wear when they need to get things done.
If you're looking to find a job in fashion, you'll want to follow Kristy Hurt's Instagram. The founder of Kristy Hurt Consulting, an executive recruitment firm, she's a headhunter who works with big luxury brands like Alexander Wang, Miu Miu, Fendi, and Saks Fifth Avenue to find candidates for jobs in buying, design, media, and even C-suite executive positions.
Hurt was a pre-med and Spanish major at the University of Texas Austin. She moved to New York after graduation to focus on a career in fashion and wound up with a job running and opening stores for Kate Spade back when it was still family-owned. After pursuing an MBA, she landed her first human resources role at LVMH and remained there until ten years ago, when she decided to launch her own company.
The Cut caught up with Hurt in between meetings at The Blond at 11 Howard. She talked to us about pursuing work-life balance with three kids, why mothers are the best hires, and how she remains true to her style, even when meeting with corporate bigwigs.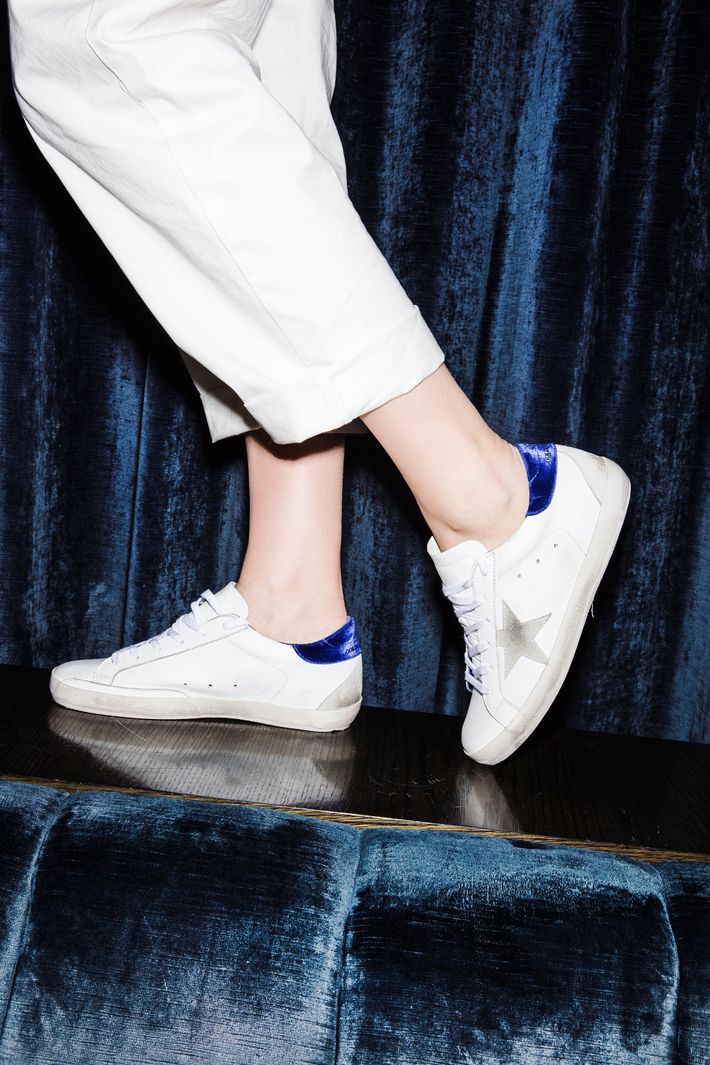 On how her style has changed now that she works for herself: Ten years ago, I left my corporate HR job at Louis Vuitton North America to start my own consulting and recruitment firm. One of the perks is that I get wear whatever I want! I work from my home office a lot or I'm running around to clients' offices in New York or Los Angeles, plus I try to squeeze in a daily yoga class, so I like to be comfortable. I'm usually in Common Projects or Golden Goose sneakers. If I want something more dressed up, it's Céline mules or loafers from Gucci or The Row.
On an average day I'm meeting with a variety of people. It could be prospective job candidates, other HR professionals, C-suite executives, or top-level creatives at fashion brands. Still, I make it a point to dress for myself. I want to feel stylish, confident, and comfortable while making a good impression.
Shop Elegant Mules
On her outfits for big meetings: I recruit for a wide range of companies and I like to dress in the spirit of the brand I'm meeting with. That said, I still try to maintain my personal style, which I consider to be professional and understated, with the occasional fashion moment. I'll wear a Tibi button-down top that has a star print with striped wide-leg pants from Zara and Adidas sneakers. Or I'll do an Everlane cashmere sweater with vintage Levi's and low heels from The Row. Lately I'm obsessed with one-piece outfits like this jumpsuit from Everybody.
On her current shoe rotation: I'm usually rotating about three pairs of shoes at a time. At this moment it's the Everlane modern Babo flats, some classic black-and-white checkerboard Vans my mom gave me for my birthday in January, and Jenni Kayne suede mules. Since I'm often on my feet, I'm happiest in flats and sneakers.
On her evening outfits: If I expect an afternoon of meetings to turn into a night out, I'll try to wear something that'll be appropriate for both. My current favorite outfit is this great vintage black dress I found at Beacon's Closet in Brooklyn. It has a zip front that I can pull up or down based on how professional I need to be. I wear it with a pair of black Loeffler Randall booties that I've owned for a few years. I like stacked heel boots instead of flats since it tips me over 6' tall! To finish it off I thrown on my oversized Tim Hamilton black leather jacket.
Shop Black Dresses
On Mondays: I'm usually working at home, catching up on phone calls and emails or interviewing candidates on FaceTime or Skype. Plus, I'm also setting up client meetings for the week so I need to be comfortable. I'm almost always in leggings, a tank top, and maybe a casual hoodie or sweats from The Arrivals or Saturdays NYC. I'm often so busy that I won't leave the house until the afternoon. I'll run out for some fresh air and a yoga class at Bend & Bloom before relieving my sitter for an evening in with my three kids.
On that elusive work-life balance: I like to hire mothers who are heavily networked, experienced in the industry, and may have left their corporate jobs searching for better work-life balance. As I grow the business, I'm eager to provide opportunities for smart women looking to develop their careers in new ways, and as a mother myself, I am very aware of the attractions of working in flexible ways from home. I have 10-year-old twins plus a 7-year-old and I want to be there for school plays and field trips. I'm very comfortable with the idea that it is possible to work from wherever you are.
If you buy something through our links, New York may earn an affiliate commission.