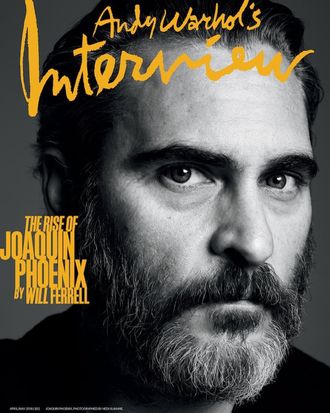 Photo: Hedi Slimane/Interview
On Monday morning, employees at Interview announced on Twitter that the magazine, founded by Andy Warhol in 1969, has folded. According to the Observer, the publication is liquidating its assets through Chapter 7 bankruptcy.
The news has yet to be confirmed from on high, but it follows a slew of recent financial blows to the publication, as well as the departures of longtime editorial director Fabien Baron and creative director Karl Templer in early April. Templer was previously accused by one anonymous woman in a Spotlight report of overstepping professional boundaries, a charge he strongly denies. According to a source, he resigned because he was owed $280,000 by Interview.
When Baron resigned, he wrote a statement declaring that outstanding "financial challenges were not resolved and continue to plague the day-to-day operations of the magazine."
According to "Page Six," Baron and his wife, stylist Ludivine Poiblanc, filed a joint lawsuit against the magazine earlier this month to receive their alleged remuneration of $600,000.
It gets worse. According to WWD, former associate publisher Jane Katz sued Interview last year, claiming the magazine owed her $230,000 and that she was fired without cause. In 2016, former Interview president Dan Ragone also sued for unpaid wages of $170,000.
In February, the magazine was also reportedly "kicked out" of its office for a brief period after Brant Publications (founded by billionaire Peter M. Brant) failed to pay rent.
We will continue to update this story as we learn more. For now, we mourn the loss of (yet another) a historic, influential publication.
This article has been updated to correctly reflect the accusations against Karl Templer.