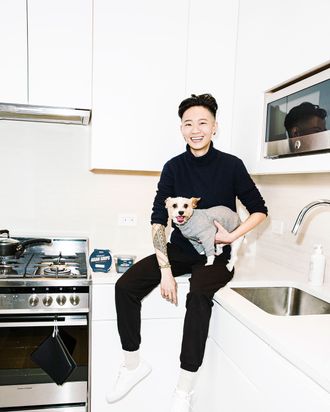 Cat Yeh, pictured with her dog Rice, wears Frye sneakers.
Photo: Victoria Stevens
In Her Shoes is a column about what real women wear when they need to get things done.
Start-up life is always an adventure which is why Cat Yeh makes it a point to be pulled together and comfortable. As the chief culinary officer of Nomz, an Asian soup-delivery service, Yeh does everything from recipe development to meeting with investors to even playing food courier. Her days are unpredictable, so she makes it a point to present herself much like how she wants the company to be perceived: honest, minimal, and creative.
After growing up in Taiwan, Yeh moved to New York City to attend The New School. After graduating with a food studies degree, she went on to the French Culinary Institute. Yeh began her career as a chef and recipe developer for the likes of Baohaus (Eddie Huang's Taiwanese snack shop), Ippudo Ramen and Bon Appétit before joining Nomz last year. The Cut caught up with her in between her many errands, where she talked about her favorite sneakers, her love of menswear and why she dresses like it's Monday, every day.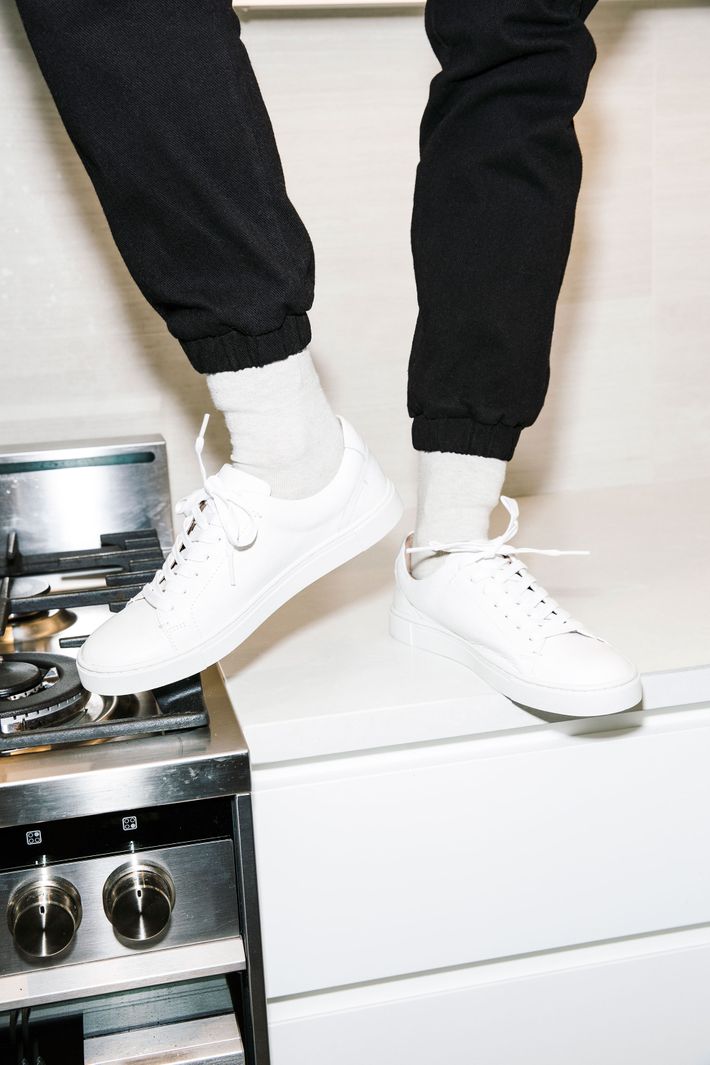 On shoes for start-up life: It's essential for my daily footwear to be comfortable and versatile because I never know what could be thrown at me! I typically have a small selection of comfortable sneakers that I like to rotate — they're all simple and minimal. One of my favorite brands is THEY NY and I find that it's the perfect way to go from office to a dinner with friends. My other go-to are Adidas' NMD sock sneakers. Since they don't have shoelaces, I can pull them on plus they're waterproof — ideal for the weather and road conditions of NYC!
Shop Simple Sneakers
Photo: 18-03-14 Accessories AM2 B1 toddmaughan W
On big meetings: Since becoming a co-founder of a food start-up, every day is a big day — even if the only person I see is my partner Tony. But I do try to tailor my outfits to be appropriate to the occasion. When I'm talking to potential investors, I'll wear a button up with pants and white sneakers. If I'm speaking with ingredient and supply purveyors or commercial kitchen owners, I tend to go more workwear like joggers with a T-shirt or sweatshirt.
On her aesthetic: I really love menswear, be it shoes or suiting. My favorite suits are from HVRMINN. I'd typically pair them with Grenson's monk straps or their Chelsea boots. Sometimes I'll add sneakers to keep it fun and casual.
On how her Monday outfit is her go-to: My girlfriend is the designer at Hemsmith and makes the most comfortable pants called the Lenox joggers. I literally wear these almost everyday. They are not only super comfortable, but they're beautifully designed and have elevated details so they look slim and stylish. I add a simple pullover from Muji or COS and my trusty sneakers.
On going out after work: Usually whatever I leave my house wearing is what I am stuck with. If I do have plans, I don't typically swap shoes unless I was working in the kitchens all day. On days when I have a casual dinner with friends, I tend to like sneakers along with a Saturdays pop-over white shirt and simple Levi's jeans. If it's something more formal like a date-night at a nicer restaurant or a special event, then I do a suit.
If you buy something through our links, New York may earn an affiliate commission.