Tiffany Pollard's hands are on either side of a face, pushing her ringlets back from her temples in a pose of distress. Her eyes are wide, her mouth a wailing O as she shrieks: "NOOOOO. DON'T. DON'T KILL HIM. DON'T. STOP." For a moment, her splayed curls and panic turns her into a black tableau vivant of Caravaggio's Medusa, and everyone else has frozen accordingly, staring up at her, trying to process what the hell is happening.
Two minutes and 39 seconds ago, Pollard — a.k.a. New York, a.k.a. the HBIC of reality TV — walked into the door of a THNK1994, a tiny Bedstuy gallery dedicated to lowbrow pop-culture nostalgia, where she greeted the crowd of early 20-something fans who had assembled to celebrate the opening night of an exhibit in her honor. Pollard dropped her hip, cocked her head, raised her arm in a snap, and said her catchphrase: "New York in the motherfucking houuuuuse." Then she soaked up the overjoyed YASSSSes, accepted bodega carnations from smiling, sweaty-faced fans, and made her way up the narrow steps to a small VIP area.
Now, two minutes and 39 seconds later, Pollard is screaming while one of her guests, a 40ish-year-old white dude named Scott, tries to keep a party crasher named Louie Victory from following them into a small VIP section. Scott grabs Louie Victory, young black guy with a short platinum-blonde fro, by the collar of his blue velvet jacket and manages to keep a Swisher Sweet firmly between his lips as they start to wrestle. It all happens fast: Louie Victory almost falls over the railing (about four feet to the ground); the fight is busted up, Scott is removed, Louie Victory is given a seat and a strong drink. Pollard yells for her purse. She receives her purse. The scuffle ends with a white flag — well, a white paper towel, which Pollard uses to dab the sweat from her face.
Pollard turns to her mother, Sister Patterson, then to the crowd assembled at the foot of the stairs. "I'm so embarrassed," she moans. "I just got here and now this."
"You don't have to be embarrassed, Tiff!"  a voice calls from the crowd. "We love the hell out of you!"
People have loved the hell out of Pollard for 12 years for exactly this: her ability to grab the attention in the room even in the middle of totally bizarre chaos. In 2006, Pollard appeared on two seasons of VH1's Flavor of Love, a Bachelor-style dating show where a group of women competed for Flavor Flav's love and trademark big clock. And from the first moment she appeared on screen for a confessional in a red tube dress and black knee-high boots — and called the other women a "pack of bitches" in the most charming way possible — it was clear that the Utica, New York, native was the star.
"I always prayed to be famous," Pollard tells me later. "I didn't know how, though." She remembers "like it just happened yesterday" the day when she met her fate, in the form of a reality-TV casting director: She was walking down Hollywood Boulevard with her ex, shopping for a new purse, when some guy walked up to her and asked her if she was single. "I thought he was hitting on me, so I lied and said I wasn't." But he persisted, Pollard relented, and, without even knowing who she was auditioning to date, tried out for Flavor of Love. The rest is history, available for streaming on Amazon Prime.
Pollard was an early example of the kind of compulsively watchable reality star we now see a lot more often, a model others try to follow. She knew how to walk the line between victim and manipulator, how to work up the energy in a room, watch it explode, but still command love from those watching. She also has an un-ignorable cackle — like a coquettish Muppet — that she emits whenever she's having fun, which she generally is, more often than other cast members. She came in second place on Flavor of Love but earned a huge following and a spin-off, I Love New York, that became a bizarre, treasured relic of aughts-era TV. Since then, Pollard estimates she's appeared on roughly 20–30 other shows, some short-lived, others medium-lived. A list that includes MTV's Say What? Karaoke, Flavor of Love Girls: Charm School, New York Goes to Hollywood, New York Goes to Work, Botched, Family Therapy With Dr. Jenn, Scared Famous, Famously Single, Brunch with Tiffany, The Doctors, The Next 15, Good Work, and Celebrity Big Brother.
In the beginning, Pollard was wittier, hammier, and louder than anyone else onscreen. These days, she says, "shit isn't as real as it was when I invented this shit."
Most parties require several hours and some shots to reach their "breaking up fights" stage, but already at THNK1994 Pollard needs a drink and some time to recover before she tours the exhibit. "Your face!" she exclaims, and hands me a cocktail — cranberry and vodka, "Goose in first." I couldn't figure out several things, I explain: Was Louie Victory actually in danger? Was the guy who shoved him a plant, hired to start trouble? Was it all staged for the benefit of the crowd — who probably expected some sort of fireworks — or for a possible TV project, maybe the one Pollard's uncle kept pulling me aside to discuss? Was any of it was real, or just "real"?
"Everything I did was real, everything I do is real," she assures me, and anyone eavesdropping. "And if you wanna know, yes, I did fuck Flav."
The exhibit is called "David is Dead," in honor of a viral moment from Pollard's 2016 appearance on Celebrity Big Brother. Pollard was living in a house with a cast that included (an admittedly sickly-looking) David Gest and Angie Bowie, David Bowie's ex-wife. Tragedy happened beyond the cameras — David Bowie died — and Angie informed Pollard, who misunderstood, thought David Gest had died in his bed, right there during filming, and ran through the house wailing "David is dead!" (David Gest was just napping, the rest of the cast members quickly deduced. Maybe not as quickly as they should have.) Angie never did get sympathy for her ex-husband's passing — but now, THNK1994's "David is Dead" gathers the work of commissioned artists who have interpreted Pollard's legacy.
Matt Hawkins and Viviana Olen, who run THNK1994, live and breathe Pollard's particular era of pop culture. Emphasis on live: The "gallery" doubles as their apartment, and when it's time for a show, the roommates hide their belongings and fold up their futon. Tonight, people have shown out for Pollard. One trio is sweating profusely in matching navy blue silk PJs, a tribute to Pollard's love of silk PJs. Two men are wearing T-shirts with New York as Rosie the Riveter printed on the front (merch for sale at @DaddyCouture, they make sure to to tell me.) A man shows off a tattoo of Pollard's face, inked onto his bicep that very afternoon. Nobody particularly cares about the fight they just witnessed — instead, they sip the party's complimentary vodka, ginger ale, and Champagne concoction and yell cultural criticism at each other over a soundtrack of hip-hop and pop songs they loved in middle school.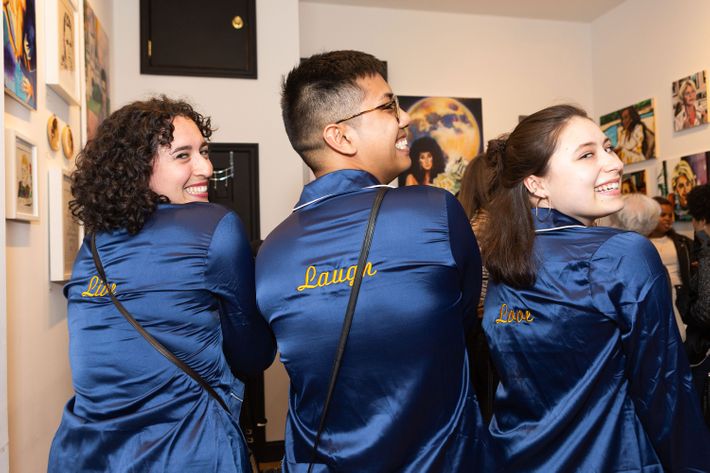 "Do you know — do you know — what media tried to do to Tiffany," slurs one woman at Louie Victory (who turns out to be one of Pollard's biggest fans). Pollard is a black female reality star, a position that, historically, turns you into either a punchline or a "Best of" clip on VH1. Critics of the New York franchise often call the series exploitative, saying it traffics in stereotypes that plague black women. One of Pollard's most famous incidents was a hair-pulling fight with a blonde named Pumkin, which ended when Pumkin spat in her face — but that type of clip isn't what defines her, Pollard explains. She says she's never once felt like she wasn't being herself or doing what she wanted to do. "They know I'm smart," she says of her audience. "That I'm educated. That I'm kind. People let go of some of that stereotype that all I wanna do is turn up and fight and have sex. I'm grateful for that."
The slurring fan continues clutching her heart, proselytizing about how empowering Pollard is, how real she is — but she interrupts herself as Pollard's mother sweeps by. Patterson has made numerous cameos on I Love New York, amassing her own cluster of fans. "Oh my god, I love you, bitch," the fan yells, then grabs Patterson and kisses her head. Patterson regally recoils. "Did she just call me 'bitch,'" she asks Pollard, unsmiling, before choosing to preside from a chair, where she fans herself and proudly looks on as her daughter tours the gallery. "This place is small but the love is huge, thank God, thank God," Patterson says, fanning furiously.
Pollard is finally taking in the art, shrieking every time she turns the corner and sees a different interpretation of herself. There are portraits of her famous poses (wielding a small knife, rubbing her temples in exasperation) in oil paint, in pop-art style, in collage. There's a graveyard installation with the names of her enemies, a watercolor of her riding a dinosaur, and her catchphrases immortalized in a calligraphy, like illuminated manuscripts. She stops in front of a video installation that has all of her shows running on loop. "God, I don't even remember doing that," she says, watching herself try to run on a treadmill during New York Goes to Hollywood.
The biggest painting in the room shows Pollard in a blue evening gown, holding puppet strings. It's titled "I Am Just So Powerful." Pollard grabs the artist, Audrey Lyall, and whispers that it's her favorite."This is the one that just gets me the best," she says. Then she turns to the crowd again. "I'm so overwhelmed, I'm just like … an inspiration for all y'all." Everyone screams. "Okay good," Pollard says. "Just checking."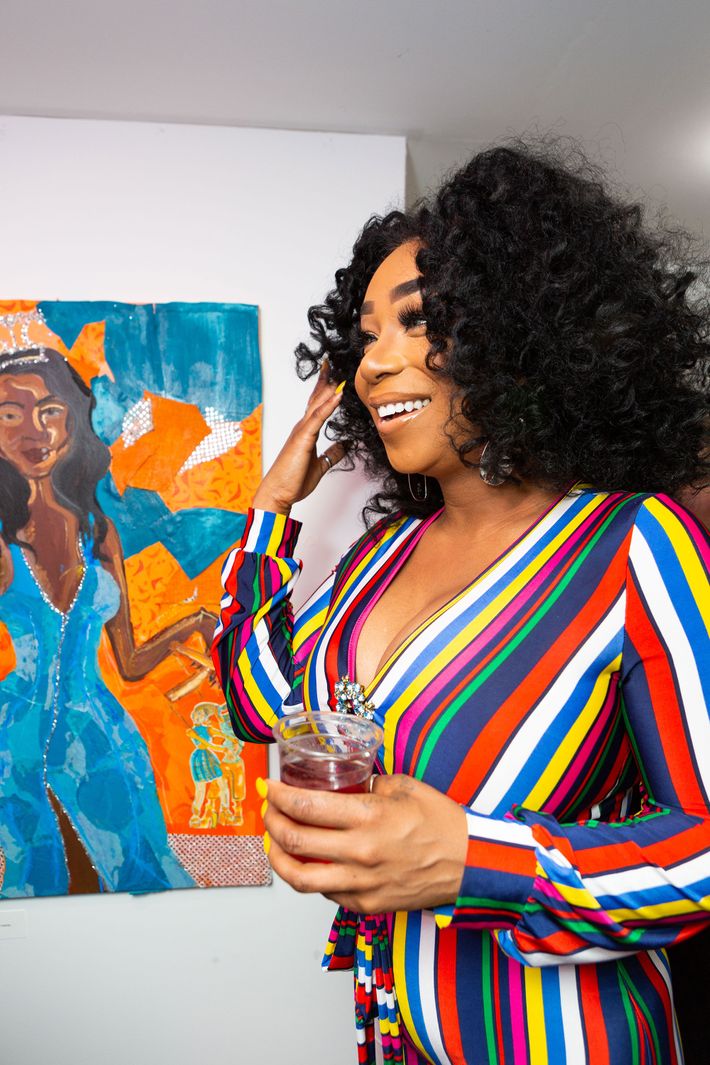 Lyall, like most people I talk to at the exhibit, tells me that she watched Pollard's old shows but mostly came to love her through GIFs and online images. As Doreen St. Felix explained in a New Yorker column earlier this year, "The collection of Pollard memes — the actor infinitely reacting to some stressor, a perfect correlative scene to social life on the internet — proliferates, and is now varied enough to make up something like a language."
Her image has become a tool of internet communication; there's not a statement, or a joke, or a sentiment, that can't be expressed better with the help of her perfect eye-roll, or her head tossed back in a triumphant laugh, or that knife. The same elastic face and Lucille Ball reactions that got her cast on dozens of reality shows have been chopped and memed for a new medium.
Pollard's favorite meme shows her sitting on an unmade bed in sunglasses and shoes, perfectly, disturbingly still, during Flavor of Love season 1. "I was so done with everyone, I just needed a moment — and now it's this super huge GIF," Pollard says. "People come up to me all the time like, 'girl, I don't even speak anymore. I just use you. You're my way of communicating.' I don't know how these youngsters even discovered the old-school shows, but it's made me fresh and relevant again. I'm so grateful for that."
She shakes her head a little. She's 35 now; she was 23 when she filmed Flavor of Love. It was the toughest time in her life, she says, because she was always having to defend herself. "Now they call me mom, they call me auntie, they come to me for advice. It is so much easier then way back in the day when I had to like earn my stripes."
There are, of course, regrets that come with 12 years on reality TV. At the top of the list is New York Goes to Work. "Being a beekeeper, that traumatized me," she says. "Going under the house to collect dead rats, that stuff haunts me." There's also Flav, with whom she's drifted apart. "I feel like he's sick of hearing about me every day. People come up to him all the time about me."
Pollard jokes that she must be related to the Energizer bunny, with a rechargeable 15 minutes of fame. "I love when it comes and I love when it leaves and I love the whole ride of it," she explains. "Reality is such a big force in my life that I really can't imagine, like, not having it."
"David is Dead" is on view at THNK1994 through June 3.
Correction: A previous version of this article said the GIF of Pollard sitting on her bed was from season 2 of Flavor of Love, it was from season 1.