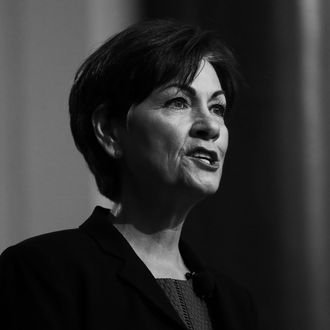 Iowa governor Kim Reynolds.
Photo: AP/REX/Shutterstock
On Friday, Iowa governor Kim Reynolds — who has been described as "100 percent pro-life" — signed the strictest abortion ban in America into law. The "heartbeat" bill, as it came to be known, prohibits most abortions once a fetal heartbeat can be detected, which typically occurs six weeks into a pregnancy — long before many women even know they're pregnant. It's a dangerous and conspicuously unconstitutional move, one that effectively bans abortion and could have seriously adverse repercussions for Iowa women. But how worried should we actually be about this particular law?
It's complicated.
First, the good news (or, all things considered, the not-so-terrible news): The law, which is scheduled to go into effect on July 1, will likely not see the light of day. After Mississippi passed what was then the strictest anti-choice law in March, it was immediately blocked by a federal judge. Other states, like North Dakota and Arkansas, have also had their fetal-heartbeat laws struck down. Both Planned Parenthood and the ACLU of Iowa immediately announced their plans to sue the state of Iowa — and as Jill Adams, the executive director of the Center on Reproductive Rights and Justice at Berkeley Law, tells the Cut, this ban is likely to go the same way as the previous ones. (It's worth mentioning that, even before the heartbeat law, Iowa already had multiple major abortion restrictions in place, including parental notice and ultrasound requirements, as well as strict limits on which abortions can take place after 20 weeks.)
But when it comes to the anti-choice crowd, this is less about the battle than it is about the war: overturning Roe v. Wade. "Iowa's six-week ban on abortion provisions is the latest attempt of many by abortion opponents to enact patently unconstitutional laws in the hopes of teeing up a case that would allow the Supreme Court to strike down Roe v. Wade, and to further their efforts to establish fetal personhood," Adams said.
"Gestational bans on abortion provision have been a pillar of abortion opponents' law and policy strategy for decades," she added. "They have been promoting, for the most part, 20-week bans in states and at the federal level for many years now in an effort to eventually — though not immediately — cue up a case for the Supreme Court."
Ed Kilgore also noted these hyper-restrictive, though legally flimsy, laws' more insidious purpose in Daily Intelligencer:
Other than election-year posturing, such "laws" mostly represent efforts to set up a definitive challenge to Roe v. Wade in anticipation of Donald Trump's getting another Supreme Court appointment and overruling the pro-choice majority recently confirmed in the 2016 Whole Woman's Health v. Hellerstedt decision.
So could Iowa's fetal heartbeat bill be the one that tips the scales all the way for the anti-choice movement?
"The likelihood of this particular bill being what leads to a Supreme Court battle over the sustainability of Roe v. Wade is hard to predict," Adams says. "Abortion opponents have so many irons in the fire in that regard. There are other gestational bans currently enjoined in other states as well, so it could just as likely be one of those." (And, as a recent article in the Hill pointed out, states are practically competing to get their name on whatever that eventual case will be.)
Ultimately, we can count on the nation's strictest abortion law being done away with. But with a Republican-controlled Senate, House, and White House, and the possibility of more Supreme Court vacancies, the anti-choice movement continues to be more emboldened than ever. Even if this law fails, there's still everything else.