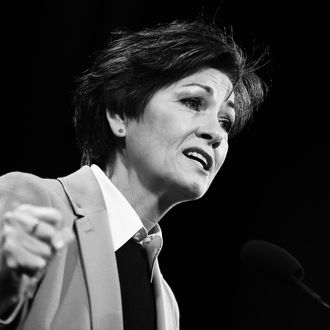 Governor Kim Reynolds.
Photo: Scott Olson/Getty Images
The nation's strictest abortion bill was signed into law by Iowa governor Kim Reynolds on Friday, the Associated Press reports. It bans most abortions if a fetal heartbeat can be detected, effectively prohibiting abortions after six weeks of pregnancy. (There are exemptions for rape and incest or if the mother's health is at risk.)
This comes after Mississippi passed what was then the strictest abortion law in the country in March, banning most abortions after 15 weeks, including in cases of rape and incest. A judge issued an order temporarily blocking it after Jackson Women's Health Organization, the state's last abortion clinic, sued the state.
The Iowa law is slated to go into effect on July 1, and will likely be faced with similar pushback. Suzanna de Baca, president and CEO of Planned Parenthood of the Heartland, has already released a statement saying, "We will challenge this law with absolutely everything we have on behalf of our patients because Iowa will not go back."