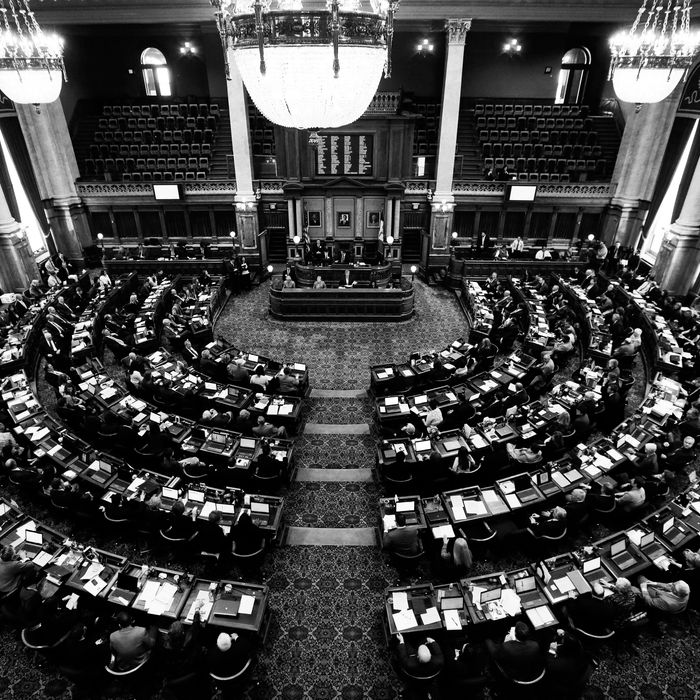 Iowa Senate.
Photo: Charlie Neibergall/AP Photo
Early Wednesday, Iowa lawmakers passed a bill that bans most abortions after six weeks, the Des Moines Register reports.
The Senate voted 29-17 to pass Senate File 359, which is an example of a fetal heartbeat ban: a bill that prohibits abortion after a heartbeat is detected, which is typically around six weeks into a pregnancy, unless the pregnancy was a result of incest and rape. Iowa's bill was already approved by the House of Representatives, and it now goes on to Republican governor Kim Reynolds.
If passed, this bill would eclipse Mississippi's 15-week abortion ban as the most restrictive abortion law in the country. (Kentucky lawmakers are currently attempting to pass a bill that would ban abortion after 11 weeks, but it is facing legal challenges).
Following reports that Senate File 359 passed, Dawn Laguens, the executive vice-president of Planned Parenthood Federation of America, released the below statement:
"Let's be clear about what this bill really is — it's an extreme and draconian policy that takes aim at a woman's right to control her own body, life, and future," she said. "This bill is one more example of state politicians, emboldened by the Trump-Pence administration, carrying out policy after policy that strip away people's freedoms and access to care. The right to control your body includes the right to access safe, legal abortion. Your body is your own, if it is not, we cannot be truly free or equal."