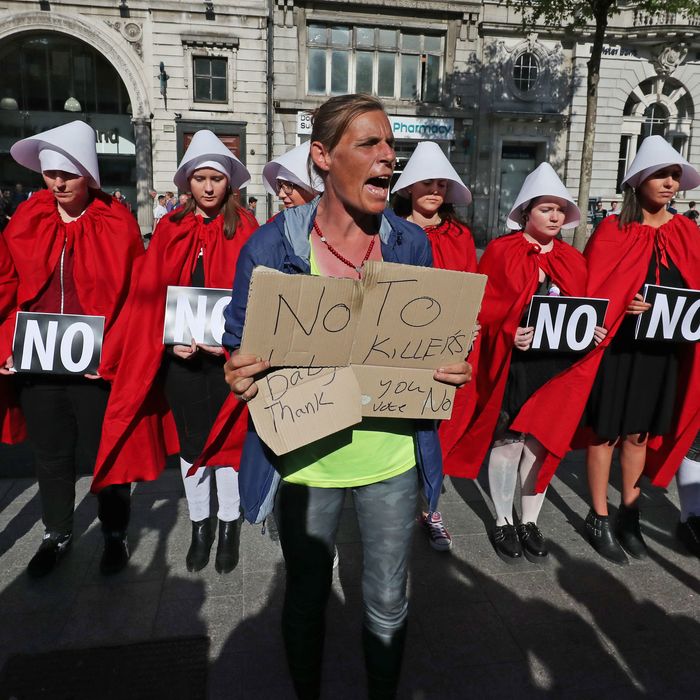 A woman interrupts protestors in Dublin dressed as Handmaids calling for a 'Yes' vote in Ireland's abortion referendum.
Photo: Niall Carson/PA Images via Getty Images
When I was in primary school, our sex education was comprised of a woman talking to us about how our souls become dirty with sin. To illustrate this point, she dipped a paintbrush in a jam jar of water, and we watched as the filth polluted the pristine liquid. Later, an anti-abortion activist arrived and left us with images of fetuses in dumpsters seared in our minds. Ah, Ireland.
On Friday, the referendum on Ireland's abortion ban will hopefully resign such attitudes about women's rights to my country's past. It's a dark past, and one most of us are ready to get rid of.
The Eighth Amendment, Ireland's ban on abortion, was inserted into our constitution in 1983, the year I was born, following a referendum vote prompted by intense lobbying by the Catholic right. It reads, "The State acknowledges the right to life of the unborn and, with due regard to the equal right to life of the mother, guarantees in its laws to respect, and, as far as practicable, by its laws to defend and vindicate that right." This statement put the rights of a fetus on the same level as a woman. It meant that abortion was illegal — in cases of rape, incest, and even fatal fetal abnormalities.
The Irish context is crucial. Misogyny is a feature not just in our constitution, but of our psyche, our culture, our politics and our cultural Catholicism.
Women's bodies have always been battlegrounds in Ireland, things to be controlled and oppressed by the State in collusion with the Catholic Church. The most famous of these mechanisms is the network of institutions where women were banished by family members for a variety of reasons, often for having children outside of marriage, leading them to become known as "fallen women." These women were imprisoned in Magdalene Laundries and Mother and Baby Homes, where they gave birth, were forced to work, and abused. Many of them died and were buried in unmarked graves, or were disposed of in a sewage tank on the grounds of the Bon Secours Mother and Baby Home in Tuam, where in 2014 a local historian documented the death of 796 babies and toddlers. This stuff is not ancient history. The last Magdalene asylum closed in 1996, a year after divorce had been legalized in Ireland by another referendum.
At the same time, this culture is it at odds with (or perhaps the cause of) generations of strong, no-nonsense Irish women, known for their strength, humour, and rebellious and revolutionary spirit. Ireland has had two female presidents. We are a nation of Sinead O'Connors and Sharon Horgans and Saoirse Ronans. The ludicrousness of our abortion ban feels as visceral to us as it does ridiculous to many of our sisters in Britain or America.
Contemporary Ireland is cosmopolitan and forward-thinking, yet for so long, the abortion ban has remained an immovable monument to the past. In 2015, Ireland legalized marriage equality by referendum, leading to a confused but genuine question from outsiders: "How can you have gay marriage but not abortion?" The answer is that misogyny is far more embedded in Irish society than homophobia.
"Women of Ireland to Watch Handmaid's Tale to Escape Grim Reality," read a recent headline on a satirical Irish website. This week, women dressed as Handmaids marched on Dublin city centre, on streets that have become battlegrounds of "Repealers" — the collective noun given to those seeking to remove the Eighth Amendment — and "Love Boats," the nickname Repealers have bestowed on No campaigners. The latter is a play on a campaign slogan "Love Both," and the ferry trips women endure to have abortions in Britain. About nine a day travel to access terminations in the U.K. Others illegally take abortion pills bought online.
On the brink of a seismic shift in Irish society, there is a feminist revolution happening across the country. For a few months now, thousands of pro-choice people have walked city streets, towns, and villages to canvass their communities. We have knocked on doors and asked for basic reproductive rights, to a backdrop of graphic posters on telegraph poles across the land that declare "License to Kill" with pictures of fetuses.
We know the world is watching. We are all too aware of how abortion rights are being rolled back in the U.S. We know that legislation is a moveable thing, but if we don't get the Eighth Amendment out of our constitution, we don't even have the luxury of starting that process.
At the pro-Repeal campaign headquarters, Together for Yes, volunteers are battle-weary but determined. At a street canvass in Dublin on Wednesday evening, a middle-aged woman spent an hour shouting at me, "You kill babies, you're a murderer." What can you do, but hold your head high, as so many women have before us? Walking home, I came upon a group of teenage men vandalizing doors and cars with "Vote No" stickers. When I asked them to stop, one threatened rape.
A Yes vote won't end that mentality, but it will allow women in Ireland their agency and autonomy. More than that, it will free us from this state of oppression. We know our worth. It's time for us to vote on it.